Page 1 - The Shores of Jupiter - October '20
P. 1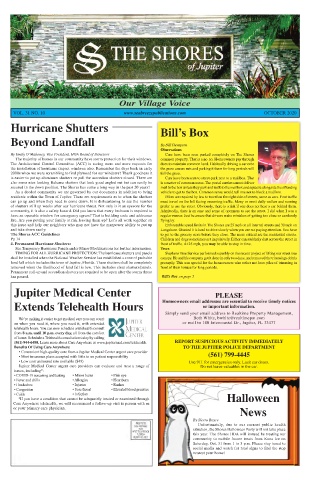 Our Village Voice


        VOL. 31 NO. 10                                          www.seabreezepublications.com                                           OCTOBER 2020

       Hurricane Shutters                                                          Bill's Box



       Beyond Landfall                                                             By Bill Thompson


                                                                                   Observations
       By Emily O'Mahoney, Vice President, HOA Board of Directors                    Cars have been seen parked completely on The Shores
         The majority of homes in our community have storm protection for their windows.   common property. That is a no-no. Homeowners pay through
       The Architectural Control Committee (ACC) is seeing more and more requests for   dues to maintain common land. Habitually driving a car onto
       the installation of hurricane impact windows also. Remember the days back in early   the grass causes ruts and parking it there for long periods will
       2000s when we were scrambling to find plywood for our windows? Thank goodness it   kill the grass.
       is easier to put up aluminum shutters or pull the accordion shutters closed. There are     Cars have been seen to street-park next to a mailbox. That
       also some nice looking Bahama shutters that look good angled out but can easily be   is a matter of common sense. The postal carrier cannot deliver
       secured in the down position. The Shores has come a long way in the past 20 years!  mail to the box unless they park and walk to the mailbox and squeeze alongside the offending
         As a deeded community we are governed by our documents in addition to being   vehicle to get to the box. Common sense would tell one not to block a mailbox.
       residents within the Town of Jupiter. There are requirements as to when the shutters     Bikes are required by law to travel on the right side of streets, same as cars. Foot traffic
       can go up and when they need to come down. It is disheartening to see the number   must travel on the left facing oncoming traffic. Many or most daily walker and running
       of shutters still up weeks after our hurricane threat. Not only is it an eyesore for the   prefer to use the street. Obviously, there is a risk if one does not hear a car behind them.
       community, it is also a safety hazard. Did you know that every bedroom is required to   Admittedly, there is an ease and sense of openness to use the street. I did when I was a
       have an operable window for emergency egress? That is building code and addresses   regular runner. Just be aware that drivers make mistakes of getting too close or carelessly
       fire. Are you putting your family at risk leaving them up? Let's all work together on   flying by.
       this issue and help our neighbors who may not have the manpower ability to put up     Enforceable speed limits in The Shores are 25 mph on all internal streets and 30 mph on
       and take down easily.                                                       Longshore. Granted it is hard to drive slowly when you are not paying attention. You have
       The Shores ACC Guidelines                                                   to get to the grocery store before they close. The more critical are the residential streets.
       Pp 14                                                                       Children and dogs sometimes act impulsively. Either can suddenly dart across the street in
       4. Permanent Hurricane Shutters:                                            front of traffic. At 25 mph, you may be able to stop in time.
         See Temporary Hurricane Panels under Minor Modifications for further information.   Trees
         TIMING FOR ALL HURRICANE PROTECTION: The hurricane shutters and panels      Stephens Tree Service performed superbly on the recent project of lifting our street tree
       shall be installed when the National Weather Service has established a cone of probable   canopy. He and his company got it done in only two days, and removed the trimmings debris
       land fall which includes the town of Jupiter, Florida. These shutters shall be completely   promptly. This was special for the homeowners who rather not have piles of trimming in
       removed when the likelihood of land fall is low. This includes clear shutters/panels.   front of their houses for long periods.
       Permanent roll-up and accordion shutters are required to be open after the storm threat
       has passed.                                                                  Bill's Box on page 5


        Jupiter Medical Center                                                                                 PLEASE


        Extends Telehealth Hours                                                    Homeowners email addresses are essential to receive timely notices
                                                                                                         or important information.
                                                                                     Simply send your email address to Realtime Property Management,
          We're making it easier to get medical care you can count                                  Beth White, bwhite@realtimepm.com
        on when you need it, where you need it, with extended                                 or mail to 140 Intercoastal Dr., Jupiter, FL 33477
        telehealth hours. You can now schedule a telehealth consult
        from 8 a.m. until 10 p.m. every day, all from the comfort
        of home. Schedule a Telehealth consultation today by calling
        (561) 944-6480. Learn more about Care Anywhere at www.jupitermed.com/telehealth.  REPORT SUSPICIOUS ACTIVITY IMMEDIATELY
        Benefits Of Using Care Anywhere:                                                      TO THE JUPITER POLICE DEPARTMENT
          • Convenient high-quality care from a Jupiter Medical Center urgent care provider                (561) 799-4445
          • Most insurance plans accepted with little to no patient responsibility
          • Low cost uninsured rate available ($49)                                               Use 911 for emergencies only. Lock car doors.
          Jupiter Medical Center urgent care providers can evaluate and treat a range of               Do not leave valuables in the car.
        issues, including*:
        • COVID-19 screening and testing  • Minor burns   • Pink eye
        • Fever and chills            • Allergies         • Heartburn
        • Headaches                   • Injuries          • Rashes
        • Congestion                  • Sore throat       • Elevated blood pressure
        • Colds                       • Infection
          *If you have a condition that cannot be adequately treated or examined through                             Halloween
        Care Anywhere telehealth, we will recommend a follow-up visit in person with us
                                                                                                                            News
        or your primary care physician.

                                                                                                    By Sierra Boyce
                                                                                                      Unfortunately, due to our current public health
                                                                                                    situation, the Shores Halloween Party will not take place
                                                                                                    this year. The Shores HOA will instead be treating our
                                                                                                    community to mobile frozen treats from Kona Ice on
                                                                                                    Saturday, Oct. 31 from 1 to 3 p.m. Please stay tuned to
                                                                                                    social media and watch for road signs to find the stop
                                                                                                    nearest your home!