Page 8 - Southern Exposure - April '21
P. 8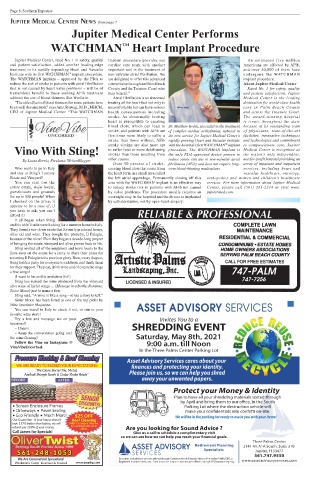 Page 8, Southern Exposure

      Jupiter MedicAl center newS from page 7
                                      Jupiter Medical Center Performs



                           WATCHMAN  Heart Implant Procedure
                                                                ™


        Jupiter Medical Center, rated No. 1 in safety, quality   implant procedure provides our                                An estimated five million
      and patient satisfaction, added another leading-edge   cardiac care team with another                                  Americans are affected by AFib,
      treatment to its rapidly expanding Heart and Vascular   important tool in the treatment of                             and over 50,000 of them have
      Institute with its first WATCHMAN  implant procedure.   non-valvular atrial fibrillation. We                           undergone  the WATCHMAN
                                    ™
      The WATCHMAN implant – approved by the FDA to     are delighted to offer this advanced                                 implant procedure.
      reduce the risk of stroke in patients with atrial fibrillation   care to those throughout Palm Beach                   About Jupiter Medical Center
      that is not caused by heart valve problems – will be of   County and the Treasure Coast who                              Rated  No.  1  for  safety,  quality
      tremendous benefit to those seeking AFib treatment   may benefit."                                                     and patient satisfaction, Jupiter
      without the use of blood thinners like Warfarin.    Atrial fibrillation is an abnormal                                 Medical Center is the leading
        "The side effects of blood thinners for some patients have   beating of the heart that not only is                   destination for world-class health
      been well documented," says Amit Rastogi, M.D., MHCM,   uncomfortable but can have serious                             care in Palm Beach County
      CEO of Jupiter Medical Center. "This WATCHMAN      health consequences including                                       and across the Treasure Coast.
                                                        stroke. An abnormally beating                                        The  award-winning  hospital
                                                        heart is susceptible to creating                                     is iconic throughout the state
                                                        blood clots, which can lead to   Dr. Matthew Kolek, specialist in the treatment  because of its outstanding team
                                                        stroke, and patients with AFib are   of complex cardiac arrhythmias, ushered in  of  physicians,  state-of-the-art
                                                        five times more likely to suffer a   the new service for Jupiter Medical Center's  facilities,  innovative  techniques
                                                        stroke than those without. AFib   rapidly growing Heart and Vascular Institute  and technologies and commitment
                                                                                                                    ™
        Vino With Sting!                                stroke victims are also more apt   with the hospital's first WATCHMAN  implant  to compassionate care. Jupiter
                                                                                       procedure. The WATCHMAN implant is  Medical  Center is  recognized as
                                                        to suffer fatal or more debilitating
                                                                                       the  only  FDA-approved  device  proven  to  the region's only independent,
                                                        strokes than those resulting from
             By Laura Berrio, Freelance Writer/Blogger  other causes.                  reduce stroke risk due to non-valvular atrial  not-for-profit hospital providing an
                                                          Over  90  percent  of  stroke-  fibrillation (AFib) and does not require long- array of inpatient and outpatient
        Who wants to go to Italy                        causing blood clots that come from   term blood-thinning medications.   services, including heart and
      and stay at Sting's Tuscany                       the heart form in a small area called                                vascular healthcare, oncology,
      Estate and Vineyard?                              the left atrial appendage. Permanently closing off this   orthopedics and women and children's healthcare
        You can rent out the                            area with the WATCHMAN implant is an effective way   services. For more information about Jupiter Medical
      entire estate, main house,                        to reduce stroke risk in patients with AFib not caused   Center,  please  call  (561)  263-2234  or  visit  www.
      guesthouses and grounds                           by valve problems. The procedure usually requires an   jupitermed.com.
      for up to 500 people! When                        overnight stay in the hospital and the device is implanted
      I checked on the price, it                        by catheterization, not by open-heart surgery.
      appears to be a case of, if
      you have to ask, you can't
      afford it!
        It all began when Sting
      and his wife Trudie were looking for a summer home in Italy.
      They found a run-down estate that formerly produced honey,
      olive oil and wine. They bought the property, Il Palagio,
      because of the view! Then they began a decade-long project
      of bringing the estate, vineyard and olive groves back to life.
        Sting invited all of the neighbors and town locals to the
      farm shop on the estate for a party to share their plans for
      returning Il Palagio to its previous glory. Now, every August,
      Sting holds a party for everyone to celebrate and thank them
      for their support. They eat, drink wine and of course he sings
      a few songs!                                                                                                     747-PALM
        (I want to be on this invitation list!)
        Sting has named the wine produced from the vineyard                                                                 747-7256
      after some of his hit songs … (Message in a Bottle, Roxanne,
      Sister Moon) just to name a few.
        Sting said, "A wine is like a song – it has a story to tell."
        Sister Moon has been listed as one of the top picks by
      Wine Spectator Magazine.                                         ASSET ADVISORY SERVICES
        You can travel to Italy to check it out, or run to your
      favorite wine store!
        Try a few and message me on your                                           Invites You to a
      favorites!!
        ~ Cheers                                                    SHREDDING EVENT
        ~ Keep the conversation going and
      the wine flowing!                                               Saturday, May 8th, 2021
        Follow the Vine on Instagram @                                      9:00 a.m. till Noon
      VineVibeUncorked.
                                                                        In the Three Palms Center Parking Lot
        Pressure Washing & Roof Cleaning                          Asset Advisory Services cares about your

         We are ready to exCeed your expeCtationS!                   nances and protecting your identity.
                   "We Clean Barrel Tile, Metal,
              Asphalt Shingle Roofs & Cedar Shake Roofs"           Please join us, so we can help you shred
                                                                         away your unwanted papers.


                                                                                          Protect your Money & Identity

                                                                                          Plan to have all your shredding materials sorted through
                                                                                             by April and bring them to our o ce, in the South
       • Screen Enclosure Frames                                                               Parking Lot where the destruction vehicle will
       • Driveways • Paver Sealing                                                              make your con dentials into confetti on-site.
       • Eco Friendly • Much More!     $25 OFF                                            We will be in the parking lot ready to assist you with your items!
       Our Guarantee - If your house doesn't   Roof Cleaning
       look 157% better than before, we will   With this coupon. May not
       refund you 100% of your money.  be combined with other    Are you looking for Sound Advice ?
                                          offers.
       Call James for Specials!                                      Give us a call to schedule a complimentary visit
                                                               so we can see how we can help you reach your  nancial goals.
                                                                                                                                  Three Palms Center
                                                                                                     Retirement Planning     2141 Alt A1A South, Suite 310
          561-248-1053                                                                                   Specialists               561.747.9550
                                                                                                                                   Jupiter, Fl 33477
          We Are Commercial Specialists!                      Securities and advisory services o ered through Commonwealth Financial Network® Member FINRA/SIPC, a   www.assetadvisoryservices.com
         Workman's Comp  Licensed & Insured  www.pwpbg.com    Registered Investment Adviser.  Fixed Insurance products and services offered through CES Insurance Agency.