Page 1 - Boca Expsore - May '21
P. 1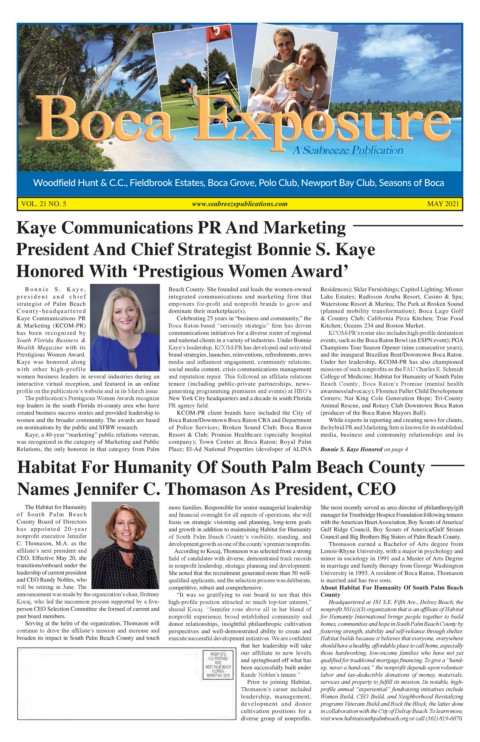 A Seabreeze Publication





            Woodfield Hunt & C.C., Fieldbrook Estates, Boca Grove, Polo Club, Newport Bay Club, Seasons of Boca



        VOL. 21 NO. 5                                           www.seabreezepublications.com                                                 MAY 2021

      Kaye Communications PR And Marketing



      President And Chief Strategist Bonnie S. Kaye


      Honored With 'Prestigious Women Award'




         Bonnie S. K aye,                                Beach County. She founded and leads the women-owned   Residences); Sklar Furnishings; Capitol Lighting; Mizner
      pre si de nt  a nd c hi e f                        integrated communications and marketing firm that   Lake Estates; Radisson Aruba Resort, Casino & Spa;
      strategist of Palm Beach                           empowers for-profit and nonprofit brands to grow and   Waterstone Resort & Marina; The Park at Broken Sound
      County-headquartered                               dominate their marketplace(s).                    (planned mobility transformation); Boca Lago Golf
      Kaye Communications PR                                Celebrating 25 years in "business and community," the   & Country Club; California Pizza Kitchen; True Food
      & Marketing (KCOM-PR)                              Boca Raton-based "seriously strategic" firm has driven   Kitchen; Oceans 234 and Boston Market.
      has been recognized by                             communications initiatives for a diverse roster of regional      KCOM-PR's roster also includes high-profile destination
      South Florida Business &                           and national clients in a variety of industries. Under Bonnie   events, such as the Boca Raton Bowl (an ESPN event); PGA
      Wealth Magazine with its                           Kaye's leadership, KCOM-PR has developed and activated   Champions Tour Season Opener (nine consecutive years),
      Prestigious Women Award.                           brand strategies, launches, reinventions, refreshments, news   and the inaugural Brazilian Beat/Downtown Boca Raton.
      Kaye was honored along                             media and influencer engagement, community relations,   Under her leadership, KCOM-PR has also championed
      with other high-profile                            social media content, crisis communications management   missions of such nonprofits as the FAU Charles E. Schmidt
      women business leaders in several industries during an   and reputation repair. This followed an affiliate relations   College of Medicine; Habitat for Humanity of South Palm
      interactive virtual reception, and featured in an online   tenure (including public-private partnerships, news-  Beach  County;  Boca  Raton's  Promise  (mental  health
      profile on the publication's website and in its March issue.   generating programming premieres and events) at HBO's   awareness/advocacy); Florence Fuller Child Development
         The publication's Prestigious Women Awards recognize   New York City headquarters and a decade in south Florida   Centers; Nat King Cole Generation Hope; Tri-County
      top leaders in the south Florida tri-county area who have   PR agency field.                         Animal Rescue, and Rotary Club Downtown Boca Raton
      created business success stories and provided leadership to      KCOM-PR client brands have included the City of   (producer of the Boca Raton Mayors Ball).
      women and the broader community. The awards are based   Boca Raton/Downtown Boca Raton CRA and Department      While experts in reporting and creating news for clients,
      on nominations by the public and SFBW research.    of Police Services; Broken Sound Club; Boca Raton   the hybrid PR and Marketing firm is known for its established
         Kaye, a 40-year "marketing" public relations veteran,   Resort & Club; Promise Healthcare (specialty hospital   media, business and community relationships and its
      was recognized in the category of Marketing and Public   company); Town Center at Boca Raton; Royal Palm
      Relations, the only honoree in that category from Palm   Place; El-Ad National Properties (developer of ALINA   Bonnie S. Kaye Honored on page 4
       Habitat For Humanity Of South Palm Beach County


       Names Jennifer C. Thomason As President, CEO




         The Habitat for Humanity                        more families. Responsible for senior managerial leadership   She most recently served as area director of philanthropy/gift
      of South Palm Beach                                and financial oversight for all aspects of operations, she will   manager for Trustbridge Hospice Foundation following tenures
      County Board of Directors                          focus on strategic visioning and planning, long-term goals   with the American Heart Association, Boy Scouts of America/
      has appointed 20-year                              and growth in addition to maintaining Habitat for Humanity   Gulf Ridge Council, Boy Scouts of America/Gulf Stream
      nonprofit executive Jennifer                       of South Palm Beach County's visibility, standing, and   Council and Big Brothers Big Sisters of Palm Beach County.
      C. Thomason, M.A. as the                           development growth as one of the county's premier nonprofits.      Thomason earned a Bachelor of Arts degree from
      affiliate's next president and                       According to Kocaj, Thomason was selected from a strong   Lenoir-Rhyne University, with a major in psychology and
      CEO. Effective May 20, she                         field of candidates with diverse, demonstrated track records   minor in sociology in 1991 and a Master of Arts Degree
      transitions/onboard under the                      in nonprofit leadership, strategic planning and development.   in marriage and family therapy from George Washington
      leadership of current president                    She noted that the recruitment generated more than 50 well-  University in 1993. A resident of Boca Raton, Thomason
      and CEO Randy Nobles, who                          qualified applicants, and the selection process was deliberate,   is married and has two sons.
      will be retiring in June. The                      competitive, robust and comprehensive.            About Habitat For Humanity Of South Palm Beach
      announcement was made by the organization's chair, Brittney      "It was so gratifying to our board to see that this   County
      Kocaj, who led the succession process supported by a five-  high-profile position attracted so much top-tier interest,"      Headquartered at 181 S.E. Fifth Ave., Delray Beach, the
      person CEO Selection Committee she formed of current and   shared Kocaj. "Jennifer rose above all in her blend of   nonprofit 501(c)(3) organization that is an affiliate of Habitat
      past board members.                                nonprofit experience, broad established community and   for Humanity International brings people together to build
         Serving at the helm of the organization, Thomason will   donor relationships, insightful philanthropic cultivation   homes, communities and hope in South Palm Beach County by
      continue to drive the affiliate's mission and increase and   perspectives and well-demonstrated ability to create and   fostering strength, stability and self-reliance through shelter.
      broaden its impact in South Palm Beach County and touch   execute successful development initiatives. We are confident   Habitat builds because it believes that everyone, everywhere
                                                                                 that her leadership will take   should have a healthy, affordable place to call home, especially
                                                                                 our  affiliate  to  new levels   those hardworking, low-income families who have not yet
                                                                                 and springboard off what has   qualified for traditional mortgage financing. To give a "hand-
                                                                                 been successfully built under   up, never a hand-out," the nonprofit depends upon volunteer
                                                                                 Randy Nobles's tenure."   labor and tax-deductible donations of money, materials,
                                                                                   Prior to joining Habitat,   services and property to fulfill its mission. Its notable, high-
                                                                                 Thomason's career included   profile annual "experiential" fundraising initiatives include
                                                                                 leadership, management,   Women Build, CEO Build, and Neighborhood Revitalizing
                                                                                 development and donor     programs Veterans Build and Rock the Block, the latter done
                                                                                 cultivation  positions  for  a   in collaboration with the City of Delray Beach. To learn more,
                                                                                 diverse group of nonprofits.   visit www.habitatsouthpalmbeach.org or call (561) 819-6070.