Page 1 - The Shores of Jupiter - May '21
P. 1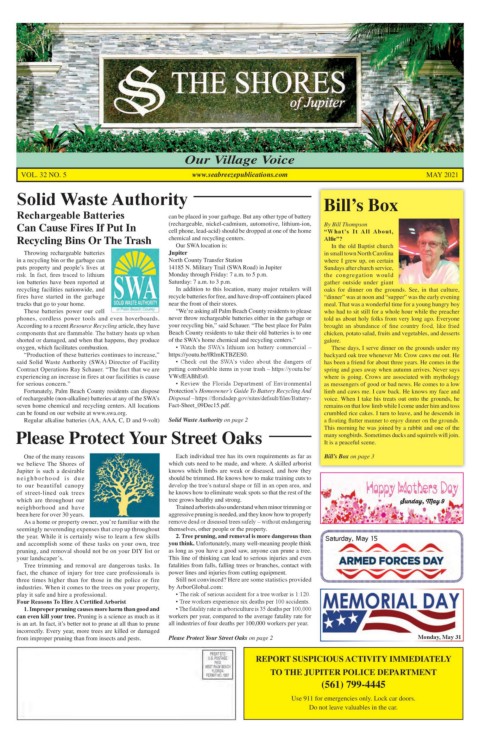 Our Village Voice


        VOL. 32 NO. 5                                           www.seabreezepublications.com                                                 MAY 2021

      Solid Waste Authority                                                                                 Bill's Box



      Rechargeable Batteries                             can be placed in your garbage. But any other type of battery
      Can Cause Fires If Put In                          (rechargeable, nickel-cadmium, automotive, lithium-ion,   By Bill Thompson
                                                         cell phone, lead-acid) should be dropped at one of the home
                                                                                                            "What's  It  All  About,
      Recycling Bins Or The Trash                        chemical and recycling centers.                    Alfie"?
                                                           Our SWA location is:                               In the old Baptist church
        Throwing rechargeable batteries                  Jupiter                                            in small town North Carolina
      in a recycling bin or the garbage can              North County Transfer Station                      where I grew up, on certain
      puts property and people's lives at                14185 N. Military Trail (SWA Road) in Jupiter      Sundays after church service,
      risk. In fact, fires traced to lithium             Monday through Friday: 7 a.m. to 5 p.m.            the congregation would
      ion batteries have been reported at                Saturday: 7 a.m. to 3 p.m.                         gather outside under giant
      recycling facilities nationwide, and                 In addition to this location, many major retailers will   oaks for dinner on the grounds. See, in that culture,
      fires have started in the garbage                  recycle batteries for free, and have drop-off containers placed   "dinner" was at noon and "supper" was the early evening
      trucks that go to your home.                       near the front of their stores.                    meal. That was a wonderful time for a young hungry boy
        These batteries power our cell                     "We're asking all Palm Beach County residents to please   who had to sit still for a whole hour while the preacher
      phones, cordless power tools and even hoverboards.   never throw rechargeable batteries either in the garbage or   told us about holy folks from very long ago. Everyone
      According to a recent Resource Recycling article, they have   your recycling bin," said Schauer. "The best place for Palm   brought an abundance of fine country food, like fried
      components that are flammable. The battery heats up when   Beach County residents to take their old batteries is to one   chicken, potato salad, fruits and vegetables, and desserts
      shorted or damaged, and when that happens, they produce   of the SWA's home chemical and recycling centers."  galore.
      oxygen, which facilitates combustion.                • Watch the SWA's lithium ion battery commercial –     These days, I serve dinner on the grounds under my
        "Production of these batteries continues to increase,"   https://youtu.be/fRlmKTBZES0.              backyard oak tree whenever Mr. Crow caws me out. He
      said Solid Waste Authority (SWA) Director of Facility     •  Check  out  the  SWA's  video  about  the  dangers  of   has been a friend for about three years. He comes in the
      Contract Operations Ray Schauer. "The fact that we are   putting combustible items in your trash – https://youtu.be/  spring and goes away when autumn arrives. Never says
      experiencing an increase in fires at our facilities is cause   VWsfEABhEs0.                           where is going. Crows are associated with mythology
      for serious concern."                                • Review the Florida Department of Environmental   as messengers of good or bad news. He comes to a low
        Fortunately, Palm Beach County residents can dispose   Protection's Homeowner's Guide To Battery Recycling And   limb and caws me. I caw back. He knows my face and
      of rechargeable (non-alkaline) batteries at any of the SWA's   Disposal – https://floridadep.gov/sites/default/files/Battery-  voice. When I take his treats out onto the grounds, he
      seven home chemical and recycling centers. All locations   Fact-Sheet_09Dec15.pdf.                    remains on that low limb while I come under him and toss
      can be found on our website at www.swa.org.                                                           crumbled rice cakes. I turn to leave, and he descends in
        Regular alkaline batteries (AA, AAA, C, D and 9-volt)   Solid Waste Authority on page 2             a floating flutter manner to enjoy dinner on the grounds.
      Please Protect Your Street Oaks                                                                       This morning he was joined by a rabbit and one of the
                                                                                                            many songbirds. Sometimes ducks and squirrels will join.
                                                                                                            It is a peaceful scene.

        One of the many reasons                            Each individual tree has its own requirements as far as   Bill's Box on page 3
      we believe The Shores of                           which cuts need to be made, and where. A skilled arborist
      Jupiter is such a desirable                        knows which limbs are weak or diseased, and how they
      neighborhood  is due                               should be trimmed. He knows how to make training cuts to
      to our beautiful canopy                            develop the tree's natural shape or fill in an open area, and
      of street-lined oak trees                          he knows how to eliminate weak spots so that the rest of the
      which are throughout our                           tree grows healthy and strong.                                              Sunday, May 9
      neighborhood and have                                Trained arborists also understand when minor trimming or
      been here for over 30 years.                       aggressive pruning is needed, and they know how to properly
        As a home or property owner, you're familiar with the   remove dead or diseased trees safely – without endangering
      seemingly neverending expenses that crop up throughout   themselves, other people or the property.
      the year. While it is certainly wise to learn a few skills     2. Tree pruning, and removal is more dangerous than   Saturday, May 15
      and accomplish some of these tasks on your own, tree   you think. Unfortunately, many well-meaning people think
      pruning, and removal should not be on your DIY list or   as long as you have a good saw, anyone can prune a tree.
      your landscaper's.                                 This line of thinking can lead to serious injuries and even
        Tree trimming and removal are dangerous tasks. In   fatalities from falls, falling trees or branches, contact with
      fact, the chance of injury for tree care professionals is   power lines and injuries from cutting equipment.
      three times higher than for those in the police or fire     Still not convinced? Here are some statistics provided
      industries. When it comes to the trees on your property,   by ArborGlobal.com:
      play it safe and hire a professional.                • The risk of serious accident for a tree worker is 1:120.
      Four Reasons To Hire A Certified Arborist            • Tree workers experience six deaths per 100 accidents.
        1. Improper pruning causes more harm than good and     • The fatality rate in arboriculture is 35 deaths per 100,000
      can even kill your tree. Pruning is a science as much as it   workers per year, compared to the average fatality rate for
      is an art. In fact, it's better not to prune at all than to prune   all industries of four deaths per 100,000 workers per year.
      incorrectly. Every year, more trees are killed or damaged
      from improper pruning than from insects and pests.   Please Protect Your Street Oaks on page 2                                       Monday, May 31


                                                                                     REPORT SUSPICIOUS ACTIVITY IMMEDIATELY

                                                                                          TO THE JUPITER POLICE DEPARTMENT
                                                                                                           (561) 799-4445

                                                                                                 Use 911 for emergencies only. Lock car doors.
                                                                                                       Do not leave valuables in the car.