Page 1 - Abacoa Community News - June '21
P. 1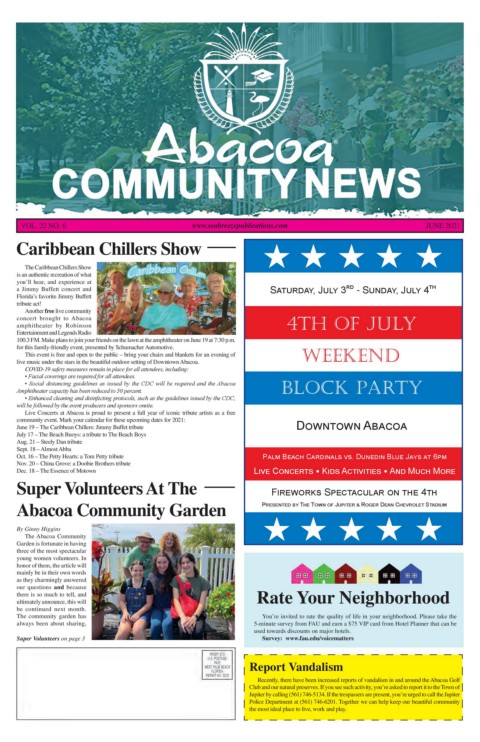 VOL. 22 NO. 6                                           www.seabreezepublications.com                                                 JUNE 2021

      Caribbean Chillers Show



         The Caribbean Chillers Show
      is an authentic recreation of what
      you'll hear, and experience at
                                                                                                                   rd
                                                                                                                                               th
      a Jimmy Buffett concert and                                                         Saturday, July 3  - Sunday, July 4
      Florida's favorite Jimmy Buffett
      tribute act!
         Another free live community
      concert brought to  Abacoa
      amphitheater by Robinson                                                                  4TH OF JULY
      Entertainment and Legends Radio
      100.3 FM. Make plans to join your friends on the lawn at the amphitheater on June 19 at 7:30 p.m.
      for this family-friendly event, presented by Schumacher Automotive.
         This event is free and open to the public – bring your chairs and blankets for an evening of   WEEKEND
      live music under the stars in the beautiful outdoor setting of Downtown Abacoa.
         COVID-19 safety measures remain in place for all attendees, including:
         • Facial coverings are required for all attendees.
         • Social distancing guidelines as issued by the CDC will be required and the Abacoa   BLOCK PARTY
      Amphitheater capacity has been reduced to 50 percent.
         • Enhanced cleaning and disinfecting protocols, such as the guidelines issued by the CDC,
      will be followed by the event producers and sponsors onsite.
         Live Concerts at Abacoa is proud to present a full year of iconic tribute artists as a free
      community event. Mark your calendar for these upcoming dates for 2021:
      June 19 – The Caribbean Chillers: Jimmy Buffet tribute                                       Downtown Abacoa
      July 17 – The Beach Buoys: a tribute to The Beach Boys
      Aug. 21 – Steely Dan tribute
      Sept. 18 – Almost Abba
      Oct. 16 – The Petty Hearts: a Tom Petty tribute                                   Palm Beach Cardinals vs. Dunedin Blue Jays at 6pm
      Nov. 20 – China Grove: a Doobie Brothers tribute
      Dec. 18 – The Essence of Motown                                                Live Concerts • Kids Activities • And Much More
      Super Volunteers At The                                                              Fireworks Spectacular on the 4th



      Abacoa Community Garden                                                          Presented by The Town of Jupiter & Roger Dean Chevrolet Stadium



      By Ginny Higgins
         The Abacoa Community
      Garden is fortunate in having
      three of the most spectacular
      young women volunteers. In
      honor of them, the article will
      mainly be in their own words
      as they charmingly answered
      our questions and because
      there is so much to tell, and                                                   Rate Your Neighborhood
      ultimately announce, this will
      be continued next month.
      The community garden has                                                          You're invited to rate the quality of life in your neighborhood. Please take the
      always been about sharing,                                                     5-minute survey from FAU and earn a $75 VIP card from Hotel Planner that can be
                                                                                     used towards discounts on major hotels.
      Super Volunteers on page 3                                                        Survey:  www.fau.edu/voicematters



                                                                                   Report Vandalism

                                                                                      Recently, there have been increased reports of vandalism in and around the Abacoa Golf
                                                                                   Club and our natural preserves. If you see such activity, you're asked to report it to the Town of
                                                                                   Jupiter by calling (561) 746-5134. If the trespassers are present, you're urged to call the Jupiter
                                                                                   Police Department at (561) 746-6201. Together we can help keep our beautiful community
                                                                                   the most ideal place to live, work and play.