Page 10 - Abacoa Community News - June '21
P. 10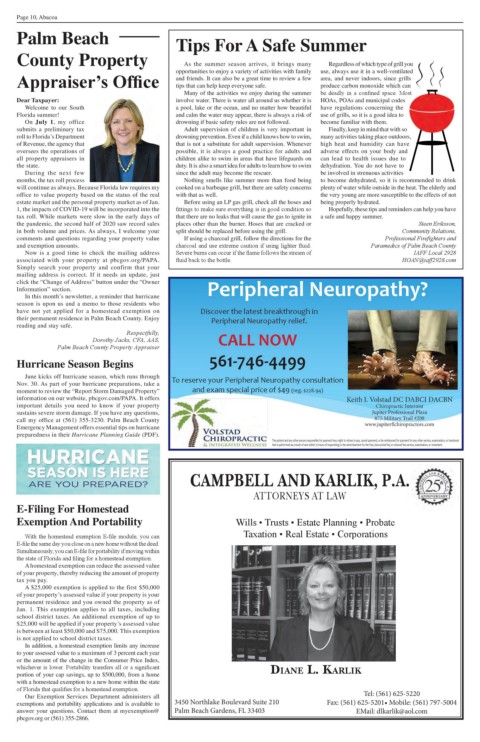 Page 10, Abacoa
      Palm Beach                                           Tips For A Safe Summer



      County Property                                         As  the  summer  season  arrives,  it  brings  many      Regardless of which type of grill you


      Appraiser's Office                                   opportunities to enjoy a variety of activities with family   use, always use it in a well-ventilated
                                                           and friends. It can also be a great time to review a few
                                                                                                           area, and never indoors, since grills
                                                                                                           produce carbon monoxide which can
                                                           tips that can help keep everyone safe.
                                                              Many of the activities we enjoy during the summer   be deadly in a confined space. Most
      Dear Taxpayer:                                       involve water. There is water all around us whether it is   HOAs, POAs and municipal codes
         Welcome to our South                              a pool, lake or the ocean, and no matter how beautiful   have regulations concerning the
      Florida summer!                                      and calm the water may appear, there is always a risk of   use of grills, so it is a good idea to
         On July 1, my office                              drowning if basic safety rules are not followed.  become familiar with them.
      submits  a  preliminary tax                             Adult supervision of children is very important in      Finally, keep in mind that with so
      roll to Florida's Department                         drowning prevention. Even if a child knows how to swim,   many activities taking place outdoors,
      of Revenue, the agency that                          that is not a substitute for adult supervision. Whenever   high heat and humidity can have
      oversees the operations of                           possible, it is always a good practice for adults and   adverse effects on your body and
      all  property  appraisers  in                        children alike to swim in areas that have lifeguards on   can lead to health issues due to
      the state.                                           duty. It is also a smart idea for adults to learn how to swim   dehydration. You do not have to
         During the next few                               since the adult may become the rescuer.         be involved in strenuous activities
      months, the tax roll process                            Nothing smells like summer more than food being   to become dehydrated, so it is recommended to drink
      will continue as always. Because Florida law requires my   cooked on a barbeque grill, but there are safety concerns   plenty of water while outside in the heat. The elderly and
      office to value property based on the status of the real   with that as well.                        the very young are more susceptible to the effects of not
      estate market and the personal property market as of Jan.      Before using an LP gas grill, check all the hoses and   being properly hydrated.
      1, the impacts of COVID-19 will be incorporated into the   fittings to make sure everything is in good condition so      Hopefully, these tips and reminders can help you have
      tax roll. While markets were slow in the early days of   that there are no leaks that will cause the gas to ignite in   a safe and happy summer.
      the pandemic, the second half of 2020 saw record sales   places other than the burner. Hoses that are cracked or                     Steen Eriksson,
      in both volume and prices. As always, I welcome your   split should be replaced before using the grill.                         Community Relations,
      comments and questions regarding your property value      If using a charcoal grill, follow the directions for the        Professional Firefighters and
      and exemption amounts.                               charcoal and use extreme caution if using lighter fluid.        Paramedics of Palm Beach County
         Now is a good time to check the mailing address   Severe burns can occur if the flame follows the stream of                      IAFF Local 2928
      associated with your property at pbcgov.org/PAPA.    fluid back to the bottle.                                                  HOAN@iaff2928.com
      Simply search your property and confirm that your
      mailing address is correct. If it needs an update, just
      click the "Change of Address" button under the "Owner
      Information" section.                                          Peripheral Neuropathy?
         In this month's newsletter, a reminder that hurricane
      season is upon us and a memo to those residents who
      have not yet applied for a homestead exemption on            Discover the latest breakthrough in
      their permanent residence in Palm Beach County. Enjoy            Peripheral Neuropathy relief.
      reading and stay safe.
                                           Respectfully,
                               Dorothy Jacks, CFA, AAS,                  CALL NOW
                    Palm Beach County Property Appraiser

      Hurricane Season Begins                                         561-746-4499

         June kicks off hurricane season, which runs through   To reserve your Peripheral Neuropathy consultation
      Nov. 30. As part of your hurricane preparations, take a
      moment to review the "Report Storm Damaged Property"      and exam special price of $49 (reg. $228.94)
      information on our website, pbcgov.com/PAPA. It offers                                                       Keith L Volstad DC DABCI DACBN
      important details you need to know if your property                                                                    Chiropractic Internist
      sustains severe storm damage. If you have any questions,                                                              Jupiter Professional Plaza
      call my office at (561) 355-3230. Palm Beach County                                                                    875 Military Trail #208
      Emergency Management offers essential tips on hurricane                                                             www.jupiterflchiropractors.com
      preparedness in their Hurricane Planning Guide (PDF).
                                                                                           The patient and any other person responsible for payment has a right to refuse to pay, cancel payment, or be reimbursed for payment for any other service, examination, or treatment
                                                                                           that is performed as a result of and within 72 hours of responding to the advertisement for the free, discounted fee, or reduced fee service, examination, or treatment.




                                                                CAMPBELL AND KARLIK, P.A.


                                                                                     ATTORNEYS AT LAW
      E-Filing For Homestead

      Exemption And Portability                                                Wills • Trusts • Estate Planning • Probate

                                                                                 Taxation • Real Estate • Corporations
         With the homestead exemption E-file module, you can
      E-file the same day you close on a new home without the deed.
      Simultaneously, you can E-file for portability if moving within
      the state of Florida and filing for a homestead exemption.
         A homestead exemption can reduce the assessed value
      of your property, thereby reducing the amount of property
      tax you pay.
         A $25,000 exemption is applied to the first $50,000
      of your property's assessed value if your property is your
      permanent residence and you owned the property as of
      Jan. 1. This exemption applies to all taxes, including
      school district taxes. An additional exemption of up to
      $25,000 will be applied if your property's assessed value
      is between at least $50,000 and $75,000. This exemption
      is not applied to school district taxes.
         In addition, a homestead exemption limits any increase
      to your assessed value to a maximum of 3 percent each year
      or the amount of the change in the Consumer Price Index,
      whichever is lower. Portability transfers all or a significant                      Diane L. KarLiK
      portion of your cap savings, up to $500,000, from a home
      with a homestead exemption to a new home within the state
      of Florida that qualifies for a homestead exemption.
         Our Exemption Services Department administers all                                                               Tel: (561) 625-5220
      exemptions and portability applications and is available to   3450 Northlake Boulevard Suite 210       Fax: (561) 625-5201• Mobile: (561) 797-5004
      answer your questions. Contact them at myexemption@  Palm Beach Gardens, FL 33403                                EMail: dlkarlik@aol.com
      pbcgov.org or (561) 355-2866.