Page 2 - PGA Community News - June '21
P. 2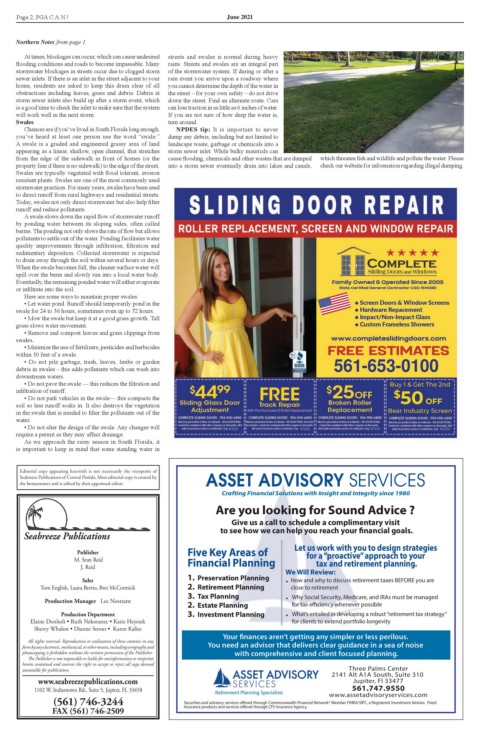 Page 2, PGA C.A.N.!                                                   June 2021                                                                                                                                                     June 2021



      Northern Notes from page 1

         At times, blockages can occur, which can cause undesired   streets and swales is normal during heavy
      flooding conditions and roads to become impassable. Many   rains. Streets and swales are an integral part
      stormwater blockages in streets occur due to clogged storm   of the stormwater system. If during or after a
      sewer inlets. If there is an inlet in the street adjacent to your   rain event you arrive upon a roadway where
      home, residents are asked to keep this drain clear of all   you cannot determine the depth of the water in
      obstructions including leaves, grass and debris. Debris at   the street – for your own safety – do not drive
      storm sewer inlets also build up after a storm event, which   down the street. Find an alternate route. Cars
      is a good time to check the inlet to make sure that the system   can lose traction in as little as 6 inches of water.
      will work well in the next storm.                 If you are not sure of how deep the water is,
      Swales                                            turn around.
         Chances are if you've lived in South Florida long enough,      NPDES tip:  It  is  important  to  never
      you've heard at least one person use the word "swale."   dump any debris, including but not limited to
      A swale is a graded and engineered grassy area of land   landscape waste, garbage or chemicals into a
      appearing as a linear, shallow, open channel, that stretches   storm sewer inlet. While bulky materials can
      from the edge of the sidewalk in front of homes (or the   cause flooding, chemicals and other wastes that are dumped   which threaten fish and wildlife and pollute the water. Please
      property line if there is no sidewalk) to the edge of the street.   into a storm sewer eventually drain into lakes and canals,   check our website for information regarding illegal dumping.
      Swales are typically vegetated with flood tolerant, erosion
      resistant plants. Swales are one of the most commonly used
      stormwater practices. For many years, swales have been used
      to direct runoff from rural highways and residential streets.
      Today, swales not only direct stormwater but also help filter
      runoff and reduce pollutants.
         A swale slows down the rapid flow of stormwater runoff
      by ponding water between its sloping sides, often called
      berms. The ponding not only slows the rate of flow but allows
      pollutants to settle out of the water. Ponding facilitates water
      quality improvements through infiltration, filtration and
      sedimentary deposition. Collected stormwater is expected
      to drain away through the soil within several hours or days.
      When the swale becomes full, the cleaner surface water will
      spill over the berm and slowly run into a local water body.
      Eventually, the remaining ponded water will either evaporate
      or infiltrate into the soil.
         Here are some ways to maintain proper swales:
         • Let water pond. Runoff should temporarily pond in the                                                      • Screen Doors & Window Screens
      swale for 24 to 36 hours, sometimes even up to 72 hours.                                                        • Hardware Repacement
         • Mow the swale but keep it at a good grass growth. Tall                                                     • Impact/Non-Impact Glass
      grass slows water movement.                                                                                     • Custom Frameless Showers
         • Remove and compost leaves and grass clippings from
      swales.
         • Minimize the use of fertilizers, pesticides and herbicides
      within 50 feet of a swale.
         • Do not pile garbage, trash, leaves, limbs or garden                                                 561-653-0100
      debris in swales – this adds pollutants which can wash into
      downstream waters.
         • Do not pave the swale — this reduces the filtration and                                                                Buy 1 & Get The 2nd
      infiltration of runoff.                                                                                                      $
         • Do not park vehicles in the swale— this compacts the                                                                      50 OFF
      soil so less runoff soaks in. It also destroys the vegetation
      in the swale that is needed to filter the pollutants out of the                                                            Bear Industry Screen
      water.
         • Do not alter the design of the swale. Any changes will           8/12/21.                8/12/21.               8/12/21.               8/12/21.
      require a permit as they may affect drainage.
         As we approach the rainy season in South Florida, it
      is important to keep in mind that some standing water in



       Editorial copy appearing herewith is not necessarily the viewpoint of
       Seabreeze Publications of Central Florida. Most editorial copy is created by   ASSET ADVISORY SERVICES
       the homeowners and is edited by their appointed editor.
                                                                          Crafting Financial Solutions with Insight and Integrity since 1980

                                                                        Are you looking for Sound Advice ?

                                                                             Give us a call to schedule a complimentary visit
                                                                          to see how we can help you reach your  nancial goals.
         Seabreeze Publications


                          Publisher                            Five Key Areas of                  Let us work with you to design strategies
                                                                                                      for a "proactive" approach to your
                          M. Sean Reid                         Financial Planning                        tax and retirement planning.
                            J. Reid                                                            We Will Review:

                            Sales                              1.  Preservation Planning       .  How and why to discuss retirement taxes BEFORE you are
              Tom English, Laura Berrio, Bret McCormick        2.  Retirement Planning             close to retirement
                                                               3.  Tax Planning                .  Why Social Security, Medicare, and IRAs must be managed
                Production Manager   Lee Nostrant
                                                               2.  Estate Planning                  for tax e ciency whenever possible
                     Production Department                     3.  Investment Planning         .  What's entailed in developing a robust "retirement tax strategy"

           Elaine Donholt • Ruth Nekoranec • Katie Heystek                                          for clients to extend portfolio longevity
            Sherry Whalon • Dianne Strout •  Karen Kalisz
                                                                          Your  nances aren't getting any simpler or less perilous.
          All rights reserved. Reproduction or utilization of these contents in any
        form by any electronic, mechanical, or other means, including xerography and   You need an advisor that delivers clear guidance in a sea of noise
        photocopying is forbidden without the written permission of the Publisher.  with comprehensive and client focused planning.
          The Publisher is not responsible or liable for misinformation or misprints
        herein contained and reserves the right to accept or reject all copy deemed
        unsuitable for publication.                                                                                 Three Palms Center
                                                                                                              2141 Alt A1A South, Suite 310
             www.seabreezepublications.com                                                                            Jupiter, Fl 33477
                                                                                                                     561.747.9550
            1102 W. Indiantown Rd., Suite 5, Jupiter, FL 33458          Retirement Planning Specialists       www.assetadvisoryservices.com
                  (561) 746-3244                              Securities and advisory services o ered through Commonwealth Financial Network® Member FINRA/SIPC, a Registered Investment Adviser.  Fixed

                  FAX (561) 746-2509                          Insurance products and services offered through CFS Insurance Agency.