Page 4 - PGA Community News - June '21
P. 4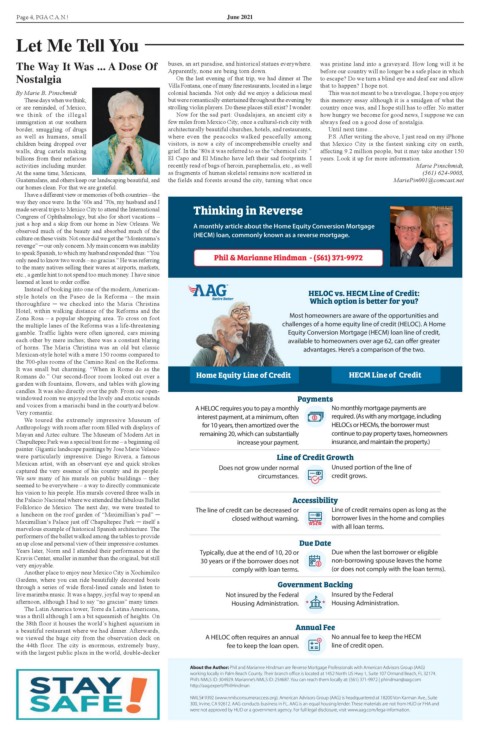 Page 4, PGA C.A.N.!                                                   June 2021                                                                                                                                                     June 2021


      Let Me Tell You



      The Way It Was ... A Dose Of                      buses, an art paradise, and historical statues everywhere.   was pristine land into a graveyard. How long will it be
                                                                                                           before our country will no longer be a safe place in which
                                                        Apparently, none are being torn down.
      Nostalgia                                            On the last evening of that trip, we had dinner at The   to escape? Do we turn a blind eye and deaf ear and allow
                                                        Villa Fontana, one of many fine restaurants, located in a large   that to happen? I hope not.
      By Marie B. Pinschmidt                            colonial hacienda. Not only did we enjoy a delicious meal      This was not meant to be a travelogue, I hope you enjoy
         These days when we think,                      but were romantically entertained throughout the evening by   this memory essay although it is a smidgen of what the
      or are reminded, of Mexico,                       strolling violin players. Do these places still exist? I wonder.  country once was, and I hope still has to offer. No matter
      we  think  of  the  illegal                          Now for the sad part: Guadalajara, an ancient city a   how hungry we become for good news, I suppose we can
      immigration at our southern                       few miles from Mexico City, once a cultural-rich city with   always feed on a good dose of nostalgia.
      border, smuggling of drugs                        architecturally beautiful churches, hotels, and restaurants,      Until next time…
      as  well  as  humans,  small                      where  even  the  peacocks  walked  peacefully  among      P.S. After writing the above, I just read on my iPhone
      children being dropped over                       visitors, is now a city of incomprehensible cruelty and   that  Mexico  City  is  the  fastest  sinking  city  on  earth,
      walls,  drug  cartels  making                     grief. In the '80s it was referred to as the "chemical city."   affecting 9.2 million people, but it may take another 150
      billions from their nefarious                     El Capo and El Mincho have left their sad footprints. I   years. Look it up for more information.
      activities including murder.                      recently read of bags of heroin, paraphernalia, etc., as well                      Marie Pinschmidt,
      At the same time, Mexicans,                       as fragments of human skeletal remains now scattered in                              (561) 624-9003,
      Guatemalans, and others keep our landscaping beautiful, and   the fields and forests around the city, turning what once      MariePin001@comcast.net
      our homes clean. For that we are grateful.
         I have a different view or memories of both countries – the
      way they once were. In the '60s and '70s, my husband and I
      made several trips to Mexico City to attend the International   Thinking in Reverse
      Congress of Ophthalmology, but also for short vacations –
      just a hop and a skip from our home in New Orleans. We     A monthly article about the Home Equity Conversion Mortgage
      observed much of the beauty and absorbed much of the
      culture on these visits. Not once did we get the "Montezuma's   (HECM) loan, commonly known as a reverse mortgage.
      revenge" ─ our only concern. My main concern was inability
      to speak Spanish, to which my husband responded thus: "You
      only need to know two words – no gracias." He was referring       Phil & Marianne Hindman  - (561) 371-9972
      to the many natives selling their wares at airports, markets,
      etc., a gentle hint to not spend too much money. I have since
      learned at least to order coffee.
         Instead of booking into one of the modern, American-                                          HELOC vs. HECM Line of Credit:
      style  hotels  on  the  Paseo  de  la  Reforma  –  the  main
      thoroughfare  ─  we  checked  into  the  Maria  Christina                                        Which option is better for you?
      Hotel, within walking distance of the Reforma and the
      Zona Rosa – a popular shopping area. To cross on foot                                      Most homeowners are aware of the opportunities and
      the multiple lanes of the Reforma was a life-threatening                                challenges of a home equity line of credit (HELOC). A Home
      gamble. Traffic lights were often ignored, cars missing                                   Equity Conversion Mortgage (HECM) loan line of credit,
      each other by mere inches; there was a constant blaring                                   available to homeowners over age 62, can offer greater
      of  horns. The  Maria  Christina  was  an  old  but  classic                                   advantages. Here's a comparison of the two.
      Mexican-style hotel with a mere 150 rooms compared to
      the 700-plus rooms of the Camino Real on the Reforma.
      It  was  small  but  charming.  "When  in  Rome  do  as  the
      Romans do." Our second-floor room looked out over a         Home Equity Line of Credit                        HECM Line of  Credit
      garden with fountains, flowers, and tables with glowing
      candles. It was also directly over the pub. From our open-
      windowed room we enjoyed the lively and exotic sounds                                        Payments
      and voices from a mariachi band in the courtyard below.    A HELOC requires you to pay a monthly        No monthly mortgage payments are
      Very romantic.
         We  toured  the  extremely  impressive  Museum  of       interest payment, at a minimum, often       required. (As with any mortgage, including
      Anthropology with room after room filled with displays of     for 10 years, then amortized over the     HELOCs or HECMs, the borrower must
      Mayan and Aztec culture. The Museum of Modern Art in         remaining 20, which can substantially      continue to pay property taxes, homeowners
      Chapultepec Park was a special treat for me – a beginning oil            increase your payment.         insurance, and maintain the property.)
      painter. Gigantic landscape paintings by Jose Marie Velasco
      were  particularly  impressive.  Diego  Rivera,  a  famous                            Line of Credit Growth
      Mexican artist, with an observant eye and quick strokes
      captured the very essence of his country and its people.           Does not grow under normal           Unused portion of the line of
      We saw many of his murals on public buildings – they                            circumstances.          credit grows.
      seemed to be everywhere – a way to directly communicate
      his vision to his people. His murals covered three walls in
      the Palacio Nacional where we attended the fabulous Ballet                                  Accessibility
      Folklorico de Mexico. The next day, we were treated to      The line of credit can be decreased or      Line of credit remains open as long as the
      a luncheon on the roof garden of "Maximillian's pad" ─
      Maximillian's Palace just off Chapultepec Park ─ itself a               closed without warning.         borrower lives in the home and complies
      marvelous example of historical Spanish architecture. The                                               with all loan terms.
      performers of the ballet walked among the tables to provide
      an up close and personal view of their impressive costumes.                                   Due Date
      Years later, Norm and I attended their performance at the    Typically, due at the end of 10, 20 or     Due when the last borrower or eligible
      Kravis Center, smaller in number than the original, but still   30 years or if the borrower does not    non-borrowing spouse leaves the home
      very enjoyable.
         Another place to enjoy near Mexico City is Xochimilco                comply with loan terms.         (or does not comply with the loan terms).
      Gardens, where you can ride beautifully decorated boats
      through a series of wide floral-lined canals and listen to                             Government Backing
      live marimba music. It was a happy, joyful way to spend an           Not insured by the Federal         Insured by the Federal
      afternoon, although I had to say "no gracias" many times.              Housing Administration.          Housing Administration.
         The Latin America tower, Torre da Latina Americana,
      was a thrill although I am a bit squeamish of heights. On
      the 38th floor it houses the world's highest aquarium in                                     Annual Fee
      a beautiful restaurant where we had dinner. Afterwards,
      we viewed the huge city from the observation deck on           A HELOC often requires an annual         No annual fee to keep the HECM
      the  44th  floor. The  city  is  enormous,  extremely  busy,          fee to keep the loan open.        line of credit open.
      with the largest public plaza in the world, double-decker

                                                                About the Author: Phil and Marianne Hindman are Reverse Mortgage Professionals with American Advisors Group (AAG)
                                                                working locally in Palm Beach County. Their branch office is located at 1452 North US Hwy 1, Suite 107 Ormand Beach, FL 32174.
                                                                Phil's NMLS ID: 304929. Marianne's NMLS ID: 254687. You can reach them locally at: (561) 371-9972 | phindman@aag.com
                                                                http://aag.expert/PhilHindman
                                                                NMLS# 9392 (www.nmlsconsumeraccess.org). American Advisors Group (AAG) is headquartered at 18200 Von Karman Ave., Suite
                                                                300, Irvine, CA 92612. AAG conducts business in FL. AAG is an equal housing lender. These materials are not from HUD or FHA and
                                                                were not approved by HUD or a government agency. For full legal disclosure, visit www.aag.com/lega-information.