Page 1 - Abacoa Community News - July '21
P. 1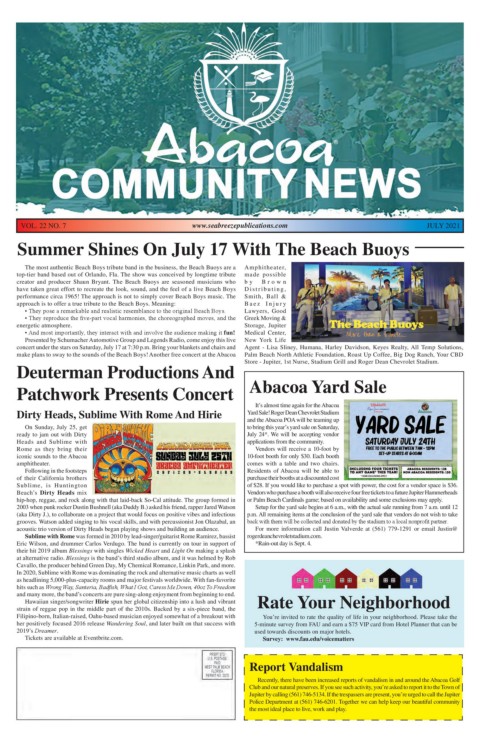 VOL. 22 NO. 7                                           www.seabreezepublications.com                                                 JULY 2021

       Summer Shines On July 17 With The Beach Buoys



         The most authentic Beach Boys tribute band in the business, the Beach Buoys are a   Amphitheater,
      top-tier band based out of Orlando, Fla. The show was conceived by longtime tribute   made possible
      creator and producer Shaun Bryant. The Beach Buoys are seasoned musicians who   b y  B r o wn
      have taken great effort to recreate the look, sound, and the feel of a live Beach Boys   Distributing,
      performance circa 1965! The approach is not to simply cover Beach Boys music. The   Smith, Ball &
      approach is to offer a true tribute to the Beach Boys. Meaning:             Baez Injury
         • They pose a remarkable and realistic resemblance to the original Beach Boys.  Lawyers, Good
         • They reproduce the five-part vocal harmonies, the choreographed moves, and the   Greek Moving &
      energetic atmosphere.                                                       Storage, Jupiter
         • And most importantly, they interact with and involve the audience making it fun!  Medical Center,
         Presented by Schumacher Automotive Group and Legends Radio, come enjoy this live   New York  Life
      concert under the stars on Saturday, July 17 at 7:30 p.m. Bring your blankets and chairs and   Agent - Lisa Sliney, Humana, Harley Davidson, Keyes Realty, All Temp Solutions,
      make plans to sway to the sounds of the Beach Boys! Another free concert at the Abacoa   Palm Beach North Athletic Foundation, Roast Up Coffee, Big Dog Ranch, Your CBD
                                                                                  Store - Jupiter, 1st Nurse, Stadium Grill and Roger Dean Chevrolet Stadium.
      Deuterman Productions And


      Patchwork Presents Concert                                                   Abacoa Yard Sale


                                                                                      It's almost time again for the Abacoa
      Dirty Heads, Sublime With Rome And Hirie                                     Yard Sale! Roger Dean Chevrolet Stadium
                                                                                   and the Abacoa POA will be teaming up
         On Sunday, July 25, get                                                   to bring this year's yard sale on Saturday,
      ready to jam out with Dirty                                                  July 24*. We will be accepting vendor
      Heads and Sublime with                                                       applications from the community.
      Rome as they bring their                                                        Vendors will receive a 10-foot by
      iconic sounds to the Abacoa                                                  10-foot booth for only $30. Each booth
      amphitheater.                                                                comes with a table and two chairs.
         Following in the footsteps                                                Residents of Abacoa will be able to
      of their California brothers                                                 purchase their booths at a discounted cost
      Sublime,  is  Huntington                                                     of $28. If you would like to purchase a spot with power, the cost for a vendor space is $36.
      Beach's  Dirty Heads mix                                                     Vendors who purchase a booth will also receive four free tickets to a future Jupiter Hammerheads
      hip-hop, reggae, and rock along with that laid-back So-Cal attitude. The group formed in   or Palm Beach Cardinals game; based on availability and some exclusions may apply.
      2003 when punk rocker Dustin Bushnell (aka Duddy B.) asked his friend, rapper Jared Watson      Setup for the yard sale begins at 6 a.m., with the actual sale running from 7 a.m. until 12
      (aka Dirty J.), to collaborate on a project that would focus on positive vibes and infectious   p.m. All remaining items at the conclusion of the yard sale that vendors do not wish to take
      grooves. Watson added singing to his vocal skills, and with percussionist Jon Olazabal, an   back with them will be collected and donated by the stadium to a local nonprofit partner.
      acoustic trio version of Dirty Heads began playing shows and building an audience.      For more information call Justin Valverde at (561) 779-1291 or email Justin@
         Sublime with Rome was formed in 2010 by lead-singer/guitarist Rome Ramirez, bassist   rogerdeanchevroletstadium.com.
      Eric Wilson, and drummer Carlos Verdugo. The band is currently on tour in support of      *Rain-out day is Sept. 4.
      their hit 2019 album Blessings with singles Wicked Heart and Light On making a splash
      at alternative radio. Blessings is the band's third studio album, and it was helmed by Rob
      Cavallo, the producer behind Green Day, My Chemical Romance, Linkin Park, and more.
      In 2020, Sublime with Rome was dominating the rock and alternative music charts as well
      as headlining 5,000-plus-capacity rooms and major festivals worldwide. With fan-favorite
      hits such as Wrong Way, Santeria, Badfish, What I Got, Caress Me Down, 40oz To Freedom
      and many more, the band's concerts are pure sing-along enjoyment from beginning to end.
         Hawaiian singer/songwriter Hirie spun her global citizenship into a lush and vibrant   Rate Your Neighborhood
      strain of reggae pop in the middle part of the 2010s. Backed by a six-piece band, the
      Filipino-born, Italian-raised, Oahu-based musician enjoyed somewhat of a breakout with      You're invited to rate the quality of life in your neighborhood. Please take the
      her positively focused 2016 release Wandering Soul, and later built on that success with   5-minute survey from FAU and earn a $75 VIP card from Hotel Planner that can be
      2019's Dreamer.                                                                used towards discounts on major hotels.
         Tickets are available at Eventbrite.com.                                       Survey:  www.fau.edu/voicematters



                                                                                   Report Vandalism

                                                                                      Recently, there have been increased reports of vandalism in and around the Abacoa Golf
                                                                                   Club and our natural preserves. If you see such activity, you're asked to report it to the Town of
                                                                                   Jupiter by calling (561) 746-5134. If the trespassers are present, you're urged to call the Jupiter
                                                                                   Police Department at (561) 746-6201. Together we can help keep our beautiful community
                                                                                   the most ideal place to live, work and play.