Page 1 - PGA Community News - July '21
P. 1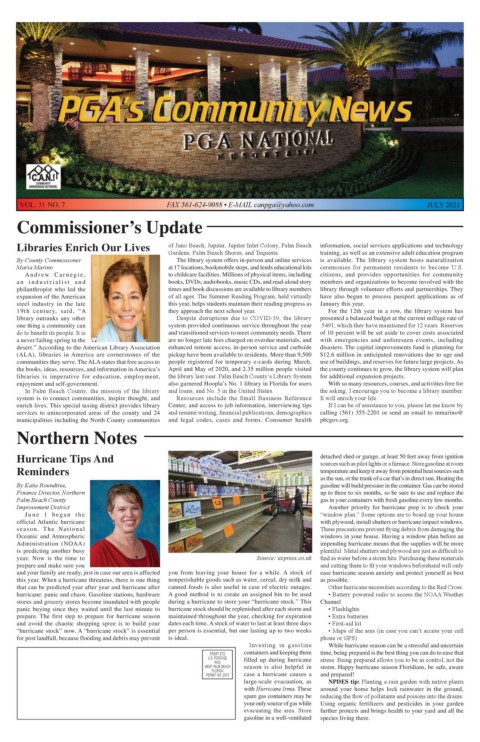 VOL. 31 NO. 7                                    FAX 561-624-9088 • E-MAIL canpga@yahoo.com                                            JULY 2021

      Commissioner's Update




      Libraries Enrich Our Lives                         of Juno Beach, Jupiter, Jupiter Inlet Colony, Palm Beach   information, social services applications and technology
                                                         Gardens, Palm Beach Shores, and Tequesta.         training, as well as an extensive adult education program
      By County Commissioner                                The library system offers in-person and online services   is available.  The library system hosts naturalization
      Maria Marino                                       at 17 locations, bookmobile stops, and lends educational kits   ceremonies  for  permanent  residents  to  become  U.S.
         Andrew Carnegie,                                to childcare facilities. Millions of physical items, including   citizens, and provides opportunities for community
      an industrialist and                               books, DVDs, audiobooks, music CDs, and read-aloud story   members and organizations to become involved with the
      philanthropist who led the                         times and book discussions are available to library members   library through volunteer efforts and partnerships. They
      expansion of the American                          of all ages. The Summer Reading Program, held virtually   have also begun to process passport applications as of
      steel industry  in the  late                       this year, helps students maintain their reading progress as   January this year.
      19th century,  said,  "A                           they approach the next school year.                  For the 12th  year  in a  row,  the  library system has
      library outranks any other                            Despite  disruptions  due  to  COVID-19,  the  library   presented a balanced budget at the current millage rate of
      one thing a community can                          system provided continuous service throughout the year   .5491, which they have maintained for 12 years. Reserves
      do to benefit its people. It is                    and transitioned services to meet community needs. There   of 10 percent will be set aside to cover costs associated
      a never failing spring in the                      are no longer late fees charged on overdue materials, and   with emergencies and unforeseen events, including
      desert." According to the American Library Association   enhanced remote access, in-person service and curbside   disasters. The capital improvements fund is planning for
      (ALA), libraries in America are cornerstones of the   pickup have been available to residents. More than 9,500   $12.6 million in anticipated renovations due to age and
      communities they serve. The ALA states that free access to   people registered for temporary e-cards during March,   use of buildings, and reserves for future large projects. As
      the books, ideas, resources, and information in America's   April and May of 2020, and 2.35 million people visited   the county continues to grow, the library system will plan
      libraries is imperative for education, employment,   the library last year. Palm Beach County's Library System   for additional expansion projects.
      enjoyment and self-government.                     also garnered Hoopla's No. 1 library in Florida for users      With so many resources, courses, and activities free for
         In  Palm  Beach  County,  the  mission  of  the  library   and loans, and No. 5 in the United States.  the asking, I encourage you to become a library member.
      system is to connect communities, inspire thought, and      Resources  include  the  Small  Business  Reference   It will enrich your life.
      enrich lives. This special taxing district provides library   Center, and access to job information, interviewing tips      If I can be of assistance to you, please let me know by
      services to unincorporated areas of the county and 24   and resumé writing, financial publications, demographics   calling (561) 355-2201 or send an email to mmarino@
      municipalities including the North County communities   and legal codes, cases and forms. Consumer health   pbcgov.org.
      Northern Notes



      Hurricane Tips And                                                                                   detached shed or garage, at least 50 feet away from ignition
                                                                                                           sources such as pilot lights or a furnace. Store gasoline at room
      Reminders                                                                                            temperature and keep it away from potential heat sources such
                                                                                                           as the sun, or the trunk of a car that's in direct sun. Heating the
      By Katie Roundtree,                                                                                  gasoline will build pressure in the container. Gas can be stored
      Finance Director, Northern                                                                           up to three to six months, so be sure to use and replace the
      Palm Beach County                                                                                    gas in your containers with fresh gasoline every few months.
      Improvement District                                                                                    Another priority for hurricane prep is to check your
         June 1 began t he                                                                                 "window plan." Some options are to board up your house
      official Atlantic  hurricane                                                                         with plywood, install shutters or hurricane impact windows.
      season. The  National                                                                                These precautions prevent flying debris from damaging the
      Oceanic  and Atmospheric                                                                             windows in your house. Having a window plan before an
      Administration (NOAA)                                                                                impending hurricane means that the supplies will be more
      is predicting another busy                                                                           plentiful. Metal shutters and plywood are just as difficult to
      year. Now is the time to                                                        Source: express.co.uk  find as water before a storm hits. Purchasing these materials
      prepare and make sure you                                                                            and cutting them to fit your windows beforehand will only
      and your family are ready, just in case our area is affected   you  from  leaving your  house  for  a  while. A  stock of   ease hurricane season anxiety and protect yourself as best
      this year. When a hurricane threatens, there is one thing   nonperishable goods such as water, cereal, dry milk and   as possible.
      that can be predicted year after year and hurricane after   canned foods is also useful in case of electric outages.      Other hurricane necessities according to the Red Cross:
      hurricane: panic and chaos. Gasoline stations, hardware   A good method is to create an assigned bin to be used      • Battery powered radio to access the NOAA Weather
      stores and grocery stores become inundated with people   during a hurricane to store your "hurricane stock." This   Channel
      panic buying since they waited until the last minute to   hurricane stock should be replenished after each storm and      • Flashlights
      prepare. The first step to prepare for hurricane season   maintained throughout the year, checking for expiration      • Extra batteries
      and avoid the chaotic shopping spree is to build your   dates each time. A stock of water to last at least three days      • First-aid kit
      "hurricane stock" now. A "hurricane stock" is essential   per person is essential, but one lasting up to two weeks      • Maps of the area (in case you can't access your cell
      for post landfall, because flooding and debris may prevent   is ideal.                               phone or GPS)
                                                                                   Investing  in  gasoline      While hurricane season can be a stressful and uncertain
                                                                                 containers and keeping them   time, being prepared is the best thing you can do to ease that
                                                                                 filled up during hurricane   stress. Being prepared allows you to be in control, not the
                                                                                 season is also helpful in   storm. Happy hurricane season Floridians, be safe, aware
                                                                                 case a hurricane causes a   and prepared!
                                                                                 large-scale evacuation, as      NPDES tip: Planting a rain garden with native plants
                                                                                 with Hurricane Irma. These   around your home helps lock rainwater in the ground,
                                                                                 spare gas containers may be   reducing the flow of pollutants and poisons into the drains.
                                                                                 your only source of gas while   Using organic fertilizers and pesticides in your garden
                                                                                 evacuating the area. Store   further protects and brings health to your yard and all the
                                                                                 gasoline in a well-ventilated   species living there.