Page 15 - Boca ViewPointe - August '21
P. 15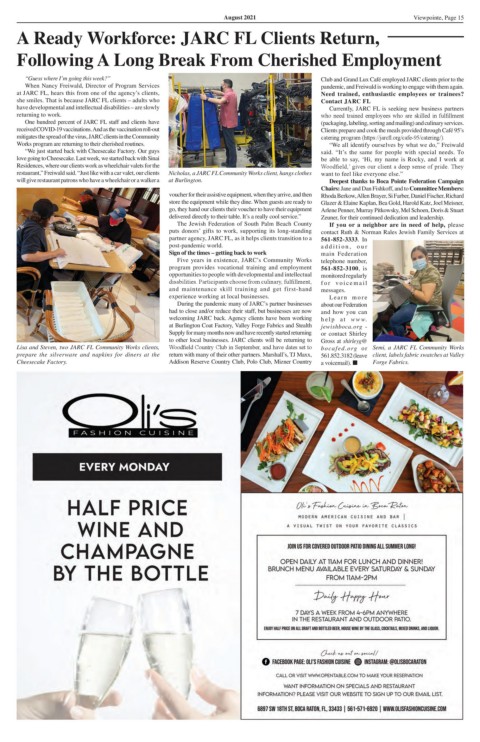 August 2021                                                    Viewpointe, Page 15
      A Ready Workforce: JARC FL Clients Return,



      Following A Long Break From Cherished Employment



         "Guess where I'm going this week?"                                                                Club and Grand Lux Café employed JARC clients prior to the
         When Nancy Freiwald, Director of Program Services                                                 pandemic, and Freiwald is working to engage with them again.
      at JARC FL, hears this from one of the agency's clients,                                             Need trained, enthusiastic employees or trainees?
      she smiles. That is because JARC FL clients – adults who                                             Contact JARC FL
      have developmental and intellectual disabilities – are slowly                                           Currently, JARC FL is seeking new business partners
      returning to work.                                                                                   who need trained employees who are skilled in fulfillment
         One hundred percent of JARC FL staff and clients have                                             (packaging, labeling, sorting and mailing) and culinary services.
      received COVID-19 vaccinations. And as the vaccination roll-out                                      Clients prepare and cook the meals provided through Café 95's
      mitigates the spread of the virus, JARC clients in the Community                                     catering program (https://jarcfl.org/cafe-95/catering/).
      Works program are returning to their cherished routines.                                                "We all identify ourselves by what we do," Freiwald
         "We just started back with Cheesecake Factory. Our guys                                           said. "It's the same for people with special needs. To
      love going to Cheesecake. Last week, we started back with Sinai                                      be able to say, 'Hi, my name is Rocky, and I work at
      Residences, where our clients work as wheelchair valets for the                                      Woodfield,' gives our client a deep sense of pride. They
      restaurant," Freiwald said. "Just like with a car valet, our clients   Nicholas, a JARC FL Community Works client, hangs clothes   want to feel like everyone else."
      will give restaurant patrons who have a wheelchair or a walker a   at Burlington.                       Deepest thanks to Boca Pointe Federation Campaign
                                                                                                           Chairs: Jane and Dan Fishkoff, and to Committee Members:
                                                         voucher for their assistive equipment, when they arrive, and then   Rhoda Berkow, Allen Brayer, Si Farber, Daniel Fischer, Richard
                                                         store the equipment while they dine. When guests are ready to   Glazer & Elaine Kaplan, Bea Gold, Harold Katz, Joel Meisner,
                                                         go, they hand our clients their voucher to have their equipment   Arlene Penner, Murray Pitkowsky, Mel Schoen, Doris & Stuart
                                                         delivered directly to their table. It's a really cool service."  Zeuner, for their continued dedication and leadership.
                                                            The Jewish Federation of South Palm Beach County      If you or a neighbor are in need of help, please
                                                         puts donors' gifts to work, supporting its long-standing   contact Ruth & Norman Rales Jewish Family Services at
                                                         partner agency, JARC FL, as it helps clients transition to a   561-852-3333. In
                                                         post-pandemic world.                              addition, our
                                                         Sign of the times – getting back to work          main Federation
                                                            Five years in existence, JARC's Community Works   telephone number,
                                                         program provides vocational training and employment   561-852-3100, is
                                                         opportunities to people with developmental and intellectual   monitored regularly
                                                         disabilities. Participants choose from culinary, fulfillment,   f or  vo i c e m a i l
                                                         and maintenance skill training and get first-hand   messages.
                                                         experience working at local businesses.              Learn more
                                                            During the pandemic many of JARC's partner businesses   about our Federation
                                                         had to close and/or reduce their staff, but businesses are now   and how  you  can
                                                         welcoming JARC back. Agency clients have been working   help at  www.
                                                         at Burlington Coat Factory, Valley Forge Fabrics and Stealth   jewishboca.org -
                                                         Supply for many months now and have recently started returning   or contact Shirley
                                                         to other local businesses. JARC clients will be returning to   Gross at shirleyg@
      Lisa and Steven, two JARC FL Community Works clients,   Woodfield Country Club in September, and have dates set to   bocafed.org or   Semi, a JARC FL Community Works
      prepare the silverware and napkins for diners at the   return with many of their other partners. Marshall's, TJ Maxx,   561.852.3182 (leave   client, labels fabric swatches at Valley
      Cheesecake Factory.                                Addison Reserve Country Club, Polo Club, Mizner Country   a voicemail).   Forge Fabrics.