Page 9 - Hobe Sound Reflection - August '21
P. 9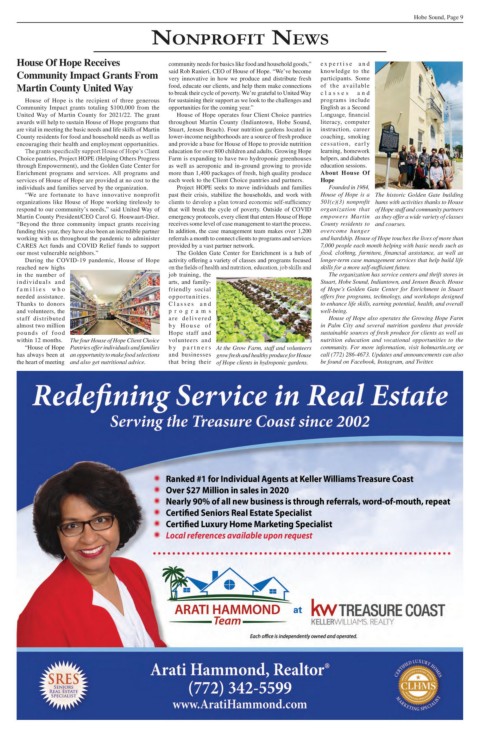 Hobe Sound, Page 9

                                                   nonprofit newS



      House Of Hope Receives                             community needs for basics like food and household goods,"   e xpe rt i se  a nd

      Community Impact Grants From                       said Rob Ranieri, CEO of House of Hope. "We've become   knowledge  to  the
                                                         very innovative in how we produce and distribute fresh
                                                                                                           participants. Some
      Martin County United Way                           food, educate our clients, and help them make connections   of the available
                                                         to break their cycle of poverty. We're grateful to United Way   c l a sse s a n d
         House of Hope is the recipient of three generous   for sustaining their support as we look to the challenges and   programs include
      Community Impact grants totaling $100,000 from the   opportunities for the coming year."             English as a Second
      United Way of Martin County for 2021/22. The grant      House of Hope operates four Client Choice pantries   Language, financial
      awards will help to sustain House of Hope programs that   throughout  Martin  County  (Indiantown,  Hobe Sound,   literacy,  computer
      are vital in meeting the basic needs and life skills of Martin   Stuart, Jensen Beach). Four nutrition gardens located in   instruction, career
      County residents for food and household needs as well as   lower-income neighborhoods are a source of fresh produce   coaching, smoking
      encouraging their health and employment opportunities.  and provide a base for House of Hope to provide nutrition   cessation, early
         The grants specifically support House of Hope's Client   education for over 800 children and adults. Growing Hope   learning, homework
      Choice pantries, Project HOPE (Helping Others Progress   Farm is expanding to have two hydroponic greenhouses   helpers, and diabetes
      through Empowerment), and the Golden Gate Center for   as well as aeroponic and in-ground growing to provide   education sessions.
      Enrichment programs and services. All programs and   more than 1,400 packages of fresh, high quality produce   About House Of
      services of House of Hope are provided at no cost to the   each week to the Client Choice pantries and partners.   Hope
      individuals and families served by the organization.     Project HOPE seeks to move individuals and families      Founded in 1984,
         "We are fortunate to have innovative nonprofit   past their crisis, stabilize the households, and work with   House of Hope is a   The historic Golden Gate building
      organizations like House of Hope working tirelessly to   clients to develop a plan toward economic self-sufficiency   501(c)(3) nonprofit   hums with activities thanks to House
      respond to our community's needs," said United Way of   that will break the cycle of poverty. Outside of COVID   organization  that   of Hope staff and community partners
      Martin County President/CEO Carol G. Houwaart-Diez.   emergency protocols, every client that enters House of Hope   empowers Martin   as they offer a wide variety of classes
      "Beyond the three community impact grants receiving   receives some level of case management to start the process.   County residents to   and courses.
      funding this year, they have also been an incredible partner   In addition, the case management team makes over 1,200   overcome hunger
      working with us throughout the pandemic to administer   referrals a month to connect clients to programs and services   and hardship. House of Hope touches the lives of more than
      CARES Act funds and COVID Relief funds to support   provided by a vast partner network.              7,000 people each month helping with basic needs such as
      our most vulnerable neighbors."                       The Golden Gate Center for Enrichment is a hub of   food, clothing, furniture, financial assistance, as well as
         During the COVID-19 pandemic, House of Hope     activity offering a variety of classes and programs focused   longer-term case management services that help build life
      reached new highs                                  on the fields of health and nutrition, education, job skills and   skills for a more self-sufficient future.
      in the number of                                   job training, the                                    The organization has service centers and thrift stores in
      individuals and                                    arts, and family-                                 Stuart, Hobe Sound, Indiantown, and Jensen Beach. House
      families  w ho                                     friendly social                                   of Hope's Golden Gate Center for Enrichment in Stuart
      needed assistance.                                 opportunities.                                    offers free programs, technology, and workshops designed
      Thanks to donors                                   Classes and                                       to enhance life skills, earning potential, health, and overall
      and volunteers, the                                programs                                          well-being.
      staff distributed                                  are delivered                                        House of Hope also operates the Growing Hope Farm
      almost two million                                 by  House  of                                     in Palm City and several nutrition gardens that provide
      pounds of food                                     Hope staff and                                    sustainable sources of fresh produce for clients as well as
      within 12 months.  The four House of Hope Client Choice   volunteers and                             nutrition education and vocational opportunities to the
         "House of Hope  Pantries offer individuals and families   by partners  At the Grow Farm, staff and volunteers   community. For more information, visit hohmartin.org or
      has always been at  an opportunity to make food selections   and businesses  grow fresh and healthy produce for House   call (772) 286-4673. Updates and announcements can also
      the heart of meeting  and also get nutritional advice.   that bring their  of Hope clients in hydroponic gardens.   be found on Facebook, Instagram, and Twitter.