Page 1 - PGA Community News - August '21
P. 1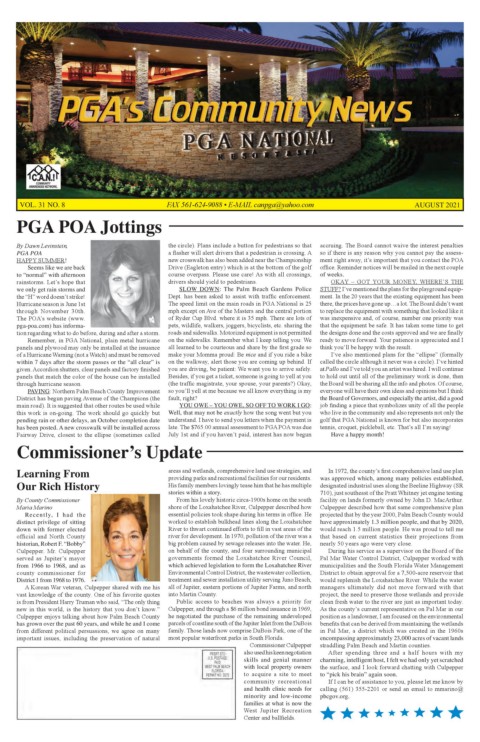 VOL. 31 NO. 8                                    FAX 561-624-9088 • E-MAIL canpga@yahoo.com                                        AUGUST 2021

      PGA POA Jottings




      By Dawn Levinstein,                                the circle). Plans include a button for pedestrians so that   accruing. The Board cannot waive the interest penalties
      PGA POA                                            a flasher will alert drivers that a pedestrian is crossing. A   so if there is any reason why you cannot pay the assess-
      HAPPY SUMMER!                                      new crosswalk has also been added near the Championship   ment right away, it's important that you contact the POA
          Seems like we are back                         Drive (Eagleton entry) which is at the bottom of the golf   office. Reminder notices will be mailed in the next couple
      to "normal" with afternoon                         course overpass. Please use care! As with all crossings,   of weeks.
      rainstorms. Let's hope that                        drivers should yield to pedestrians.                 OKAY  –  GOT YOUR  MONEY, WHERE'S THE
      we only get rain storms and                           SLOW DOWN: The Palm Beach Gardens Police       STUFF? I've mentioned the plans for the playground equip-
      the "H" word doesn't strike!                       Dept. has been asked to assist with traffic enforcement.   ment. In the 20 years that the existing equipment has been
      Hurricane season is June 1st                       The speed limit on the main roads in PGA National is 25   there, the prices have gone up…a lot. The Board didn't want
      through  November  30th.                           mph except on Ave of the Masters and the central portion   to replace the equipment with something that looked like it
      The POA's website (www.                            of Ryder Cup Blvd. where it is 35 mph. There are lots of   was inexpensive and, of course, number one priority was
      pga-poa.com) has informa-                          pets, wildlife, walkers, joggers, bicyclists, etc. sharing the   that the equipment be safe. It has taken some time to get
      tion regarding what to do before, during and after a storm.   roads and sidewalks. Motorized equipment is not permitted   the designs done and the costs approved and we are finally
          Remember, in PGA National, plain metal hurricane   on the sidewalks. Remember what I keep telling you: We   ready to move forward. Your patience is appreciated and I
      panels and plywood may only be installed at the issuance   all learned to be courteous and share by the first grade so   think you'll be happy with the result.
      of a Hurricane Warning (not a Watch) and must be removed   make your Momma proud: Be nice and if you ride a bike      I've also mentioned plans for the "ellipse" (formally
      within 7 days after the storm passes or the "all clear" is   on the walkway, alert those you are coming up behind. If   called the circle although it never was a circle). I've hinted
      given. Accordion shutters, clear panels and factory finished   you are driving, be patient: We want you to arrive safely.   at Pallo and I've told you an artist was hired. I will continue
      panels that match the color of the house can be installed   Besides, if you get a ticket, someone is going to yell at you   to hold out until all of the preliminary work is done, then
      through hurricane season.                          (the traffic magistrate, your spouse, your parents?) Okay,   the Board will be sharing all the info and photos. Of course,
          PAVING: Northern Palm Beach County Improvement   so you'll yell at me because we all know everything is my   everyone will have their own ideas and opinions but I think
      District has begun paving Avenue of the Champions (the   fault, right?                               the Board of Governors, and especially the artist, did a good
      main road). It is suggested that other routes be used while      YOU OWE – YOU OWE, SO OFF TO WORK I GO:   job finding a piece that symbolizes unity of all the people
      this work is on-going. The work should go quickly but   Well, that may not be exactly how the song went but you   who live in the community and also represents not only the
      pending rain or other delays, an October completion date   understand. I have to send you letters when the payment is   golf that PGA National is known for but also incorporates
      has been posted. A new crosswalk will be installed across   late. The $765.00 annual assessment to PGA POA was due   tennis, croquet, pickleball, etc. That's all I'm saying!
      Fairway Drive, closest to the ellipse (sometimes called   July 1st and if you haven't paid, interest has now begun      Have a happy month!
      Commissioner's Update



      Learning From                                      areas and wetlands, comprehensive land use strategies, and     was approved which, among many policies established,
                                                                                                             In 1972, the county's first comprehensive land use plan
                                                         providing parks and recreational facilities for our residents.
      Our Rich History                                   His family members lovingly tease him that he has multiple   designated industrial uses along the Beeline Highway (SR
                                                         stories within a story.                           710), just southeast of the Pratt Whitney jet engine testing
      By County Commissioner                                From his lovely historic circa-1900s home on the south   facility on lands formerly owned by John D. MacArthur.
      Maria Marino                                       shore of the Loxahatchee River, Culpepper described how   Culpepper described how that same comprehensive plan
         Recently, I had the                             essential policies took shape during his terms in office. He   projected that by the year 2000, Palm Beach County would
      distinct privilege of sitting                      worked to establish bulkhead lines along the Loxahatchee   have approximately 1.3 million people, and that by 2020,
      down with former elected                           River to thwart continued efforts to fill in vast areas of the   would reach 1.5 million people. He was proud to tell me
      official  and  North  County                       river for development. In 1970, pollution of the river was a   that  based  on  current  statistics  their  projections  from
      historian, Robert F. "Bobby"                       big problem caused by sewage releases into the water. He,   nearly 50 years ago were very close.
      Culpepper.  Mr.  Culpepper                         on behalf of the county, and four surrounding municipal      During his service as a supervisor on the Board of the
      served  as  Jupiter's  mayor                       governments  formed  the  Loxahatchee  River  Council,   Pal Mar Water Control District, Culpepper worked with
      from 1966 to 1968, and as                          which achieved legislation to form the Loxahatchee River   municipalities and the South Florida Water Management
      county  commissioner  for                          Environmental Control District, the wastewater collection,   District to obtain approval for a 7,500-acre reservoir that
      District 1 from 1968 to 1976.                      treatment and sewer installation utility serving Juno Beach,   would replenish the Loxahatchee River. While the water
         A Korean War veteran, Culpepper shared with me his   all of Jupiter, eastern portions of Jupiter Farms, and north   managers  ultimately  did  not  move  forward  with  that
      vast knowledge of the county. One of his favorite quotes   into Martin County.                       project, the need to preserve those wetlands and provide
      is from President Harry Truman who said, "The only thing      Public  access  to  beaches  was  always  a  priority  for   clean fresh water to the river are just as important today.
      new in this world, is the history that you don't know."   Culpepper, and through a $6 million bond issuance in 1969,   As the county's current representative on Pal Mar in our
      Culpepper enjoys talking about how Palm Beach County   he negotiated the purchase of the remaining undeveloped   position as a landowner, I am focused on the environmental
      has grown over the past 60 years, and while he and I come   parcels of coastline south of the Jupiter Inlet from the DuBois   benefits that can be derived from maintaining the wetlands
      from different political persuasions, we agree on many   family. Those lands now comprise DuBois Park, one of the   in  Pal  Mar,  a  district  which  was  created  in  the  1960s
      important  issues,  including  the  preservation  of  natural   most popular waterfront parks in South Florida.  encompassing approximately 23,000 acres of vacant lands
                                                                                   Commissioner Culpepper   straddling Palm Beach and Martin counties.
                                                                                 also used his keen negotiation      After  spending  three  and  a  half  hours  with  my
                                                                                 skills and genial manner   charming, intelligent host, I felt we had only yet scratched
                                                                                 with local property owners   the surface, and I look forward chatting with Culpepper
                                                                                 to  acquire  a  site  to  meet   to "pick his brain" again soon.
                                                                                 community  recreational      If I can be of assistance to you, please let me know by
                                                                                 and health clinic needs for   calling (561) 355-2201 or send an email to mmarino@
                                                                                 minority and low-income   pbcgov.org.
                                                                                 families at what is now the
                                                                                 West  Jupiter  Recreation
                                                                                 Center and ballfields.