Page 1 - The Jewish Voice - September '21
P. 1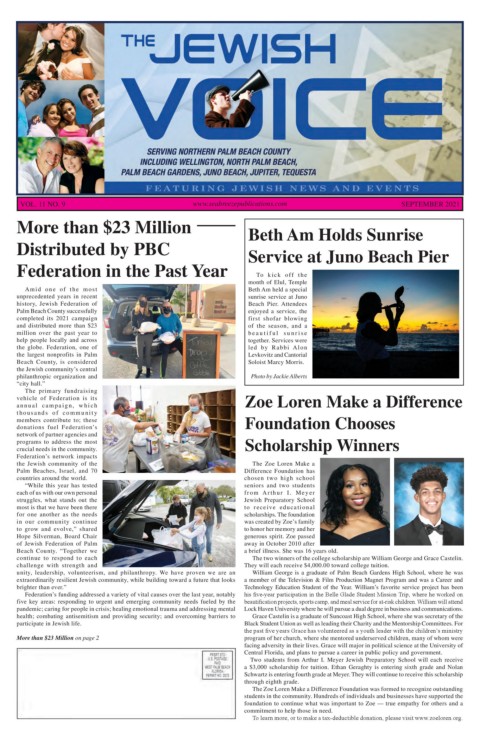 VOL. 11 NO. 9                                            www.seabreezepublications.com                                        SEPTEMBER 2021

      More than $23 Million                                                        Beth Am Holds Sunrise



      Distributed by PBC                                                           Service at Juno Beach Pier


      Federation in the Past Year                                                     To kick off the


                                                                                   month of Elul, Temple
         Amid one of the most                                                      Beth Am held a special
      unprecedented years in recent                                                sunrise service at Juno
      history, Jewish Federation of                                                Beach  Pier. Attendees
      Palm Beach County successfully                                               enjoyed  a  service,  the
      completed its 2021 campaign                                                  first shofar blowing
      and distributed more than $23                                                of the season, and a
      million over the past year to                                                be a ut i ful  sunri se
      help  people  locally  and  across                                           together. Services were
      the globe. Federation, one of                                                led  by  Rabbi  Alon
      the largest nonprofits in Palm                                               Levkovitz and Cantorial
      Beach County, is considered                                                  Soloist Marcy Morris.
      the Jewish community's central
      philanthropic organization and                                                Photo by Jackie Alberts
      "city hall."
         The primary fundraising
      vehicle of Federation is its                                                Zoe Loren Make a Difference
      annual campaign, which
      thousands of community
      members  contribute  to;  these                                             Foundation Chooses
      donations fuel Federation's
      network of partner agencies and
      programs to address the most                                                Scholarship Winners
      crucial needs in the community.
      Federation's network impacts
      the Jewish community of the                                                    The Zoe Loren Make a
      Palm Beaches, Israel, and 70                                                Difference Foundation has
      countries around the world.                                                 chosen two high school
         "While this year has tested                                              seniors and two students
      each of us with our own personal                                            from  Arthur I. Meyer
      struggles, what stands out the                                              Jewish Preparatory School
      most is that we have been there                                             to receive educational
      for one another as the needs                                                scholarships. The foundation
      in our community continue                                                   was created by Zoe's family
      to grow and evolve," shared                                                 to honor her memory and her
      Hope  Silverman,  Board  Chair                                              generous spirit. Zoe passed
      of Jewish Federation of Palm                                                away in October 2010 after
      Beach  County. "Together  we                                                a brief illness. She was 16 years old.
      continue to respond to each                                                    The two winners of the college scholarship are William George and Grace Castelin.
      challenge with strength and                                                 They will each receive $4,000.00 toward college tuition.
      unity, leadership, volunteerism, and philanthropy.  We have proven we are an      William George is a graduate of Palm Beach Gardens High School, where he was
      extraordinarily resilient Jewish community, while building toward a future that looks   a member of the Television & Film Production Magnet Program and was a Career and
      brighter than ever."                                                        Technology Education Student of the Year. William's favorite service project has been
         Federation's funding addressed a variety of vital causes over the last year, notably   his five-year participation in the Belle Glade Student Mission Trip, where he worked on
      five key areas: responding to urgent and emerging community needs fueled by the   beautification projects, sports camp, and meal service for at-risk children. William will attend
      pandemic; caring for people in crisis; healing emotional trauma and addressing mental   Lock Haven University where he will pursue a dual degree in business and communications.
      health; combating antisemitism and providing security; and overcoming barriers to      Grace Castelin is a graduate of Suncoast High School, where she was secretary of the
      participate in Jewish life.                                                 Black Student Union as well as leading their Charity and the Mentorship Committees. For
                                                                                  the past five years Grace has volunteered as a youth leader with the children's ministry
      More than $23 Million on page 2                                             program of her church, where she mentored underserved children, many of whom were
                                                                                  facing adversity in their lives. Grace will major in political science at the University of
                                                                                  Central Florida, and plans to pursue a career in public policy and government.
                                                                                    Two students from Arthur I. Meyer Jewish Preparatory School will each receive
                                                                                  a $3,000 scholarship for tuition. Ethan Geraghty is entering sixth grade and Nolan
                                                                                  Schwartz is entering fourth grade at Meyer. They will continue to receive this scholarship
                                                                                  through eighth grade.
                                                                                     The Zoe Loren Make a Difference Foundation was formed to recognize outstanding
                                                                                  students in the community. Hundreds of individuals and businesses have supported the
                                                                                  foundation to continue what was important to Zoe — true empathy for others and a
                                                                                  commitment to help those in need.
                                                                                     To learn more, or to make a tax-deductible donation, please visit www.zoeloren.org.