Page 1 - PGA Community News - October '21
P. 1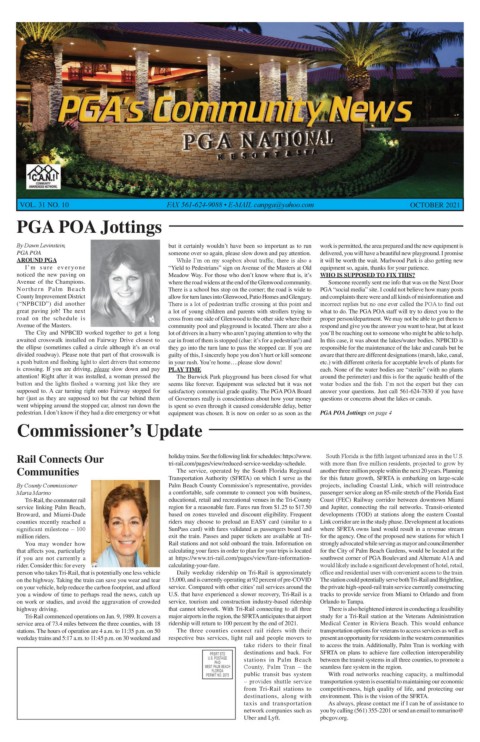 VOL. 31 NO. 10                                   FAX 561-624-9088 • E-MAIL canpga@yahoo.com                                      OCTOBER 2021

      PGA POA Jottings




      By Dawn Levinstein,                                but it certainly wouldn't have been so important as to run   work is permitted, the area prepared and the new equipment is
      PGA POA                                            someone over so again, please slow down and pay attention.   delivered, you will have a beautiful new playground. I promise
      AROUND PGA                                            While I'm on my soapbox about traffic, there is also a   it will be worth the wait. Marlwood Park is also getting new
         I'm sure everyone                               "Yield to Pedestrians" sign on Avenue of the Masters at Old   equipment so, again, thanks for your patience.
      noticed the new paving on                          Meadow Way. For those who don't know where that is, it's   WHO IS SUPPOSED TO FIX THIS?
      Avenue of the Champions.                           where the road widens at the end of the Glenwood community.      Someone recently sent me info that was on the Next Door
      Northern Palm Beach                                There is a school bus stop on the corner; the road is wide to   PGA "social media" site. I could not believe how many posts
      County Improvement District                        allow for turn lanes into Glenwood, Patio Homes and Glengary.   and complaints there were and all kinds of misinformation and
      ("NPBCID") did another                             There is a lot of pedestrian traffic crossing at this point and   incorrect replies but no one ever called the POA to find out
      great paving job! The next                         a lot of young children and parents with strollers trying to   what to do. The PGA POA staff will try to direct you to the
      road  on the schedule is                           cross from one side of Glenwood to the other side where their   proper person/department. We may not be able to get them to
      Avenue of the Masters.                             community pool and playground is located. There are also a   respond and give you the answer you want to hear, but at least
         The City and NPBCID worked together to get a long   lot of drivers in a hurry who aren't paying attention to why the   you'll be reaching out to someone who might be able to help.
      awaited crosswalk installed on Fairway Drive closest to   car in front of them is stopped (clue: it's for a pedestrian!) and   In this case, it was about the lakes/water bodies. NPBCID is
      the ellipse (sometimes called a circle although it's an oval   they go into the turn lane to pass the stopped car. If you are   responsible for the maintenance of the lake and canals but be
      divided roadway). Please note that part of that crosswalk is   guilty of this, I sincerely hope you don't hurt or kill someone   aware that there are different designations (marsh, lake, canal,
      a push button and flashing light to alert drivers that someone   in your rush. You're home….please slow down!   etc.) with different criteria for acceptable levels of plants for
      is crossing. If you are driving, please slow down and pay   PLAY TIME                                each. None of the water bodies are "sterile" (with no plants
      attention! Right after it was installed, a woman pressed the      The Burwick Park playground has been closed for what   around the perimeter) and this is for the aquatic health of the
      button and the lights flashed a warning just like they are   seems like forever. Equipment was selected but it was not   water bodies and the fish. I'm not the expert but they can
      supposed to. A car turning right onto Fairway stopped for   satisfactory commercial grade quality. The PGA POA Board   answer your questions. Just call 561-624-7830 if you have
      her (just as they are supposed to) but the car behind them   of Governors really is conscientious about how your money   questions or concerns about the lakes or canals.
      went whipping around the stopped car, almost ran down the   is spent so even through it caused considerable delay, better
      pedestrian. I don't know if they had a dire emergency or what   equipment was chosen. It is now on order so as soon as the   PGA POA Jottings on page 4
      Commissioner's Update





      Rail Connects Our                                  holiday trains. See the following link for schedules: https://www.    South Florida is the fifth largest urbanized area in the U.S.
                                                         tri-rail.com/pages/view/reduced-service-weekday-schedule.
                                                                                                           with more than five million residents, projected to grow by
      Communities                                           The service, operated by the South Florida Regional   another three million people within the next 20 years. Planning
                                                         Transportation Authority (SFRTA) on which I serve as the   for this future growth, SFRTA is embarking on large-scale
      By County Commissioner                             Palm Beach County Commission's representative, provides   projects, including Coastal Link, which will reintroduce
      Maria Marino                                       a comfortable, safe commute to connect you with business,   passenger service along an 85-mile stretch of the Florida East
         Tri-Rail, the commuter rail                     educational, retail and recreational venues in the Tri-County   Coast (FEC) Railway corridor between downtown Miami
      service linking Palm Beach,                        region for a reasonable fare. Fares run from $1.25 to $17.50   and Jupiter, connecting the rail networks. Transit-oriented
      Broward, and Miami-Dade                            based on zones traveled and discount eligibility. Frequent   developments (TOD) at stations along the eastern Coastal
      counties recently reached a                        riders may choose to preload an EASY card (similar to a   Link corridor are in the study phase. Development at locations
      significant milestone – 100                        SunPass card) with fares validated as passengers board and   where SFRTA owns land would result in a revenue stream
      million riders.                                    exit the train. Passes and paper tickets are available at Tri-  for the agency. One of the proposed new stations for which I
         You may wonder how                              Rail stations and not sold onboard the train. Information on   strongly advocated while serving as mayor and councilmember
      that affects you, particularly                     calculating your fares in order to plan for your trips is located   for the City of Palm Beach Gardens, would be located at the
      if you are not currently a                         at https://www.tri-rail.com/pages/view/fare-information-  southwest corner of PGA Boulevard and Alternate A1A and
      rider. Consider this: for every                    calculating-your-fare.                            would likely include a significant development of hotel, retail,
      person who takes Tri-Rail, that is potentially one less vehicle      Daily weekday ridership on Tri-Rail is approximately   office and residential uses with convenient access to the train.
      on the highway. Taking the train can save you wear and tear   15,000, and is currently operating at 92 percent of pre-COVID   The station could potentially serve both Tri-Rail and Brightline,
      on your vehicle, help reduce the carbon footprint, and afford   service. Compared with other cities' rail services around the   the private high-speed-rail train service currently constructing
      you a window of time to perhaps read the news, catch up   U.S. that have experienced a slower recovery, Tri-Rail is a   tracks to provide service from Miami to Orlando and from
      on work or studies, and avoid the aggravation of crowded   service, tourism and construction industry-based ridership   Orlando to Tampa.
      highway driving.                                   that cannot telework. With Tri-Rail connecting to all three      There is also heightened interest in conducting a feasibility
         Tri-Rail commenced operations on Jan. 9, 1989. It covers a   major airports in the region, the SFRTA anticipates that airport   study for a Tri-Rail station at the Veterans Administration
      service area of 73.4 miles between the three counties, with 18   ridership will return to 100 percent by the end of 2021.  Medical Center in Riviera Beach. This would enhance
      stations. The hours of operation are 4 a.m. to 11:35 p.m. on 50      The three counties connect rail riders with their   transportation options for veterans to access services as well as
      weekday trains and 5:17 a.m. to 11:45 p.m. on 30 weekend and   respective bus services, light rail and people movers to   present an opportunity for residents in the western communities
                                                                                 take riders to their final   to access the train. Additionally, Palm Tran is working with
                                                                                 destinations and back. For   SFRTA on plans to achieve fare collection interoperability
                                                                                 stations in Palm Beach    between the transit systems in all three counties, to promote a
                                                                                 County,  Palm  Tran  –  the   seamless fare system in the region.
                                                                                 public transit bus system      With road networks reaching capacity, a multimodal
                                                                                 –  provides  shuttle  service   transportation system is essential to maintaining our economic
                                                                                 from  Tri-Rail stations to   competitiveness, high quality of life, and protecting our
                                                                                 destinations, along with   environment. This is the vision of the SFRTA.
                                                                                 taxis and transportation      As always, please contact me if I can be of assistance to
                                                                                 network companies such as   you by calling (561) 355-2201 or send an email to mmarino@
                                                                                 Uber and Lyft.            pbcgov.org.