Page 1 - Lifestyles in Palm Beach Gardens - December '21
P. 1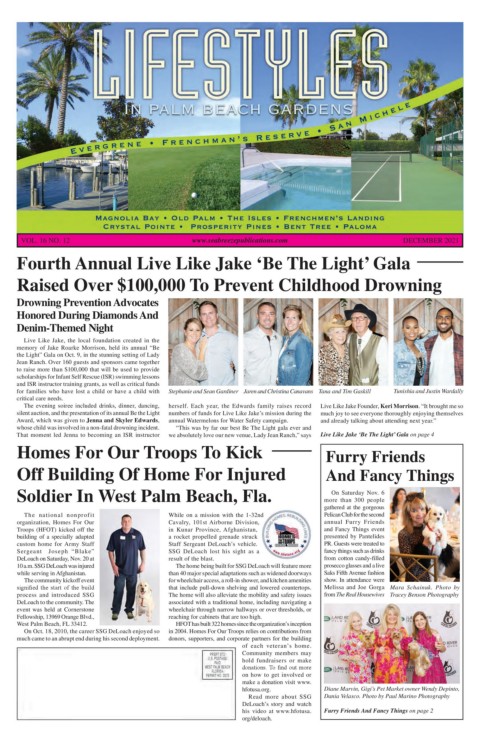 VOL. 16 NO. 12                                          www.seabreezepublications.com                                         DECEMBER 2021


      Fourth Annual Live Like Jake 'Be The Light' Gala


      Raised Over $100,000 To Prevent Childhood Drowning



      Drowning Prevention Advocates
      Honored During Diamonds And

      Denim-Themed Night

        Live  Like  Jake,  the  local  foundation  created  in  the
      memory of Jake Roarke Morrison, held its annual "Be
      the Light" Gala on Oct. 9, in the stunning setting of Lady
      Jean Ranch. Over 160 guests and sponsors came together
      to raise more than $100,000 that will be used to provide
      scholarships for Infant Self Rescue (ISR) swimming lessons
      and ISR instructor training grants, as well as critical funds
      for families who have lost a child or have a child with   Stephanie and Sean Gardiner  Jaren and Christina Canavans Tana and Tim Gaskill  Tunishia and Justin Wardally
      critical care needs.
        The evening soiree included drinks, dinner, dancing,   herself.  Each  year,  the Edwards  family  raises  record   Live Like Jake Founder, Keri Morrison. "It brought me so
      silent auction, and the presentation of its annual Be the Light   numbers of funds for Live Like Jake's mission during the   much joy to see everyone thoroughly enjoying themselves
      Award, which was given to Jenna and Skyler Edwards,   annual Watermelons for Water Safety campaign.   and already talking about attending next year."
      whose child was involved in a non-fatal drowning incident.     "This was by far our best Be The Light gala ever and
      That moment led Jenna to becoming an ISR instructor   we absolutely love our new venue, Lady Jean Ranch," says   Live Like Jake 'Be The Light' Gala on page 4
      Homes For Our Troops To Kick                                                                           Furry Friends


      Off Building Of Home For Injured                                                                       And Fancy Things



      Soldier In West Palm Beach, Fla.                                                                        On Saturday Nov. 6
                                                                                                            more  than  300 people
                                                                                                            gathered at the gorgeous
        The national nonprofit                           While on a mission with the 1-32nd                 Pelican Club for the second
      organization, Homes For Our                        Cavalry, 101st Airborne Division,                  annual Furry Friends
      Troops (HFOT) kicked off the                       in Kunar Province, Afghanistan,                    and Fancy Things event
      building of a specially adapted                    a rocket propelled grenade struck                  presented by Pantelides
      custom home for Army Staff                         Staff Sergeant DeLoach's vehicle.                  PR. Guests were treated to
      Sergeant   Joseph  "Blake"                         SSG DeLoach lost his sight as a                    fancy things such as drinks
      DeLoach on Saturday, Nov. 20 at                    result of the blast.                               from cotton candy-filled
      10 a.m. SSG DeLoach was injured                      The home being built for SSG DeLoach will feature more   prosecco glasses and a live
      while serving in Afghanistan.                      than 40 major special adaptations such as widened doorways   Saks Fifth Avenue fashion
        The community kickoff event                      for wheelchair access, a roll-in shower, and kitchen amenities   show. In attendance were
      signified the start of the build                   that include pull-down shelving and lowered countertops.   Melissa and Joe Gorga  Mara Schainuk. Photo by
      process  and  introduced  SSG                      The home will also alleviate the mobility and safety issues   from The Real Housewives  Tracey Benson Photography
      DeLoach to the community. The                      associated with a traditional home, including navigating a
      event was held at Cornerstone                      wheelchair through narrow hallways or over thresholds, or
      Fellowship, 13969 Orange Blvd.,                    reaching for cabinets that are too high.
      West Palm Beach, FL 33412.                           HFOT has built 322 homes since the organization's inception
        On Oct. 18, 2010, the career SSG DeLoach enjoyed so   in 2004. Homes For Our Troops relies on contributions from
      much came to an abrupt end during his second deployment.   donors, supporters, and corporate partners for the building
                                                                                 of each veteran's home.
                                                                                 Community members may
                                                                                 hold fundraisers or make
                                                                                 donations. To find out more
                                                                                 on how to get involved or
                                                                                 make a donation visit www.
                                                                                 hfotusa.org.               Diane Marvin, Gigi's Pet Market owner Wendy Depinto,
                                                                                   Read more about SSG      Dania Velasco. Photo by Paul Marino Photography
                                                                                 DeLoach's story and watch
                                                                                 his video at www.hfotusa.  Furry Friends And Fancy Things on page 2
                                                                                 org/deloach.