Page 1 - Abacoa Community News - January '22
P. 1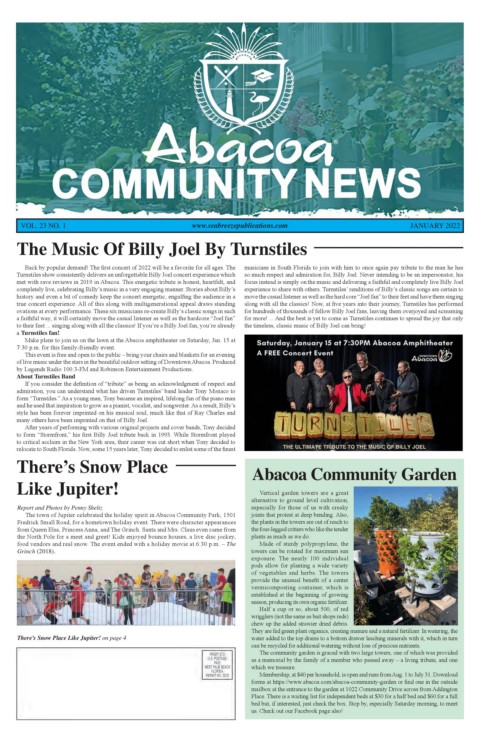 VOL. 23 NO. 1                                           www.seabreezepublications.com                                            JANUARY 2022

      The Music Of Billy Joel By Turnstiles



         Back by popular demand! The first concert of 2022 will be a favorite for all ages. The   musicians in South Florida to join with him to once again pay tribute to the man he has
      Turnstiles show consistently delivers an unforgettable Billy Joel concert experience which   so much respect and admiration for, Billy Joel. Never intending to be an impersonator, his
      met with rave reviews in 2019 in Abacoa. This energetic tribute is honest, heartfelt, and   focus instead is simply on the music and delivering a faithful and completely live Billy Joel
      completely live, celebrating Billy's music in a very engaging manner. Stories about Billy's   experience to share with others. Turnstiles' renditions of Billy's classic songs are certain to
      history and even a bit of comedy keep the concert energetic, engulfing the audience in a   move the casual listener as well as the hard core "Joel fan" to their feet and have them singing
      true concert experience. All of this along with multigenerational appeal draws standing   along with all the classics! Now, at five years into their journey, Turnstiles has performed
      ovations at every performance. These six musicians re-create Billy's classic songs in such   for hundreds of thousands of fellow Billy Joel fans, leaving them overjoyed and screaming
      a faithful way, it will certainly move the casual listener as well as the hardcore "Joel fan"   for more! ... And the best is yet to come as Turnstiles continues to spread the joy that only
      to their feet ... singing along with all the classics! If you're a Billy Joel fan, you're already   the timeless, classic music of Billy Joel can bring!
      a Turnstiles fan!
         Make plans to join us on the lawn at the Abacoa amphitheater on Saturday, Jan. 15 at
      7:30 p.m. for this family-friendly event.
         This event is free and open to the public – bring your chairs and blankets for an evening
      of live music under the stars in the beautiful outdoor setting of Downtown Abacoa. Produced
      by Legends Radio 100.3-FM and Robinson Entertainment Productions.
      About Turnstiles Band
         If you consider the definition of "tribute" as being an acknowledgment of respect and
      admiration, you can understand what has driven Turnstiles' band leader Tony Monaco to
      form "Turnstiles." As a young man, Tony became an inspired, lifelong fan of the piano man
      and he used that inspiration to grow as a pianist, vocalist, and songwriter. As a result, Billy's
      style has been forever imprinted on his musical soul, much like that of Ray Charles and
      many others have been imprinted on that of Billy Joel.
         After years of performing with various original projects and cover bands, Tony decided
      to form "Stormfront," his first Billy Joel tribute back in 1993. While Stormfront played
      to critical acclaim in the New York area, their career was cut short when Tony decided to
      relocate to South Florida. Now, some 15 years later, Tony decided to enlist some of the finest
      There's Snow Place                                                            Abacoa Community Garden


      Like Jupiter!                                                                    Vertical garden towers are a great


                                                                                    alternative to ground level cultivation,
       Report and Photos by Penny Sheltz                                            especially for those of us with creaky
          The town of Jupiter celebrated the holiday spirit in Abacoa Community Park, 1501   joints that protest at deep bending. Also,
       Fredrick Small Road, for a hometown holiday event. There were character appearances   the plants in the towers are out of reach to
       from Queen Elsa, Princess Anna, and The Grinch. Santa and Mrs. Claus even came from   the four-legged critters who like the tender
       the North Pole for a meet and greet! Kids enjoyed bounce houses, a live disc jockey,   plants as much as we do.
       food vendors and real snow. The event ended with a holiday movie at 6:30 p.m. – The      Made of sturdy polypropylene, the
       Grinch (2018).                                                               towers can be rotated for maximum sun
                                                                                    exposure. The  nearly  100  individual
                                                                                    pods allow for planting a wide variety
                                                                                    of  vegetables  and  herbs. The  towers
                                                                                    provide the unusual benefit of a center
                                                                                    vermicomposting container, which  is
                                                                                    established at the beginning of growing
                                                                                    season, producing its own organic fertilizer.
                                                                                       Half a cup or so, about 500, of red
                                                                                    wrigglers (not the same as bait shops reds)
                                                                                    chew up the added strawier dried debris.
                                                                                    They are fed green plant organics, creating manure and a natural fertilizer. In watering, the
       There's Snow Place Like Jupiter! on page 4                                   water added to the top drains to a bottom drawer leaching minerals with it, which in turn
                                                                                    can be recycled for additional watering without loss of precious nutrients.
                                                                                       The community garden is graced with two large towers, one of which was provided
                                                                                    as a memorial by the family of a member who passed away – a living tribute, and one
                                                                                    which we treasure.
                                                                                       Membership, at $40 per household, is open and runs from Aug. 1 to July 31. Download
                                                                                    forms at https://www.abacoa.com/abacoa-community-garden or find one in the outside
                                                                                    mailbox at the entrance to the garden at 1022 Community Drive across from Addington
                                                                                    Place. There is a waiting list for independent beds at $30 for a half bed and $60 for a full
                                                                                    bed but, if interested, just check the box. Stop by, especially Saturday morning, to meet
                                                                                    us. Check out our Facebook page also!