Page 1 - Hobe Sound Reflections - January '22
P. 1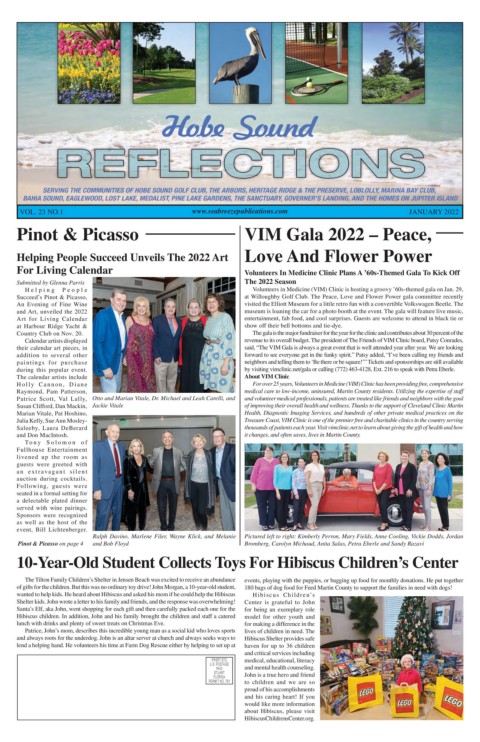 VOL. 23 NO.1                                             www.seabreezepublications.com                                           JANUARY 2022

      Pinot & Picasso                                                             VIM Gala 2022 – Peace,




      Helping People Succeed Unveils The 2022 Art                                 Love And Flower Power
      For Living Calendar                                                         Volunteers In Medicine Clinic Plans A '60s-Themed Gala To Kick Off

      Submitted by Glenna Parris                                                  The 2022 Season
         Helping People                                                              Volunteers in Medicine (VIM) Clinic is hosting a groovy '60s-themed gala on Jan. 29,
      Succeed's Pinot & Picasso,                                                  at Willoughby Golf Club. The Peace, Love and Flower Power gala committee recently
      An Evening of Fine Wine                                                     visited the Elliott Museum for a little retro fun with a convertible Volkswagen Beetle. The
      and Art, unveiled the 2022                                                  museum is loaning the car for a photo booth at the event. The gala will feature live music,
      Art for  Living Calendar                                                    entertainment, fab food, and cool surprises. Guests are welcome to attend in black tie or
      at  Harbour  Ridge Yacht  &                                                 show off their bell bottoms and tie-dye.
      Country Club on Nov. 20.                                                       The gala is the major fundraiser for the year for the clinic and contributes about 30 percent of the
         Calendar artists displayed                                               revenue to its overall budget. The president of The Friends of VIM Clinic board, Patsy Conrades,
      their calendar art pieces, in                                               said, "The VIM Gala is always a great event that is well attended year after year. We are looking
      addition to several other                                                   forward to see everyone get in the funky spirit." Patsy added, "I've been calling my friends and
      paintings for purchase                                                      neighbors and telling them to 'Be there or be square!'" Tickets and sponsorships are still available
      during this popular event.                                                  by visiting vimclinic.net/gala or calling (772) 463-4128, Ext. 216 to speak with Petra Eberle.
      The calendar artists include                                                About VIM Clinic
      Holly Cannon, Diane                                                            For over 25 years, Volunteers in Medicine (VIM) Clinic has been providing free, comprehensive
      Raymond, Pam Patterson,                                                     medical care to low-income, uninsured, Martin County residents. Utilizing the expertise of staff
      Patrice Scott,  Val Lally,   Otto and Marian Vitale, Dr. Michael and Leah Carelli, and   and volunteer medical professionals, patients are treated like friends and neighbors with the goal
      Susan Clifford, Dan Mackin,   Jackie Vitale                                 of improving their overall health and wellness. Thanks to the support of Cleveland Clinic Martin
      Marian Vitale, Pat Hoshino,                                                 Health, Diagnostic Imaging Services, and hundreds of other private medical practices on the
      Julia Kelly, Sue Ann Mosley-                                                Treasure Coast, VIM Clinic is one of the premier free and charitable clinics in the country serving
      Saleeby,  Laura  DeBerard                                                   thousands of patients each year. Visit vimclinic.net to learn about giving the gift of health and how
      and Don MacIntosh.                                                          it changes, and often saves, lives in Martin County.
         Tony Solom on of
      Fullhouse Entertainment
      livened up the  room  as
      guests were greeted with
      an  extravagant  silent
      auction during cocktails.
      Following, guests were
      seated in a formal setting for
      a delectable plated dinner
      served with wine pairings.
      Sponsors were recognized
      as well as the host of the
      event, Bill Lichtenberger.
                                Ralph Davino, Marlene Filer, Wayne Klick, and Melanie   Pictured left to right: Kimberly Perron, Mary Fields, Anne Cooling, Vickie Dodds, Jordan
       Pinot & Picasso on page 4  and Bob Floyd                                   Bromberg, Carolyn Michaud, Anita Salas, Petra Eberle and Sandy Razavi

      10-Year-Old Student Collects Toys For Hibiscus Children's Center



         The Tilton Family Children's Shelter in Jensen Beach was excited to receive an abundance   events, playing with the puppies, or bagging up food for monthly donations. He put together
      of gifts for the children. But this was no ordinary toy drive! John Morgan, a 10-year-old student,   180 bags of dog food for Feed Martin County to support the families in need with dogs!
      wanted to help kids. He heard about Hibiscus and asked his mom if he could help the Hibiscus      Hibiscus  Children's
      Shelter kids. John wrote a letter to his family and friends, and the response was overwhelming!   Center is grateful to John
      Santa's Elf, aka John, went shopping for each gift and then carefully packed each one for the   for being an exemplary role
      Hibiscus children. In addition, John and his family brought the children and staff a catered   model for other youth and
      lunch with drinks and plenty of sweet treats on Christmas Eve.              for making a difference in the
         Patrice, John's mom, describes this incredible young man as a social kid who loves sports   lives of children in need. The
      and always roots for the underdog. John is an altar server at church and always seeks ways to   Hibiscus Shelter provides safe
      lend a helping hand. He volunteers his time at Farm Dog Rescue either by helping to set up at   haven for up to 36 children
                                                                                  and critical services including
                                                                                  medical, educational, literacy
                                                                                  and mental health counseling.
                                                                                  John is a true hero and friend
                                                                                  to children and we are so
                                                                                  proud of his accomplishments
                                                                                  and his caring heart! If you
                                                                                  would like more information
                                                                                  about Hibiscus, please visit
                                                                                  HibiscusChildrensCenter.org.