Page 8 - The Shores of Jupiter - January '22
P. 8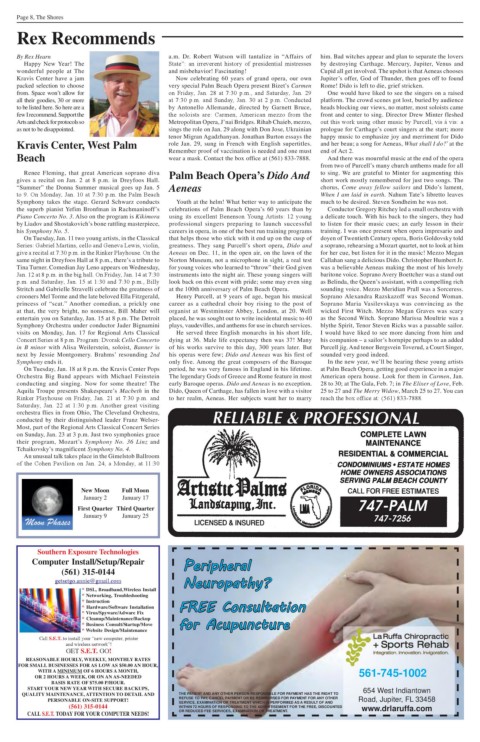 Page 8, The Shores
      Rex Recommends




      By Rex Hearn                                       a.m. Dr. Robert Watson will tantalize in "Affairs of   him. Bad witches appear and plan to separate the lovers
        Happy  New Year! The                             State":  an  irreverent  history  of  presidential  mistresses   by destroying Carthage. Mercury, Jupiter, Venus and
      wonderful people at  The                           and misbehavior! Fascinating!                     Cupid all get involved. The upshot is that Aeneas chooses
      Kravis Center have a jam                             Now celebrating 60 years of grand opera, our own   Jupiter's offer, God of Thunder, then goes off to found
      packed selection to choose                         very special Palm Beach Opera present Bizet's Carmen   Rome! Dido is left to die, grief stricken.
      from. Space won't allow for                        on Friday, Jan. 28 at 7:30 p.m., and Saturday, Jan. 29     One would have liked to see the singers on a raised
      all their goodies, 30 or more                      at 7:30 p.m. and Sunday, Jan. 30 at 2 p.m. Conducted   platform. The crowd scenes got lost, buried by audience
      to be listed here. So here are a                   by Antonello Allemande, directed by Garnett Bruce,   heads blocking our views, no matter, most soloists came
      few I recommend. Support the                       the  soloists  are:  Carmen, American  mezzo  from  the   front and center to sing. Director Drew Minter fleshed
      Arts and check for protocols so                    Metropolitan Opera, J'nai Bridges. Rihab Chaieb, mezzo,   out this work using other music by Purcell, vis á vis: a
      as not to be disappointed.                         sings the role on Jan. 29 along with Don Jose, Ukrainian   prologue for Carthage's court singers at the start; more
                                                         tenor Migran Agadzhanyan. Jonathan Burton essays the   happy music to emphasize joy and merriment for Dido
      Kravis Center, West Palm                           role Jan. 29, sung in French with English supertitles.   and her beau; a song for Aeneas, What shall I do?' at the

      Beach                                              Remember proof of vaccination is needed and one must   end of Act 2.
                                                         wear a mask. Contact the box office at (561) 833-7888.
                                                                                                             And there was mournful music at the end of the opera
                                                                                                           from two of Purcell's many church anthems made for all
        Renee Fleming, that great American soprano diva   Palm Beach Opera's Dido And                      to sing. We are grateful to Minter for augmenting this
      gives a recital on Jan. 2 at 8 p.m. in Dreyfoos Hall.                                                short work mostly remembered for just two songs. The
      "Summer" the Donna Summer musical goes up Jan. 5   Aeneas                                            chorus,  Come away fellow sailors and Dido's lament,
      to 9. On Monday, Jan. 10 at 7:30 p.m. the Palm Beach                                                 When I am laid in earth. Nahum Tate's libretto leaves
      Symphony takes the stage. Gerard Schwarz conducts     Youth at the helm! What better way to anticipate the   much to be desired. Steven Sondheim he was not.
      the superb pianist Yefim Bronfman in Rachmaninoff's   celebrations of Palm Beach Opera's 60 years than by     Conductor Gregory Ritchey led a small orchestra with
      Piano Concerto No. 3. Also on the program is Kikimora   using  its  excellent  Benenson Young Artists:  12  young   a delicate touch. With his back to the singers, they had
      by Liadov and Shostakovich's bone rattling masterpiece,   professional singers preparing to launch successful   to listen for their music cues; an early lesson in their
      his Symphony No. 5.                                careers in opera, in one of the best run training programs   training. I was once present when opera impresario and
        On Tuesday, Jan. 11 two young artists, in the Classical   that helps those who stick with it end up on the cusp of   doyen of Twentieth Century opera, Boris Goldovsky told
      Series: Gabriel Martins, cello and Geneva Lewis, violin,   greatness. They sang Purcell's short opera,  Dido and   a soprano, rehearsing a Mozart quartet, not to look at him
      give a recital at 7:30 p.m. in the Rinker Playhouse. On the   Aeneas on Dec. 11, in the open air, on the lawn of the   for her cue, but listen for it in the music! Mezzo Megan
      same night in Dreyfoos Hall at 8 p.m., there's a tribute to   Norton Museum, not a microphone in sight, a real test   Callahan sang a delicious Dido. Christopher Humbert Jr.
      Tina Turner. Comedian Jay Leno appears on Wednesday,   for young voices who learned to "throw" their God given   was a believable Aeneas making the most of his lovely
      Jan. 12 at 8 p.m. in the big hall. On Friday, Jan. 14 at 7:30   instruments into the night air. These young singers will   baritone voice. Soprano Avery Boettcher was a stand out
      p.m. and Saturday, Jan. 15 at 1:30 and 7:30 p.m., Billy   look back on this event with pride; some may even sing   as Belinda, the Queen's assistant, with a compelling rich
      Stritch and Gabrielle Stravelli celebrate the greatness of   at the 100th anniversary of Palm Beach Opera.   sounding voice. Mezzo Meridian Prall was a Sorceress.
      crooners Mel Torme and the late beloved Ella Fitzgerald,     Henry Purcell, at 9 years of age, began his musical   Soprano Alexandra Razskazoff was Second  Woman.
      princess of "scat." Another comedian, a prickly one   career as a cathedral choir boy rising to the post of   Soprano  Maria  Vasilevskaya  was  convincing  as  the
      at that, the very bright, no nonsense, Bill Maher will   organist at  Westminster Abbey, London, at 20.  Well   wicked First Witch.  Mezzo  Megan  Graves was  scary
      entertain you on Saturday, Jan. 15 at 8 p.m. The Detroit   placed, he was sought out to write incidental music to 40   as the Second Witch. Soprano Marissa Moultrie was a
      Symphony Orchestra under conductor Jader Bignamini   plays, vaudevilles, and anthems for use in church services.  blythe Spirit, Tenor Steven Ricks was a passable sailor.
      visits on Monday, Jan. 17 for Regional Arts Classical     He served three English monarchs in his short life,   I would have liked to see more dancing from him and
      Concert Series at 8 p.m. Program: Dvorak Cello Concerto   dying at 36. Male life expectancy then was 37! Many   his companion – a sailor's hornpipe perhaps to an added
      in B minor with Alisa Weilerstein, soloist,  Banner is   of his works survive to this day, 300 years later. But   Purcell jig. And tenor Bergsvein Toverud, a Court Singer,
      next by Jessie Montgomery. Brahms' resounding 2nd   his operas were few; Dido and Aeneas was his first of   sounded very good indeed.
      Symphony ends it.                                  only five. Among the great composers of the Baroque     In the new year, we'll be hearing these young artists
        On Tuesday, Jan. 18 at 8 p.m. the Kravis Center Pops   period, he was very famous in England in his lifetime.   at Palm Beach Opera, getting good experience in a major
      Orchestra Big Band appears with Michael Feinstein   The legendary Gods of Greece and Rome feature in most   American opera house. Look for them in Carmen, Jan.
      conducting and singing. Now for some theatre!  The   early Baroque operas. Dido and Aeneas is no exception.   28 to 30; at The Gala, Feb. 7; in The Elixer of Love, Feb.
      Aquila Troupe presents Shakespeare's  Macbeth in the   Dido, Queen of Carthage, has fallen in love with a visitor   25 to 27 and The Merry Widow, March 25 to 27. You can
      Rinker  Playhouse  on  Friday,  Jan.  21  at  7:30  p.m.  and   to her realm, Aeneas. Her subjects want her to marry   reach the box office at: (561) 833-7888.
      Saturday,  Jan.  22  at  1:30  p.m. Another  great  visiting
      orchestra flies in from Ohio, The Cleveland Orchestra,
      conducted by their distinguished leader Franz Welser-
      Most, part of the Regional Arts Classical Concert Series
      on Sunday, Jan. 23 at 3 p.m. Just two symphonies grace
      their program, Mozart's  Symphony No. 36 Linz  and
      Tchaikovsky's magnificent Symphony No. 4.
        An unusual talk takes place in the Gimelstob Ballroom
      of the Cohen Pavilion on Jan. 24, a Monday, at 11:30



                            New Moon     Full Moon
                            January 2    January 17
                           First Quarter  Third Quarter                                                                747-PALM
                            January 9    January 25                                                                         747-7256





             Southern Exposure Technologies
           Computer Install/Setup/Repair                     Peripheral
                     (561) 315-0144
                   getsetgo.annie@gmail.com                  Neuropathy?
                            * DSL, Broadband,Wireless Install
                            * Networking, Troubleshooting
                            * Instruction
                            * Hardware/Software Installation  FREE Consultation
                            * Virus/Spyware/Adware Fix
                            * Cleanup/Maintenance/Backup
                            * Business Consult/Startup/Move  for Acupuncture
                            * Website Design/Maintenance
              Call S.E.T. to install your "new computer, printer
                       and wireless network"!
                       GET S.E.T. GO!
         REASONABLE HOURLY, WEEKLY, MONTHLY RATES
       FOR SMALL BUSINESSES FOR AS LOW AS $50.00 AN HOUR,
             WITH A MINIMUM OF 6 HOURS A MONTH,                                                                        561-745-1002
            OR 2 HOURS A WEEK, OR ON AN AS-NEEDED
                  BASIS RATE OF $75.00 P/HOUR.
          START YOUR NEW YEAR WITH SECURE BACKUPS,                                                                       654 West Indiantown
        QUALITY MAINTENANCE, ATTENTION TO DETAIL AND        THE PATIENT AND ANY OTHER PERSON RESPONSIBLE FOR PAYMENT HAS THE RIGHT TO
                 PERSONABLE ON-SITE SUPPORT!                REFUSE TO PAY, CANCEL PAYMENT OR BE REIMBURSED FOR PAYMENT FOR ANY OTHER   Road, Jupiter, FL 33458
                                                            SERVICE, EXAMINATION OR TREATMENT WHICH IS PERFORMED AS A RESULT OF AND
                        (561) 315-0144                      WITHIN 72 HOURS OF RESPONDING TO THE ADVERTISEMENT FOR THE FREE, DISCOUNTED   www.drlaruffa.com
          CALL S.E.T. TODAY FOR YOUR COMPUTER NEEDS!        OR REDUCED FEE SERVICES, EXAMINATION OR TREATMENT.