Page 1 - Boca Ezposure - February '22
P. 1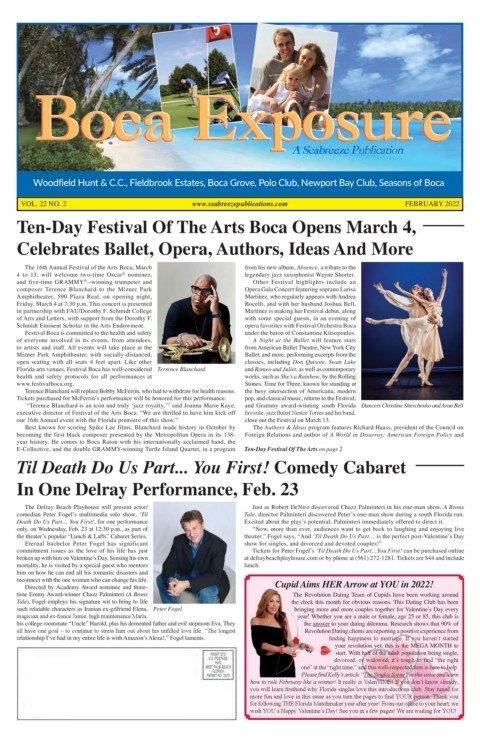 A Seabreeze Publication





            Woodfield Hunt & C.C., Fieldbrook Estates, Boca Grove, Polo Club, Newport Bay Club, Seasons of Boca



        VOL. 22 NO. 2                                           www.seabreezepublications.com                                          FEBRUARY 2022

      Ten-Day Festival Of The Arts Boca Opens March 4,



      Celebrates Ballet, Opera, Authors, Ideas And More



         The 16th Annual Festival of the Arts Boca, March                         from his new album, Absence, a tribute to the
      4 to 13, will welcome two-time Oscar  nominee,                              legendary jazz saxophonist Wayne Shorter.
                                         ®
      and five-time GRAMMY –winning trumpeter and                                    Other Festival highlights include an
                             ®
      composer  Terence Blanchard to the Mizner Park                              Opera Gala Concert featuring soprano Larisa
      Amphitheater, 590 Plaza Real, on opening night,                             Martinez, who regularly appears with Andrea
      Friday, March 4 at 7:30 p.m. This concert is presented                      Bocelli, and with her husband Joshua Bell.
      in partnership with FAU/Dorothy F. Schmidt College                          Martinez is making her Festival debut, along
      of Arts and Letters, with support from the Dorothy F.                       with some special guests, in an evening of
      Schmidt Eminent Scholar in the Arts Endowment.                              opera favorites with Festival Orchestra Boca
         Festival Boca is committed to the health and safety                      under the baton of Constantine Kitsopoulos.
      of everyone involved in its events, from attendees,                            A Night at the Ballet will feature stars
      to artists and staff. All events will take place at the                     from American Ballet Theatre, New York City
      Mizner Park Amphitheater, with socially-distanced,                          Ballet, and more, performing excerpts from the
      open seating with all seats 4 feet apart. Like other                        classics, including Don Quixote, Swan Lake
      Florida arts venues, Festival Boca has well-considered  Terrence Blanchard  and Romeo and Juliet, as well as contemporary
      health and safety protocols for all performances at                         works, such as She's a Rainbow, by the Rolling
      www.festivalboca.org.                                                       Stones. Time for Three, known for standing at
         Terence Blanchard will replace Bobby McFerrin, who had to withdraw for health reasons.   the busy intersection of Americana, modern
      Tickets purchased for McFerrin's performance will be honored for this performance.  pop, and classical music, returns to the Festival;
          "Terence Blanchard is an icon and truly 'jazz royalty,'" said Joanna Marie Kaye,   and Grammy award-winning south Florida   Dancers Christine Shevchenko and Aran Bell
      executive director of Festival of the Arts Boca. "We are thrilled to have him kick off   favorite, jazz flutist Nestor Torres and his band,
      our 16th Annual event with the Florida premiere of this show."              close out the Festival on March 13.
         Best known for scoring Spike Lee films, Blanchard made history in October by   The Authors & Ideas program features Richard Haass, president of the Council on
      becoming the first black composer presented by the Metropolitan Opera in its 138-  Foreign Relations and author of A World in Disarray: American Foreign Policy and
      year history. He comes to Boca Raton with his internationally acclaimed band, the
      E-Collective, and the double GRAMMY-winning Turtle Island Quartet, in a program   Ten-Day Festival Of The Arts on page 2
      Til Death Do Us Part... You First! Comedy Cabaret


      In One Delray Performance, Feb. 23




         The Delray Beach Playhouse will present actor/                              Just as Robert DeNiro discovered Chazz Palminteri in his one-man show, A Bronx
      comedian Peter Fogel's multimedia solo show, 'Til                           Tale, director Palminteri discovered Peter's one-man show during a south Florida run.
      Death Do Us Part… You First!, for one performance                           Excited about the play's potential, Palminteri immediately offered to direct it.
      only, on Wednesday, Feb. 23 at 12:30 p.m., as part of                          "Now, more than ever, audiences want to get back to laughing and enjoying live
      the theater's popular "Lunch & Laffs" Cabaret Series.                       theater," Fogel says, "And 'Til Death Do Us Part… is the perfect post-Valentine's Day
         Eternal bachelor Peter Fogel has significant                             show for singles, and divorced and devoted couples!"
      commitment issues as the love of his life has just                             Tickets for Peter Fogel's 'Til Death Do Us Part…You First! can be purchased online
      broken up with him on Valentine's Day. Sensing his own                      at delraybeachplayhouse.com or by phone at (561) 272-1281. Tickets are $44 and include
      mortality, he is visited by a special guest who mentors                     lunch.
      him on how he can end all his romantic disasters and
      reconnect with the one woman who can change his life.                                 Cupid Aims HER Arrow at YOU in 2022!
         Directed by Academy Award nominee and three-
      time Emmy Award-winner Chazz Palminteri (A Bronx                                            The Revolution Dating Team of Cupids have been working around
      Tale), Fogel employs his signature wit to bring to life                                    the clock this month for obvious reasons. This Dating Club has been
      such relatable characters as Iranian ex-grlfriend Elena,  Peter Fogel                       bringing more and more couples together for Valentine's Day every
      magician and ex-fiancé Jamie, high maintenance Marla,                                        year! Whether you are a male or female, age 25 or 85, this club is
      his college roommate "Uncle" Harold, plus his demented father and evil stepmom Eva. They       the answer to your dating dilemma. Research shows that 90% of
      all have one goal – to continue to stress him out about his unfilled love life. "The longest    Revolution Dating clients are reporting a positive experience from
      relationship I've had in my entire life is with Amazon's Alexa!," Fogel laments.                        finding happiness to marriage. If you haven't started
                                                                                                                your revolution yet, this is the MEGA MONTH to
                                                                                                                start. With half of the adult population being single,
                                                                                                               divorced, or widowed, it's tough to find "the right
                                                                                                    one" at the "right time," and this well-respected firm is here to help.
                                                                                                     Please find Kelly's article "The Singles Scene" in this issue and learn
                                                                                    how to rule February like a winner! It really is ValenTIME! If you don't know already,
                                                                                    you will learn firsthand why Florida singles love this introductions club. Stay tuned for
                                                                                    more fun and love in this issue as you turn the pages to find YOUR person. Thank you
                                                                                    for following THE Florida Matchmaker year after year! From our office to your heart, we
                                                                                    wish YOU a Happy Valentine's Day! See you in a few pages! We are waiting for YOU!