Page 1 - Southern Exposure - February '22
P. 1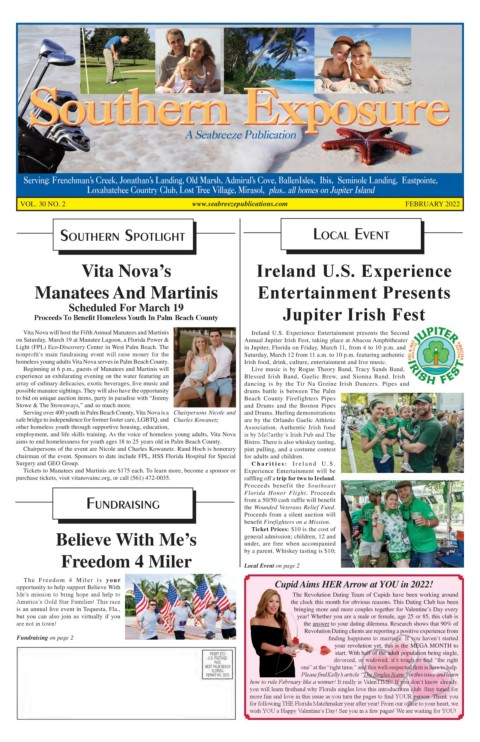 VOL. 30 NO. 2                                           www.seabreezepublications.com                                          FEBRUARY 2022



                     southErn spotLight                                                                 LocaL EvEnt




                            Vita Nova's                                               Ireland U.S. Experience



            Manatees And Martinis                                                     Entertainment Presents


                        Scheduled For March 19
            Proceeds To Benefit Homeless Youth In Palm Beach County                           Jupiter Irish Fest


        Vita Nova will host the Fifth Annual Manatees and Martinis                  Ireland U.S. Experience Entertainment presents the Second
      on Saturday, March 19 at Manatee Lagoon, a Florida Power &                  Annual Jupiter Irish Fest, taking place at Abacoa Amphitheater
      Light (FPL) Eco-Discovery Center in West Palm Beach. The                    in Jupiter, Florida on Friday, March 11, from 4 to 10 p.m. and
      nonprofit's main fundraising event will raise money for the                 Saturday, March 12 from 11 a.m. to 10 p.m. featuring authentic
      homeless young adults Vita Nova serves in Palm Beach County.                Irish food, drink, culture, entertainment and live music.
        Beginning at 6 p.m., guests of Manatees and Martinis will                   Live music is by Rogue Theory Band, Tracy Sands Band,
      experience an exhilarating evening on the water featuring an                Blessed Irish Band, Gaelic Brew, and Sionna Band. Irish
      array of culinary delicacies, exotic beverages, live music and              dancing is by the  Tir Na Greine Irish Dancers. Pipes and
      possible manatee sightings. They will also have the opportunity             drums battle is between The Palm
      to bid on unique auction items, party in paradise with "Jimmy               Beach County Firefighters Pipes
      Stowe & The Stowaways," and so much more.                                   and Drums and the Boston Pipes
        Serving over 400 youth in Palm Beach County, Vita Nova is a  Chairpersons Nicole and   and Drums. Hurling demonstrations
      safe bridge to independence for former foster care, LGBTQ, and  Charles Kowanetz   are by the Orlando Gaelic Athletic
      other homeless youth through supportive housing, education,                 Association. Authentic Irish food
      employment, and life skills training. As the voice of homeless young adults, Vita Nova   is by McCarthy's Irish Pub and The
      aims to end homelessness for youth ages 18 to 25 years old in Palm Beach County.  Bistro. There is also whiskey tasting,
        Chairpersons of the event are Nicole and Charles Kowanetz. Rand Hoch is honorary   pint pulling, and a costume contest
      chairman of the event. Sponsors to date include FPL, HSS Florida Hospital for Special   for adults and children.
      Surgery and GEO Group.                                                        C h arities :  Ireland U .S .
        Tickets to Manatees and Martinis are $175 each. To learn more, become a sponsor or   Experience Entertainment will be
      purchase tickets, visit vitanovainc.org, or call (561) 472-0035.            raffling off a trip for two to Ireland.
                                                                                  Proceeds  benefit  the  Southeast
                                                                                  Florida Honor Flight. Proceeds

                             Fundraising                                          from a 50/50 cash raffle will benefit
                                                                                  the Wounded Veterans Relief Fund.
                                                                                  Proceeds from a silent auction will
                                                                                  benefit Firefighters on a Mission.
                                                                                    Ticket Prices: $10 is the cost of
                   Believe With Me's                                              general admission; children, 12 and
                                                                                  under, are free when accompanied
                     Freedom 4 Miler                                              by a parent. Whiskey tasting is $10;

                                                                                  Local Event on page 2

        The Freedom 4 Miler is  your                                                        Cupid Aims HER Arrow at YOU in 2022!
      opportunity to help support Believe With
      Me's mission to bring hope and help to                                                      The Revolution Dating Team of Cupids have been working around
      America's Gold Star Families! This race                                                    the clock this month for obvious reasons. This Dating Club has been
      is an annual live event in Tequesta, Fla.,                                                  bringing more and more couples together for Valentine's Day every
      but you can also join us virtually if you                                                    year! Whether you are a male or female, age 25 or 85, this club is
      are not in town!                                                                               the answer to your dating dilemma. Research shows that 90% of
                                                                                                     Revolution Dating clients are reporting a positive experience from
      Fundraising on page 2                                                                                  finding happiness to marriage. If you haven't started
                                                                                                               your revolution yet, this is the MEGA MONTH to
                                                                                                                start. With half of the adult population being single,
                                                                                                               divorced, or widowed, it's tough to find "the right
                                                                                                    one" at the "right time," and this well-respected firm is here to help.
                                                                                                    Please find Kelly's article "The Singles Scene" in this issue and learn
                                                                                   how to rule February like a winner! It really is ValenTIME! If you don't know already,
                                                                                   you will learn firsthand why Florida singles love this introductions club. Stay tuned for
                                                                                   more fun and love in this issue as you turn the pages to find YOUR person. Thank you
                                                                                   for following THE Florida Matchmaker year after year! From our office to your heart, we
                                                                                   wish YOU a Happy Valentine's Day! See you in a few pages! We are waiting for YOU!