Page 1 - Palm City Spotlight - March '22
P. 1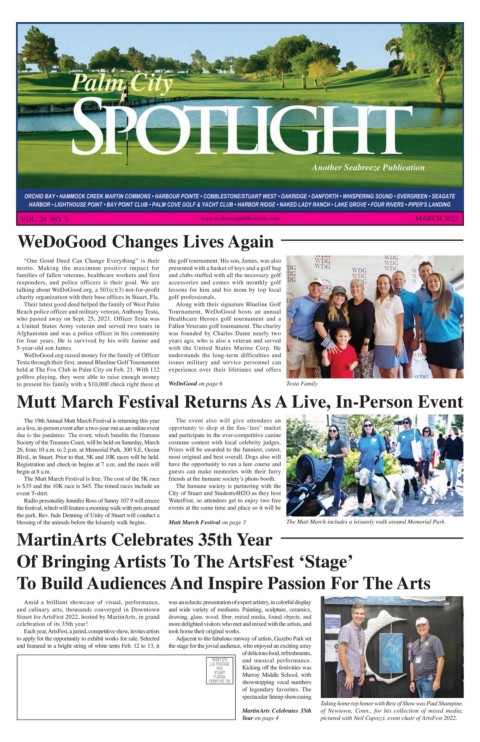 VOL. 24  NO. 3                                             www.seabreezepublications.com                                          MARCH 2022

       WeDoGood Changes Lives Again




        "One  Good  Deed  Can  Change  Everything"  is  their   the golf tournament. His son, James, was also
      motto. Making the maximum positive impact for      presented with a basket of toys and a golf bag
      families of fallen veterans, healthcare workers and first   and clubs stuffed with all the necessary golf
      responders, and police officers is their goal. We are   accessories and comes with monthly golf
      talking about WeDoGood.org, a 501(c)(3) not-for-profit   lessons for him and his mom by top local
      charity organization with their base offices in Stuart, Fla.   golf professionals.
        Their latest good deed helped the family of West Palm     Along with their signature Blueline Golf
      Beach police officer and military veteran, Anthony Testa,   Tournament,  WeDoGood hosts an annual
      who passed away on Sept. 25, 2021. Officer Testa was   Healthcare Heroes golf tournament and a
      a United States Army veteran and served two tours in   Fallen Veterans golf tournament. The charity
      Afghanistan and was a police officer in his community   was  founded  by  Charles  Dame  nearly  two
      for four years. He is survived by his wife Janine and   years ago, who is also a veteran and served
      5-year-old son James.                              with the United States Marine Corp. He
        WeDoGood.org raised money for the family of Officer   understands the long-term difficulties and
      Testa through their first, annual Blueline Golf Tournament   issues military and service personnel can
      held at The Fox Club in Palm City on Feb. 21. With 132   experience over their lifetimes and offers
      golfers playing, they were able to raise enough money
      to present his family with a $10,000 check right there at   WeDoGood on page 6            Testa Family
      Mutt March Festival Returns As A Live, In-Person Event




        The 19th Annual Mutt March Festival is returning this year     The  event  also  will  give  attendees  an
      as a live, in-person event after a two-year run as an online event   opportunity to shop at the flea-"less" market
      due to the pandemic. The event, which benefits the Humane   and participate in the ever-competitive canine
      Society of the Treasure Coast, will be held on Saturday, March   costume contest with local celebrity judges.
      26, from 10 a.m. to 2 p.m. at Memorial Park, 300 S.E. Ocean   Prizes will be awarded to the funniest, cutest,
      Blvd., in Stuart. Prior to that, 5K and 10K races will be held.   most original and best overall. Dogs also will
      Registration and check-in begins at 7 a.m. and the races will   have the opportunity to run a lure course and
      begin at 8 a.m.                                    guests can make memories with their furry
        The Mutt March Festival is free. The cost of the 5K race   friends at the humane society's photo booth.
      is $35 and the 10K race is $45. The timed races include an     The humane society is partnering with the
      event T-shirt.                                     City of Stuart and Students4H2O as they host
        Radio personality Jennifer Ross of Sunny 107.9 will emcee   WaterFest, so attendees get to enjoy two free
      the festival, which will feature a morning walk with pets around   events at the same time and place so it will be
      the park. Rev. Jude Denning of Unity of Stuart will conduct a
      blessing of the animals before the leisurely walk begins.   Mutt March Festival on page 3  The Mutt March includes a leisurely walk around Memorial Park.
      MartinArts Celebrates 35th Year


      Of Bringing Artists To The ArtsFest 'Stage'



      To Build Audiences And Inspire Passion For The Arts



        Amid  a  brilliant showcase  of  visual,  performance,   was an eclectic presentation of expert artistry, in colorful display
      and culinary arts, thousands converged in Downtown   and wide variety of mediums. Painting, sculpture, ceramics,
      Stuart for ArtsFest 2022, hosted by MartinArts, in grand   drawing, glass, wood, fiber, mixed media, found objects, and
      celebration of its 35th year!                      more delighted visitors who met and mixed with the artists, and
        Each year, ArtsFest, a juried, competitive show, invites artists   took home their original works.
      to apply for the opportunity to exhibit works for sale. Selected     Adjacent to the fabulous runway of artists, Gazebo Park set
      and featured in a bright string of white tents Feb. 12 to 13, it   the stage for the jovial audience, who enjoyed an exciting array
                                                                                 of delicious food, refreshments,
                                                                                 and musical performance.
                                                                                 Kicking off the festivities was
                                                                                 Murray Middle School, with
                                                                                 showstopping vocal numbers
                                                                                 of legendary favorites. The
                                                                                 spectacular lineup showcasing
                                                                                                           Taking home top honor with Best of Show was Paul Shampine,
                                                                                 MartinArts Celebrates 35th   of Newtown, Conn., for his collection of mixed media;
                                                                                 Year on page 4            pictured with Neil Capozzi, event chair of ArtsFest 2022.