Page 1 - PGA Community News - April '22
P. 1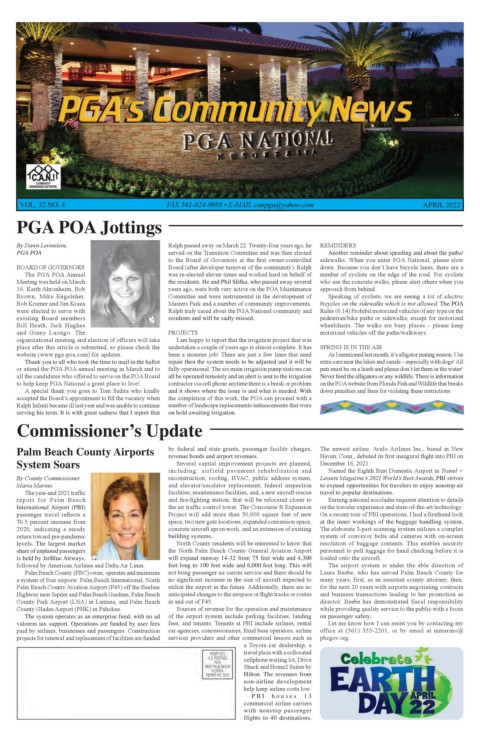 VOL. 32 NO. 4                                    FAX 561-624-9088 • E-MAIL canpga@yahoo.com                                           APRIL 2022

      PGA POA Jottings




      By Dawn Levinstein,                                Ralph passed away on March 22. Twenty-four years ago, he   REMINDERS
      PGA POA                                            served on the Transition Committee and was then elected      Another reminder about speeding and about the paths/
                                                         to the Board of Governors at the first owner-controlled   sidewalks. When you enter PGA National, please slow
      BOARD OF GOVERNORS                                 Board (after developer turnover of the community). Ralph   down. Because you don't have bicycle lanes, there are a
         The  PGA  POA Annual                            was re-elected eleven times and worked hard on behalf of   number of cyclists on the edge of the road. For cyclists
      Meeting was held on March                          the residents. He and Phil Slifka, who passed away several   who use the concrete walks, please alert others when you
      16. Keith Ahronheim, Bob                           years ago, were both very active on the POA Maintenance   approach from behind.
      Brown,  Mike  Engelsher,                           Committee and were instrumental in the development of      Speaking of cyclists, we are seeing a lot of electric
      Bob Kramer and Jim Kraus                           Masters Park and a number of community improvements.   bicycles on the sidewalks which is not allowed. The POA
      were elected to serve with                         Ralph truly cared about the PGA National community and   Rules (6.14) Prohibit motorized vehicles of any type on the
      existing Board members                             residents and will be sadly missed.               pedestrian/bike paths or sidewalks, except for motorized
      Bill  Heath,  Jack  Hughes                                                                           wheelchairs. The  walks  are  busy places  –  please  keep
      and  Ginny  Luongo.  The                           PROJECTS                                          motorized vehicles off the paths/walkways.
      organizational meeting and election of officers will take      I am happy to report that the irrigation project that was
      place after this article is submitted, so please check the   undertaken a couple of years ago is almost complete. It has   SPRING IS IN THE AIR
      website (www.pga-poa.com) for updates.             been a monster job! There are just a few lines that need      As I mentioned last month, it's alligator mating season. Use
         Thank you to all who took the time to mail in the ballot   repair then the system needs to be adjusted and it will be   extra care near the lakes and canals – especially with dogs! All
      or attend the PGA POA annual meeting in March and to   fully operational. The six main irrigation pump stations can   pets must be on a leash and please don't let them in the water!
      all the candidates who offered to serve on the POA Board   all be operated remotely and an alert is sent to the irrigation   Never feed the alligators or any wildlife. There is information
      to help keep PGA National a great place to live!   contractor via cell phone anytime there is a break or problem   on the POA website from Florida Fish and Wildlife that breaks
         A special thank you goes to Tom Sedita who kindly   and it shows where the issue is and what is needed. With   down penalties and fines for violating these restrictions.
      accepted the Board's appointment to fill the vacancy when   the completion of this work, the POA can proceed with a
      Ralph Infanti became ill last year and was unable to continue   number of landscape replacements/enhancements that were
      serving his term. It is with great sadness that I report that   on hold awaiting irrigation.
      Commissioner's Update




      Palm Beach County Airports                         by federal and state grants, passenger facility charges,   The  newest  airline, Avelo Airlines  Inc., based  in  New
                                                                                                           Haven, Conn., debuted its first inaugural flight into PBI on
                                                         revenue bonds and airport revenues.
      System Soars                                          Several  capital  improvement  projects  are  planned,   December 16, 2021.
                                                         including:  airfield  pavement  rehabilitation  and      Named the Eighth Best Domestic Airport in Travel +
      By County Commissioner                             reconstruction; roofing, HVAC, public address system,   Leisure Magazine's 2021 World's Best Awards, PBI strives
      Maria Marino                                       and  elevator/escalator  replacement;  federal  inspection   to expand opportunities for travelers to enjoy nonstop air
         The year-end 2021 traffic                       facilities; maintenance facilities; and, a new aircraft rescue   travel to popular destinations.
      report  for  Palm  Beach                           and fire-fighting station, that will be relocated closer to      Earning national accolades requires attention to details
      International Airport (PBI)                        the air traffic control tower. The Concourse B Expansion   on the traveler experience and state-of-the-art technology.
      passenger  travel  reflects  a                     Project  will  add  more  than  50,000  square  feet  of  new   On a recent tour of PBI operations, I had a firsthand look
      70.5 percent increase from                         space, two new gate locations, expanded concession space,   at the inner workings of the baggage handling system.
      2020,  indicating  a  steady                       concrete aircraft apron work, and an extension of existing   The elaborate 3-part scanning system utilizes a complex
      return toward pre-pandemic                         building systems.                                 system  of  conveyor  belts  and  cameras  with  on-screen
      levels. The largest market                            North County residents will be interested to know that   resolution  of  baggage  contents. This  enables  security
      share of enplaned passengers                       the North Palm Beach County General Aviation Airport   personnel to pull luggage for hand checking before it is
      is held by JetBlue Airways,                        will expand runway 14-32 from 75 feet wide and 4,300   loaded onto the aircraft.
      followed by American Airlines and Delta Air Lines.  feet long to 100 feet wide and 6,000 feet long. This will      The  airport  system  is  under  the  able  direction  of
         Palm Beach County (PBC) owns, operates and maintains   not bring passenger air carrier service and there should be   Laura  Beebe,  who  has  served  Palm  Beach  County  for
      a system of four airports: Palm Beach International, North   no significant increase in the size of aircraft expected to   many years; first, as an assistant county attorney, then,
      Palm Beach County Aviation Airport (F45) off the Beeline   utilize the airport in the future. Additionally, there are no   for the next 20 years with airports negotiating contracts
      Highway near Jupiter and Palm Beach Gardens, Palm Beach   anticipated changes to the airspace or flight tracks or routes   and  business  transactions  leading  to  her  promotion  as
      County Park Airport (LNA) in Lantana, and Palm Beach   in and out of F45.                            director.  Beebe  has  demonstrated  fiscal  responsibility
      County Glades Airport (PHK) in Pahokee.               Sources of revenue for the operation and maintenance   while providing quality service to the public with a focus
         The system operates as an enterprise fund, with no ad   of the airport system include parking facilities, landing   on passenger safety.
      valorem tax support. Operations are funded by user fees   fees, and tenants. Tenants at PBI include airlines, rental      Let me know how I can assist you by contacting my
      paid by airlines, businesses and passengers. Construction   car agencies, concessionaires, fixed base operators, airline   office  at  (561)  355-2201,  or  by  email  at  mmarino@
      projects for renewal and replacement of facilities are funded   services providers and other commercial lessors such as   pbcgov.org.
                                                                                 a Toyota car dealership, a
                                                                                 travel plaza with a collocated
                                                                                 cellphone waiting lot, Drive
                                                                                 Shack and Home2 Suites by
                                                                                 Hilton. The revenues from
                                                                                 non-airline development
                                                                                 help keep airline costs low.
                                                                                    PB I  h o u se s 1 3
                                                                                 commercial airline carriers
                                                                                 with nonstop passenger
                                                                                 flights to 40 destinations.