Page 1 - The Jewish Voice - June '22
P. 1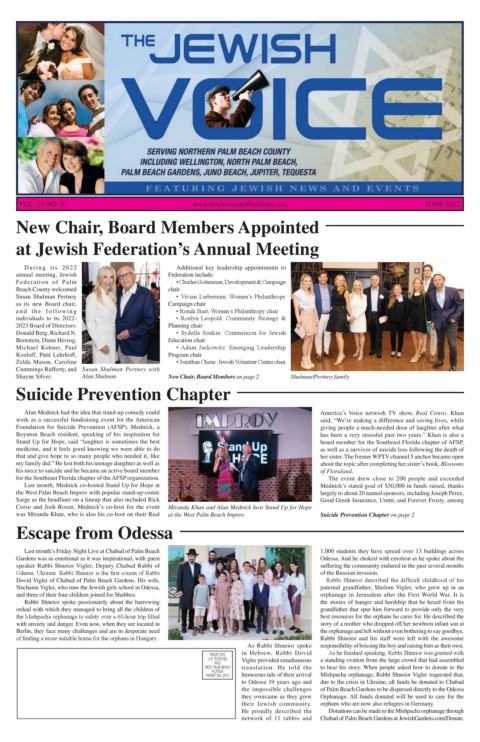 VOL. 12 NO. 6                                             www.seabreezepublications.com                                                JUNE 2022

      New Chair, Board Members Appointed



      at Jewish Federation's Annual Meeting



         During its 2022                                   Additional key leadership appointments to
      annual meeting, Jewish                            Federation include:
      Federation of Palm                                   • Charles Gottesman, Development & Campaign
      Beach County welcomed                             chair
      Susan Shulman Pertnoy                                • Vivian Lieberman, Women's Philanthropy
      as its new Board chair,                           Campaign chair
      and the follow ing                                   • Ronda Starr, Women's Philanthropy chair
      individuals to its 2022-                             • Roslyn Leopold: Community Strategy &
      2023 Board of Directors:                          Planning chair
      Donald Berg, Richard N.                              • Sydelle Sonkin: Commission for Jewish
      Bernstein, Diane Herzog,                          Education chair
      Michael Kohner, Paul                                 • Adam  Jackowitz:  Emerging  Leadership
      Kozloff, Patti Lehrhoff,                          Program chair
      Zelda Mason, Caroline                                • Jonathan Chane: Jewish Volunteer Center chair
      Cummings Rafferty, and  Susan Shulman Pertnoy with
      Shayne Silver.        Alan Shulman                New Chair, Board Members on page 2       Shulman/Pertnoy family
      Suicide Prevention Chapter



         Alan Mednick had the idea that stand-up comedy could                                              America's Voice network TV show,  Real Convo. Khan
      work as a successful fundraising event for the American                                              said, "We're making a difference and saving lives, while
      Foundation for Suicide Prevention (AFSP). Mednick, a                                                 giving people a much-needed dose of laughter after what
      Boynton Beach resident, speaking of his inspiration for                                              has been a very stressful past two years." Khan is also a
      Stand Up for Hope, said "laughter is sometimes the best                                              board member for the Southeast Florida chapter of AFSP,
      medicine, and it feels good knowing we were able to do                                               as well as a survivor of suicide loss following the death of
      that and give hope to so many people who needed it, like                                             her sister. The former WPTV channel 5 anchor became open
      my family did." He lost both his teenage daughter as well as                                         about the topic after completing her sister's book, Blossoms
      his niece to suicide and he became an active board member                                            of Floraland.
      for the Southeast Florida chapter of the AFSP organization.                                             The event drew close to 200 people and exceeded
         Last month, Mednick co-hosted Stand Up for Hope at                                                Mednick's stated goal of $30,000 in funds raised, thanks
      the West Palm Beach Improv with popular stand-up comic                                               largely to about 20 named sponsors, including Joseph Perez,
      Sarge as the headliner on a lineup that also included Rick                                           Good Greek Insurance, Umttr, and Forever Frosty, among
      Corso and Josh Rosen. Mednick's co-host for the event   Miranda Khan and Alan Mednick host Stand Up for Hope
      was Miranda Khan, who is also his co-host on their Real   at the West Palm Beach Improv.             Suicide Prevention Chapter on page 2
      Escape from Odessa




         Last month's Friday Night Live at Chabad of Palm Beach                                            1,000 students they have spread over 13 buildings across
      Gardens was as emotional as it was inspirational, with guest                                         Odessa. And he choked with emotion as he spoke about the
      speaker Rabbi Shneior Vigler, Deputy Chabad Rabbi of                                                 suffering the community endured in the past several months
      Odessa, Ukraine. Rabbi Shneior is the first cousin of Rabbi                                          of the Russian invasion.
      Dovid Vigler of Chabad of Palm Beach Gardens. His wife,                                                Rabbi Shneior described the difficult childhood of his
      Nechama Vigler, who runs the Jewish girls school in Odessa,                                          paternal grandfather, Sholom Vigler, who grew up in an
      and three of their four children joined for Shabbos.                                                 orphanage in Jerusalem after the First World War. It is
         Rabbi Shneior spoke passionately about the harrowing                                              the stories of hunger and hardship that he heard from his
      ordeal with which they managed to bring all the children of                                          grandfather that spur him forward to provide only the very
      the Mishpacha orphanage to safety over a 60-hour trip filled                                         best resources for the orphans he cares for. He described the
      with anxiety and danger. Even now, when they are located in                                          story of a mother who dropped off her newborn infant son at
      Berlin, they face many challenges and are in desperate need                                          the orphanage and left without even bothering to say goodbye.
      of finding a more suitable home for the orphans in Hungary.                                          Rabbi Shneior and his staff were left with the awesome
                                                                                   As Rabbi Shneior spoke   responsibility of brissing the boy and raising him as their own.
                                                                                 in Hebrew, Rabbi Dovid       As he finished speaking, Rabbi Shneior was greeted with
                                                                                 Vigler provided simultaneous   a standing ovation from the large crowd that had assembled
                                                                                 translation. He told the   to hear his story. When people asked how to donate to the
                                                                                 humorous tale of their arrival   Mishpacha orphanage, Rabbi Shneior Vigler requested that,
                                                                                 to Odessa 19 years ago and   due to the crisis in Ukraine, all funds be donated to Chabad
                                                                                 the impossible challenges   of Palm Beach Gardens to be dispersed directly to the Odessa
                                                                                 they overcame as they grew   Orphanage. All funds donated will be used to care for the
                                                                                 their Jewish community.   orphans who are now also refugees in Germany.
                                                                                 He proudly described the      Donations can be made to the Mishpacha orphanage through
                                                                                 network of 11 rabbis and   Chabad of Palm Beach Gardens at JewishGardens.com/Donate.