Page 1 - Boca Club News - July '22
P. 1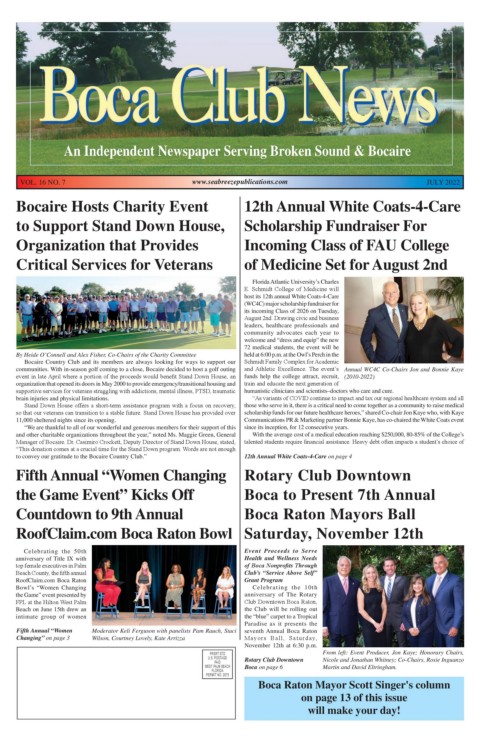 An Independent Newspaper Serving Broken Sound & Bocaire





        VOL. 16 NO. 7                                           www.seabreezepublications.com                                                 JULY 2022


      Bocaire Hosts Charity Event                                                 12th Annual White Coats-4-Care


      to Support Stand Down House,  Scholarship Fundraiser For


      Organization that Provides                                                  Incoming Class of FAU College


      Critical Services for Veterans                                              of Medicine Set for August 2nd



                                                                                     Florida Atlantic University's Charles
                                                                                  E. Schmidt College of Medicine will
                                                                                  host its 12th annual White Coats-4-Care
                                                                                  (WC4C) major scholarship fundraiser for
                                                                                  its incoming Class of 2026 on Tuesday,
                                                                                  August 2nd. Drawing civic and business
                                                                                  leaders, healthcare professionals and
                                                                                  community  advocates  each  year  to
                                                                                  welcome and "dress and equip" the new
                                                                                  72 medical students, the event will be
      By Heide O'Connell and Alex Fisher, Co-Chairs of the Charity Committee      held at 6:00 p.m. at the Owl's Perch in the
         Bocaire Country Club and its members are always looking for ways to support our   Schmidt Family Complex for Academic
      communities. With in-season golf coming to a close, Bocaire decided to host a golf outing   and Athletic Excellence. The event's  Annual WC4C Co-Chairs Jon and Bonnie Kaye
      event in late April where a portion of the proceeds would benefit Stand Down House, an   funds help the college attract, recruit,  (2010-2022)
      organization that opened its doors in May 2000 to provide emergency/transitional housing and   train and educate the next generation of
      supportive services for veterans struggling with addictions, mental illness, PTSD, traumatic   humanistic clinicians and scientists–doctors who care and cure.
      brain injuries and physical limitations.                                       "As variants of COVID continue to impact and tax our regional healthcare system and all
         Stand Down House offers a short-term assistance program with a focus on recovery,   those who serve in it, there is a critical need to come together as a community to raise medical
      so that our veterans can transition to a stable future. Stand Down House has provided over   scholarship funds for our future healthcare heroes," shared Co-chair Jon Kaye who, with Kaye
      11,000 sheltered nights since its opening.                                  Communications PR & Marketing partner Bonnie Kaye, has co-chaired the White Coats event
         "We are thankful to all of our wonderful and generous members for their support of this   since its inception, for 12 consecutive years.
      and other charitable organizations throughout the year," noted Ms. Maggie Green, General      With the average cost of a medical education reaching $250,000, 80-85% of the College's
      Manager of Bocaire. Dr. Casimiro Crockett, Deputy Director of Stand Down House, stated,   talented students require financial assistance. Heavy debt often impacts a student's choice of
      "This donation comes at a crucial time for the Stand Down program. Words are not enough
      to convey our gratitude to the Bocaire Country Club."                       12th Annual White Coats-4-Care on page 4

      Fifth Annual "Women Changing                                                Rotary Club Downtown


      the Game Event" Kicks Off                                                   Boca to Present 7th Annual


      Countdown to 9th Annual                                                     Boca Raton Mayors Ball


      RoofClaim.com Boca Raton Bowl                                               Saturday, November 12th



         Celebrating  the  50th                                                   Event Proceeds to Serve
      anniversary of Title IX with                                                Health and Wellness Needs
      top female executives in Palm                                               of Boca Nonprofits Through
      Beach County, the fifth annual                                              Club's "Service Above Self"
      RoofClaim.com Boca Raton                                                    Grant Program
      Bowl's "Women Changing                                                         Celebrating the 10th
      the Game" event presented by                                                anniversary of  The Rotary
      FPL at the Hilton West Palm                                                 Club Downtown Boca Raton,
      Beach on June 15th drew an                                                  the Club will be rolling out
      intimate group of women                                                     the "blue" carpet to a Tropical
                                                                                  Paradise as it presents the
      Fifth Annual "Women      Moderator Keli Ferguson with panelists Pam Rauch, Staci   seventh Annual Boca Raton
      Changing" on page 3      Wilson, Courtney Lovely, Kate Arrizza              Mayors  Ball,  Saturday,
                                                                                  November 12th at 6:30 p.m.
                                                                                                            From left: Event Producer, Jon Kaye; Honorary Chairs,
                                                                                  Rotary Club Downtown      Nicole and Jonathan Whitney; Co-Chairs, Rosie Inguanzo
                                                                                  Boca on page 6            Martin and David Eltringham.

                                                                                      Boca Raton Mayor Scott Singer's column
                                                                                                    on page 13 of this issue

                                                                                                       will make your day!