Page 1 - PGA Community News - August '22
P. 1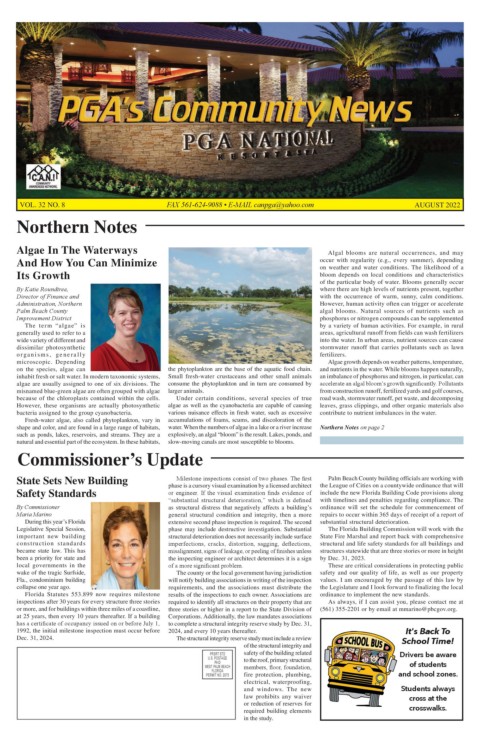 VOL. 32 NO. 8                                    FAX 561-624-9088 • E-MAIL canpga@yahoo.com                                        AUGUST 2022

      Northern Notes




      Algae In The Waterways                                                                                  Algal blooms are natural occurrences, and may

      And How You Can Minimize                                                                             occur with  regularity (e.g.,  every summer), depending
                                                                                                           on weather and water conditions. The likelihood of a
      Its Growth                                                                                           bloom  depends  on local  conditions and  characteristics
                                                                                                           of the particular body of water. Blooms generally occur
      By Katie Roundtree,                                                                                  where there are high levels of nutrients present, together
      Director of Finance and                                                                              with the occurrence of warm, sunny, calm conditions.
      Administration, Northern                                                                             However, human activity often can trigger or accelerate
      Palm Beach County                                                                                    algal blooms. Natural sources of nutrients such as
      Improvement District                                                                                 phosphorus or nitrogen compounds can be supplemented
         The term "algae" is                                                                               by a variety of human activities. For example, in rural
      generally used to refer to a                                                                         areas, agricultural runoff from fields can wash fertilizers
      wide variety of different and                                                                        into the water. In urban areas, nutrient sources can cause
      dissimilar  photosynthetic                                                                           stormwater runoff that carries pollutants such as lawn
      organisms,  generally                                                                                fertilizers.
      microscopic. Depending                                                                                  Algae growth depends on weather patterns, temperature,
      on the species, algae can                         the phytoplankton are the base of the aquatic food chain.   and nutrients in the water. While blooms happen naturally,
      inhabit fresh or salt water. In modern taxonomic systems,   Small fresh-water crustaceans and other small animals   an imbalance of phosphorus and nitrogen, in particular, can
      algae are usually assigned to one of six divisions. The   consume the phytoplankton and in turn are consumed by   accelerate an algal bloom's growth significantly. Pollutants
      misnamed blue-green algae are often grouped with algae   larger animals.                             from construction runoff, fertilized yards and golf courses,
      because of the chloroplasts contained within the cells.      Under certain conditions, several species of true   road wash, stormwater runoff, pet waste, and decomposing
      However, these organisms are actually photosynthetic   algae as well as the cyanobacteria are capable of causing   leaves, grass clippings, and other organic materials also
      bacteria assigned to the group cyanobacteria.     various nuisance effects in fresh water, such as excessive   contribute to nutrient imbalances in the water.
         Fresh-water algae, also called phytoplankton, vary in   accumulations of foams, scums, and discoloration of the
      shape and color, and are found in a large range of habitats,   water. When the numbers of algae in a lake or a river increase   Northern Notes on page 2
      such as ponds, lakes, reservoirs, and streams. They are a   explosively, an algal "bloom" is the result. Lakes, ponds, and
      natural and essential part of the ecosystem. In these habitats,   slow-moving canals are most susceptible to blooms.
       Commissioner's Update




      State Sets New Building                              phase is a cursory visual examination by a licensed architect     the League of Cities on a countywide ordinance that will
                                                                                                             Palm Beach County building officials are working with
                                                           Milestone inspections consist of two phases. The first
      Safety Standards                                   or engineer. If the visual examination finds evidence of   include the new Florida Building Code provisions along
                                                         "substantial  structural  deterioration,"  which  is  defined   with timelines and penalties regarding compliance. The
      By Commissioner                                    as structural distress that negatively affects a building's   ordinance will set the schedule for commencement of
      Maria Marino                                       general structural condition and integrity, then a more   repairs to occur within 365 days of receipt of a report of
         During this year's Florida                      extensive second phase inspection is required. The second   substantial structural deterioration.
      Legislative Special Session,                       phase may include destructive investigation. Substantial      The Florida Building Commission will work with the
      important  new  building                           structural deterioration does not necessarily include surface   State Fire Marshal and report back with comprehensive
      construction standards                             imperfections,  cracks,  distortion,  sagging,  deflections,   structural and life safety standards for all buildings and
      became state law. This has                         misalignment, signs of leakage, or peeling of finishes unless   structures statewide that are three stories or more in height
      been a priority for state and                      the inspecting engineer or architect determines it is a sign   by Dec. 31, 2023.
      local governments in the                           of a more significant problem.                       These are critical considerations in protecting public
      wake of the tragic Surfside,                          The county or the local government having jurisdiction   safety and our quality of life, as well as our property
      Fla., condominium building                         will notify building associations in writing of the inspection   values. I am encouraged by the passage of this law by
      collapse one year ago.                             requirements, and the associations must distribute the   the Legislature and I look forward to finalizing the local
         Florida Statutes 553.899 now requires milestone   results of the inspections to each owner. Associations are   ordinance to implement the new standards.
      inspections after 30 years for every structure three stories   required to identify all structures on their property that are      As always, if I can assist you, please contact me at
      or more, and for buildings within three miles of a coastline,   three stories or higher in a report to the State Division of   (561) 355-2201 or by email at mmarino@pbcgov.org.
      at 25 years, then every 10 years thereafter. If a building   Corporations. Additionally, the law mandates associations
      has a certificate of occupancy issued on or before July 1,   to complete a structural integrity reserve study by Dec. 31,
      1992, the initial milestone inspection must occur before   2024, and every 10 years thereafter.                                  It's Back To
      Dec. 31, 2024.                                        The structural integrity reserve study must include a review
                                                                                 of the structural integrity and                      School Time!
                                                                                 safety of the building related                      Drivers be aware
                                                                                 to the roof, primary structural
                                                                                 members, floor, foundation,                            of students
                                                                                 fire protection, plumbing,                          and school zones.
                                                                                 electrical, waterproofing,
                                                                                 and windows.  The new                               Students always
                                                                                 law prohibits any waiver                               cross at the
                                                                                 or reduction of reserves for
                                                                                 required building elements                             crosswalks.
                                                                                 in the study.