Page 1 - Boca Exposure - September '22
P. 1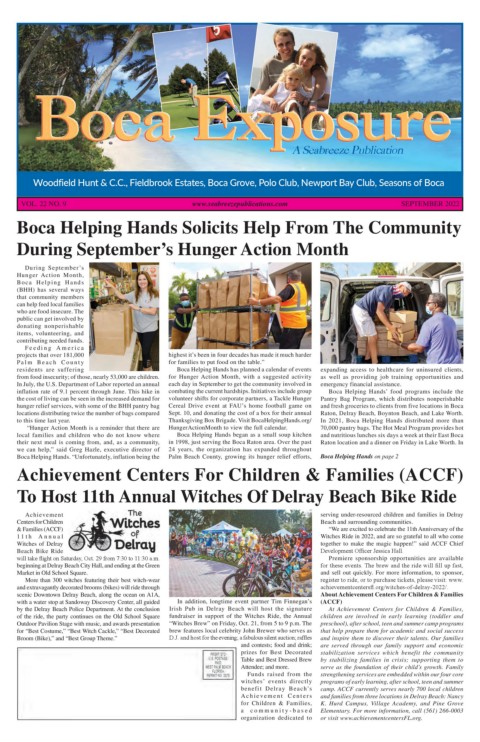 A Seabreeze Publication





            Woodfield Hunt & C.C., Fieldbrook Estates, Boca Grove, Polo Club, Newport Bay Club, Seasons of Boca



        VOL. 22 NO. 9                                           www.seabreezepublications.com                                         SEPTEMBER 2022

      Boca Helping Hands Solicits Help From The Community



      During September's Hunger Action Month



         During September's
      Hunger Action  Month,
      Boca Helping Hands
      (BHH) has several ways
      that community members
      can help feed local families
      who are food insecure. The
      public can get involved by
      donating nonperishable
      items, volunteering, and
      contributing needed funds.
         Feeding America
      projects that over 181,000                         highest it's been in four decades has made it much harder
      Palm Beach County                                  for families to put food on the table."
      residents are suffering                               Boca Helping Hands has planned a calendar of events   expanding access to healthcare for uninsured clients,
      from food insecurity; of those, nearly 53,000 are children.   for Hunger Action Month, with a suggested activity   as well as providing job training opportunities and
      In July, the U.S. Department of Labor reported an annual   each day in September to get the community involved in   emergency financial assistance.
      inflation rate of 9.1 percent through June. This hike in   combating the current hardships. Initiatives include group      Boca  Helping  Hands' food  programs  include the
      the cost of living can be seen in the increased demand for   volunteer shifts for corporate partners, a Tackle Hunger   Pantry Bag Program, which distributes nonperishable
      hunger relief services, with some of the BHH pantry bag   Cereal Drive event at FAU's home football game on   and fresh groceries to clients from five locations in Boca
      locations distributing twice the number of bags compared   Sept. 10, and donating the cost of a box for their annual   Raton, Delray Beach, Boynton Beach, and Lake Worth.
      to this time last year.                            Thanksgiving Box Brigade. Visit BocaHelpingHands.org/  In 2021, Boca Helping Hands distributed more than
          "Hunger Action Month is a reminder that there are   HungerActionMonth to view the full calendar.  70,000 pantry bags. The Hot Meal Program provides hot
      local families and children who do not know where      Boca Helping Hands began as a small soup kitchen   and nutritious lunches six days a week at their East Boca
      their next meal is coming from, and, as a community,   in 1998, just serving the Boca Raton area. Over the past   Raton location and a dinner on Friday in Lake Worth. In
      we can help," said Greg Hazle, executive director of   24 years, the organization has expanded throughout
      Boca Helping Hands. "Unfortunately, inflation being the   Palm Beach County, growing its hunger relief efforts,   Boca Helping Hands on page 2
      Achievement Centers For Children & Families (ACCF)



      To Host 11th Annual Witches Of Delray Beach Bike Ride



         Achievement                                                                                       serving under-resourced children and families in Delray
      Centers for Children                                                                                 Beach and surrounding communities.
      & Families (ACCF)                                                                                       "We are excited to celebrate the 11th Anniversary of the
      1 1th Annual                                                                                         Witches Ride in 2022, and are so grateful to all who come
      Witches of Delray                                                                                    together to make the magic happen!" said ACCF Chief
      Beach Bike Ride                                                                                      Development Officer Jessica Hall.
      will take flight on Saturday, Oct. 29 from 7:30 to 11:30 a.m.                                           Premiere sponsorship opportunities are available
      beginning at Delray Beach City Hall, and ending at the Green                                         for these events. The brew and the ride will fill up fast,
      Market in Old School Square.                                                                         and sell out quickly. For more information, to sponsor,
         More than 300 witches featuring their best witch-wear                                             register to ride, or to purchase tickets, please visit: www.
      and extravagantly decorated brooms (bikes) will ride through                                         achievementcentersfl.org/witches-of-delray-2022/.
      scenic Downtown Delray Beach, along the ocean on A1A,                                                About Achievement Centers For Children & Families
      with a water stop at Sandoway Discovery Center, all guided      In addition, longtime event partner Tim Finnegan's   (ACCF)
      by the Delray Beach Police Department. At the conclusion   Irish Pub in Delray Beach will host the signature      At Achievement Centers for Children & Families,
      of the ride, the party continues on the Old School Square   fundraiser in support of the Witches Ride, the Annual   children are involved in early learning (toddler and
      Outdoor Pavilion Stage with music, and awards presentation   "Witches Brew" on Friday, Oct. 21, from 5 to 9 p.m. The   preschool), after school, teen and summer camp programs
      for "Best Costume," "Best Witch Cackle," "Best Decorated   brew features local celebrity John Brewer who serves as   that help prepare them for academic and social success
      Broom (Bike)," and "Best Group Theme."             D.J. and host for the evening; a fabulous silent auction; raffles   and inspire them to discover their talents. Our families
                                                                                 and contests; food and drink;   are served through our family support and economic
                                                                                 prizes for Best Decorated   stabilization services which benefit the community
                                                                                 Table and Best Dressed Brew   by  stabilizing  families  in  crisis;  supporting  them  to
                                                                                 Attendee; and more.       serve as the foundation of their child's growth. Family
                                                                                   Funds raised from the   strengthening services are embedded within our four core
                                                                                 witches' events directly   programs of early learning, after school, teen and summer
                                                                                 benefit Delray Beach's    camp. ACCF currently serves nearly 700 local children
                                                                                 Achievement Centers       and families from three locations in Delray Beach: Nancy
                                                                                 for Children & Families,   K. Hurd Campus, Village  Academy, and Pine Grove
                                                                                 a  c om m uni t y -b a se d   Elementary. For more information, call (561) 266-0003
                                                                                 organization dedicated to   or visit www.achievementcentersFL.org.