Page 1 - The Shores of Jupiter - September '22
P. 1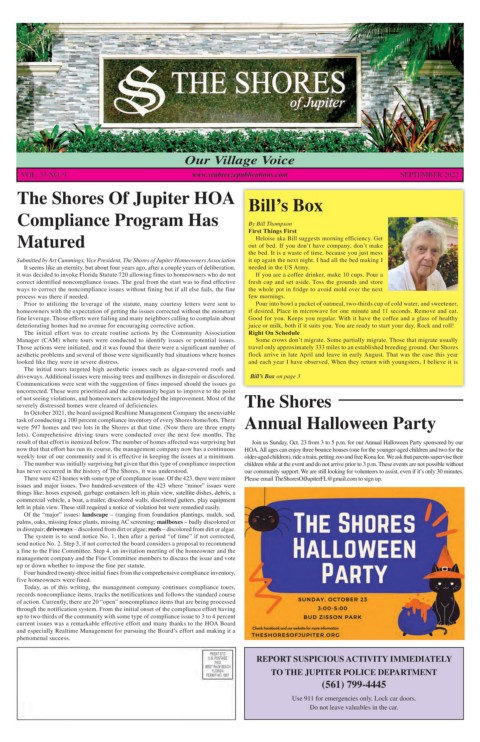 Our Village Voice


        VOL. 33 NO. 9                                           www.seabreezepublications.com                                        SEPTEMBER 2022

       The Shores Of Jupiter HOA                                                   Bill's Box



       Compliance Program Has                                                      By Bill Thompson


       Matured                                                                     First Things First
                                                                                     Heloise aka Bill suggests morning efficiency. Get
                                                                                   out of bed. If you don't have company, don't make
                                                                                   the bed. It is a waste of time, because you just mess
      Submitted by Art Cummings, Vice President, The Shores of Jupiter Homeowners Association  it up again the next night. I had all the bed making I
        It seems like an eternity, but about four years ago, after a couple years of deliberation,   needed in the US Army.
      it was decided to invoke Florida Statute 720 allowing fines to homeowners who do not     If you are a coffee drinker, make 10 cups. Pour a
      correct identified noncompliance issues. The goal from the start was to find effective   fresh cup and set aside. Toss the grounds and store
      ways to correct the noncompliance issues without fining but if all else fails, the fine   the whole pot in fridge to avoid mold over the next
      process was there if needed.                                                 few mornings.
        Prior to utilizing the leverage of the statute, many courtesy letters were sent to     Pour into bowl a packet of oatmeal, two-thirds cup of cold water, and sweetener,
      homeowners with the expectation of getting the issues corrected without the monetary   if desired. Place in microwave for one minute and 11 seconds. Remove and eat.
      fine leverage. Those efforts were failing and many neighbors calling to complain about   Good for you. Keeps you regular. With it have the coffee and a glass of healthy
      deteriorating homes had no avenue for encouraging corrective action.         juice or milk, both if it suits you. You are ready to start your day. Rock and roll!
        The initial effort was to create routine actions by the Community Association   Right On Schedule
      Manager (CAM) where tours were conducted to identify issues or potential issues.     Some crows don't migrate. Some partially migrate. Those that migrate usually
      Those actions were initiated, and it was found that there were a significant number of   travel only approximately 333 miles to an established breeding ground. Our Shores
      aesthetic problems and several of those were significantly bad situations where homes   flock arrive in late April and leave in early August. That was the case this year
      looked like they were in severe distress.                                    and each year I have observed. When they return with youngsters, I believe it is
        The initial tours targeted high aesthetic issues such as algae-covered roofs and
      driveways. Additional issues were missing trees and mailboxes in disrepair or discolored.   Bill's Box on page 3
      Communications were sent with the suggestion of fines imposed should the issues go
      uncorrected. These were prioritized and the community began to improve to the point
      of not seeing violations, and homeowners acknowledged the improvement. Most of the   The Shores
      severely distressed homes were cleared of deficiencies.
        In October 2021, the board assigned Realtime Management Company the unenviable
      task of conducting a 100 percent compliance inventory of every Shores home/lots. There   Annual Halloween Party
      were 597 homes and two lots in the Shores at that time. (Now there are three empty
      lots). Comprehensive driving tours were conducted over the next few months. The
      result of that effort is itemized below. The number of homes affected was surprising but     Join us Sunday, Oct. 23 from 3 to 5 p.m. for our Annual Halloween Party sponsored by our
      now that that effort has run its course, the management company now has a continuous   HOA. All ages can enjoy three bounce houses (one for the younger-aged children and two for the
      weekly tour of our community and it is effective in keeping the issues at a minimum.  older-aged children), ride a train, petting zoo and free Kona Ice. We ask that parents supervise their
        The number was initially surprising but given that this type of compliance inspection   children while at the event and do not arrive prior to 3 p.m. These events are not possible without
      has never occurred in the history of The Shores, it was understood.         our community support. We are still looking for volunteers to assist, even if it's only 30 minutes.
        There were 423 homes with some type of compliance issue. Of the 423, there were minor   Please email TheShoresOfJupiterFL@gmail.com to sign up.
      issues and major issues. Two hundred-seventeen of the 423 where "minor" issues were
      things like: hoses exposed, garbage containers left in plain view, satellite dishes, debris, a
      commercial vehicle, a boat, a trailer, discolored walls, discolored gutters, play equipment
      left in plain view. These still required a notice of violation but were remedied easily.
        Of the "major" issues: landscape – (ranging from foundation plantings, mulch, sod,
      palms, oaks, missing fence plants, missing AC screening; mailboxes – badly discolored or
      in disrepair; driveways – discolored from dirt or algae; roofs – discolored from dirt or algae.
        The system is to send notice No. 1, then after a period "of time" if not corrected,
      send notice No. 2. Step 3, if not corrected the board considers a proposal to recommend
      a fine to the Fine Committee. Step 4, an invitation meeting of the homeowner and the
      management company and the Fine Committee members to discuss the issue and vote
      up or down whether to impose the fine per statute.
        Four hundred twenty-three initial fines from the comprehensive compliance inventory,
      five homeowners were fined.
        Today, as of this writing, the management company continues compliance tours,
      records noncompliance items, tracks the notifications and follows the standard course
      of action. Currently, there are 20 "open" noncompliance items that are being processed
      through the notification system. From the initial onset of the compliance effort having
      up to two-thirds of the community with some type of compliance issue to 3 to 4 percent
      current issues was a remarkable effective effort and many thanks to the HOA Board
      and especially Realtime Management for pursuing the Board's effort and making it a
      phenomenal success.


                                                                                      REPORT SUSPICIOUS ACTIVITY IMMEDIATELY

                                                                                          TO THE JUPITER POLICE DEPARTMENT
                                                                                                           (561) 799-4445

                                                                                                 Use 911 for emergencies only. Lock car doors.
                                                                                                       Do not leave valuables in the car.