Page 1 - PGA Community News - October '22
P. 1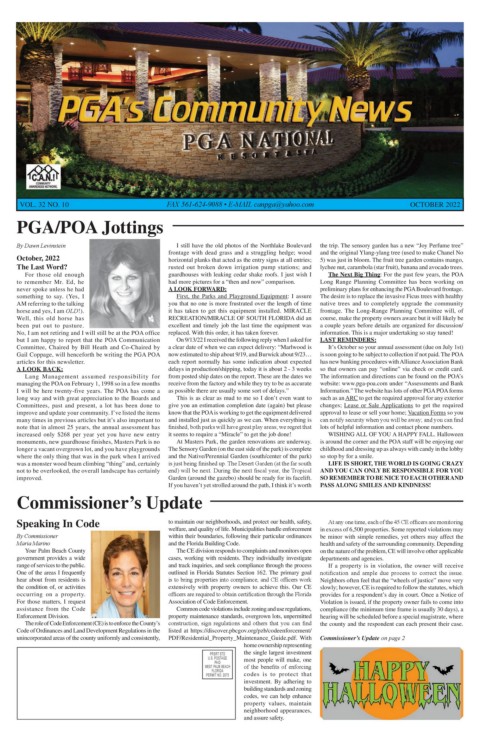 VOL. 32 NO. 10                                   FAX 561-624-9088 • E-MAIL canpga@yahoo.com                                      OCTOBER 2022

      PGA/POA Jottings




      By Dawn Levinstein                                    I still have the old photos of the Northlake Boulevard   the trip. The sensory garden has a new "Joy Perfume tree"
                                                         frontage with dead grass and a struggling hedge; wood   and the original Ylang-ylang tree (used to make Chanel No
      October, 2022                                      horizontal planks that acted as the entry signs at all entries;   5) was just in bloom. The fruit tree garden contains mango,
      The Last Word?                                     rusted out broken down irrigation pump stations; and   lychee nut, carambola (star fruit), banana and avocado trees.
         For those old enough                            guardhouses with leaking cedar shake roofs. I just wish I      The Next Big Thing: For the past few years, the POA
      to remember Mr. Ed, he                             had more pictures for a "then and now" comparison.   Long Range Planning Committee has been working on
      never spoke unless he had                          A LOOK FORWARD:                                   preliminary plans for enhancing the PGA Boulevard frontage.
      something to say. (Yes, I                             First, the Parks and Playground Equipment: I assure   The desire is to replace the invasive Ficus trees with healthy
      AM referring to the talking                        you that no one is more frustrated over the length of time   native trees and to completely upgrade the community
      horse and yes, I am OLD!).                         it has taken to get this equipment installed. MIRACLE   frontage. The Long-Range Planning Committee will, of
      Well, this old horse has                           RECREATION/MIRACLE OF SOUTH FLORIDA did an        course, make the property owners aware but it will likely be
      been put out to pasture.                           excellent and timely job the last time the equipment was   a couple years before details are organized for discussion/
      No, I am not retiring and I will still be at the POA office   replaced. With this order, it has taken forever.  information. This is a major undertaking so stay tuned!
      but I am happy to report that the POA Communication      On 9/13/22 I received the following reply when I asked for   LAST REMINDERS:
      Committee, Chaired by Bill Heath and Co-Chaired by   a clear date of when we can expect delivery: "Marlwood is      It's October so your annual assessment (due on July 1st)
      Gail Coppage, will henceforth be writing the PGA POA   now estimated to ship about 9/19, and Burwick about 9/23…   is soon going to be subject to collection if not paid. The POA
      articles for this newsletter.                      each report normally has some indication about expected   has new banking procedures with Alliance Association Bank
      A LOOK BACK:                                       delays in production/shipping, today it is about 2 - 3 weeks   so that owners can pay "online" via check or credit card.
         Lang Management assumed responsibility for      from posted ship dates on the report. These are the dates we   The information and directions can be found on the POA's
      managing the POA on February 1, 1998 so in a few months   receive from the factory and while they try to be as accurate   website: www.pga-poa.com under "Assessments and Bank
      I will be here twenty-five years. The POA has come a   as possible there are usually some sort of delays."   Information." The website has lots of other PGA POA forms
      long way and with great appreciation to the Boards and      This is as clear as mud to me so I don't even want to   such as an ARC to get the required approval for any exterior
      Committees, past and present, a lot has been done to   give you an estimation completion date (again) but please   changes; Lease or Sale Applications to get the required
      improve and update your community. I've listed the items   know that the POA is working to get the equipment delivered   approval to lease or sell your home; Vacation Forms so you
      many times in previous articles but it's also important to   and installed just as quickly as we can. When everything is   can notify security when you will be away; and you can find
      note that in almost 25 years, the annual assessment has   finished, both parks will have great play areas; we regret that   lots of helpful information and contact phone numbers.
      increased only $268 per year yet you have new entry   it seems to require a "Miracle" to get the job done!     WISHING ALL OF YOU A HAPPY FALL. Halloween
      monuments, new guardhouse finishes, Masters Park is no      At Masters Park, the garden renovations are underway.   is around the corner and the POA staff will be enjoying our
      longer a vacant overgrown lot, and you have playgrounds   The Sensory Garden (on the east side of the park) is complete   childhood and dressing up as always with candy in the lobby
      where the only thing that was in the park when I arrived   and the Native/Perennial Garden (south/center of the park)   so stop by for a smile.
      was a monster wood beam climbing "thing" and, certainly   is just being finished up. The Desert Garden (at the far south      LIFE IS SHORT, THE WORLD IS GOING CRAZY
      not to be overlooked, the overall landscape has certainly   end) will be next. During the next fiscal year, the Tropical   AND YOU CAN ONLY BE RESPONSIBLE FOR YOU
      improved.                                          Garden (around the gazebo) should be ready for its facelift.   SO REMEMBER TO BE NICE TO EACH OTHER AND
                                                         If you haven't yet strolled around the path, I think it's worth   PASS ALONG SMILES AND KINDNESS!
      Commissioner's Update



      Speaking In Code                                   to maintain our neighborhoods, and protect our health, safety,      At any one time, each of the 45 CE officers are monitoring
                                                         welfare, and quality of life. Municipalities handle enforcement   in excess of 6,500 properties. Some reported violations may
      By Commissioner                                    within their boundaries, following their particular ordinances   be minor with simple remedies, yet others may affect the
      Maria Marino                                       and the Florida Building Code.                    health and safety of the surrounding community. Depending
         Your Palm Beach County                             The CE division responds to complaints and monitors open   on the nature of the problem, CE will involve other applicable
      government provides a wide                         cases, working with residents. They individually investigate   departments and agencies.
      range of services to the public.                   and track inquiries, and seek compliance through the process      If a property is in violation, the owner will receive
      One of the areas I frequently                      outlined in Florida Statutes Section 162. The primary goal   notification and ample due process to correct the issue.
      hear about from residents is                       is to bring properties into compliance, and CE officers work   Neighbors often feel that the "wheels of justice" move very
      the condition of, or activities                    extensively with property owners to achieve this. Our CE   slowly; however, CE is required to follow the statutes, which
      occurring  on  a  property.                        officers are required to obtain certification through the Florida   provides for a respondent's day in court. Once a Notice of
      For those matters, I request                       Association of Code Enforcement.                  Violation is issued, if the property owner fails to come into
      assistance from the Code                              Common code violations include zoning and use regulations,   compliance (the minimum time frame is usually 30 days), a
      Enforcement Division.                              property maintenance standards, overgrown lots, unpermitted   hearing will be scheduled before a special magistrate, where
         The role of Code Enforcement (CE) is to enforce the County's   construction, sign regulations and others that you can find   the county and the respondent can each present their case.
      Code of Ordinances and Land Development Regulations in the   listed at https://discover.pbcgov.org/pzb/codeenforcement/
      unincorporated areas of the county uniformly and consistently,   PDF/Residential_Property_Maintenance_Guide.pdf. With   Commissioner's Update on page 2
                                                                                 home ownership representing
                                                                                 the single largest investment
                                                                                 most people will make, one
                                                                                 of the benefits of enforcing
                                                                                 codes is to protect that
                                                                                 investment. By adhering to
                                                                                 building standards and zoning
                                                                                 codes, we can help enhance
                                                                                 property values, maintain
                                                                                 neighborhood appearances,
                                                                                 and assure safety.