Page 1 - The Shores of Jupiter - November '22
P. 1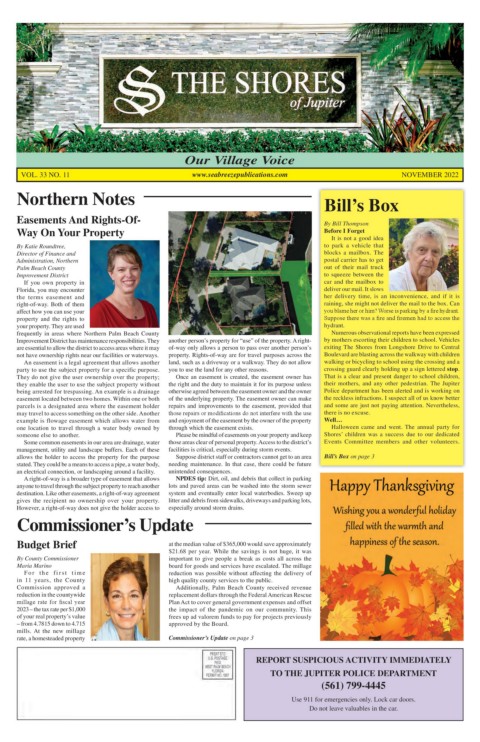 Our Village Voice


        VOL. 33 NO. 11                                          www.seabreezepublications.com                                         NOVEMBER 2022

      Northern Notes                                                                                        Bill's Box




      Easements And Rights-Of-                                                                              By Bill Thompson
      Way On Your Property                                                                                  Before I Forget
                                                                                                              It is not a good idea
      By Katie Roundtree,                                                                                   to  park  a  vehicle  that
      Director of Finance and                                                                               blocks a mailbox. The
      Administration, Northern                                                                              postal carrier has to get
      Palm Beach County                                                                                     out of their mail truck
      Improvement District                                                                                  to squeeze between the
        If you own property in                                                                              car and the mailbox to
      Florida, you may encounter                                                                            deliver our mail. It slows
      the  terms  easement  and                                                                             her delivery time, is an inconvenience, and if it is
      right-of-way. Both of them                                                                            raining, she might not deliver the mail to the box. Can
      affect how you can use your                                                                           you blame her or him? Worse is parking by a fire hydrant.
      property and the rights to                                                                            Suppose there was a fire and firemen had to access the
      your property. They are used                                                                          hydrant.
      frequently in areas where Northern Palm Beach County                                                    Numerous observational reports have been expressed
      Improvement District has maintenance responsibilities. They   another person's property for "use" of the property. A right-  by mothers escorting their children to school. Vehicles
      are essential to allow the district to access areas where it may   of-way only allows a person to pass over another person's   exiting The Shores from Longshore Drive to Central
      not have ownership rights near our facilities or waterways.   property. Rights-of-way are for travel purposes across the   Boulevard are blasting across the walkway with children
        An easement is a legal agreement that allows another   land, such as a driveway or a walkway. They do not allow   walking or bicycling to school using the crossing and a
      party to use the subject property for a specific purpose.   you to use the land for any other reasons.  crossing guard clearly holding up a sign lettered stop.
      They do not give the user ownership over the property;     Once an easement is created, the easement owner has   That is a clear and present danger to school children,
      they enable the user to use the subject property without   the right and the duty to maintain it for its purpose unless   their mothers, and any other pedestrian. The Jupiter
      being arrested for trespassing. An example is a drainage   otherwise agreed between the easement owner and the owner   Police department has been alerted and is working on
      easement located between two homes. Within one or both   of the underlying property. The easement owner can make   the reckless infractions. I suspect all of us know better
      parcels is a designated area where the easement holder   repairs and improvements to the easement, provided that   and some are just not paying attention. Nevertheless,
      may travel to access something on the other side. Another   those repairs or modifications do not interfere with the use   there is no excuse.
      example is flowage easement which allows water from   and enjoyment of the easement by the owner of the property   Well…
      one location to travel through a water body owned by   through which the easement exists.               Halloween came and went. The annual party for
      someone else to another.                             Please be mindful of easements on your property and keep   Shores' children was a success due to our dedicated
        Some common easements in our area are drainage, water   those areas clear of personal property. Access to the district's   Events Committee  members  and  other volunteers.
      management, utility and landscape buffers. Each of these   facilities is critical, especially during storm events.
      allows the holder to access the property for the purpose     Suppose district staff or contractors cannot get to an area   Bill's Box on page 3
      stated. They could be a means to access a pipe, a water body,   needing maintenance. In that case, there could be future
      an electrical connection, or landscaping around a facility.   unintended consequences.
        A right-of-way is a broader type of easement that allows     NPDES tip: Dirt, oil, and debris that collect in parking
      anyone to travel through the subject property to reach another   lots and paved areas can be washed into the storm sewer
      destination. Like other easements, a right-of-way agreement   system and eventually enter local waterbodies. Sweep up
      gives the recipient no ownership over your property.   litter and debris from sidewalks, driveways and parking lots,
      However, a right-of-way does not give the holder access to   especially around storm drains.
      Commissioner's Update



      Budget Brief                                       at the median value of $365,000 would save approximately
                                                         $21.68 per year. While the savings is not huge, it was
      By County Commissioner                             important to give people a break as costs all across the
      Maria Marino                                       board for goods and services have escalated. The millage
        For the first time                               reduction was possible without affecting the delivery of
      in 11 years, the County                            high quality county services to the public.
      Commission approved a                                Additionally, Palm Beach County received revenue
      reduction in the countywide                        replacement dollars through the Federal American Rescue
      millage rate for fiscal year                       Plan Act to cover general government expenses and offset
      2023 – the tax rate per $1,000                     the impact of the pandemic on our community. This
      of your real property's value                      frees up ad valorem funds to pay for projects previously
      – from 4.7815 down to 4.715                        approved by the Board.
      mills. At the new millage
      rate, a homesteaded property                       Commissioner's Update on page 3


                                                                                     REPORT SUSPICIOUS ACTIVITY IMMEDIATELY

                                                                                          TO THE JUPITER POLICE DEPARTMENT
                                                                                                           (561) 799-4445

                                                                                                 Use 911 for emergencies only. Lock car doors.
                                                                                                       Do not leave valuables in the car.