Page 1 - Abacoa Community News - February '22
P. 1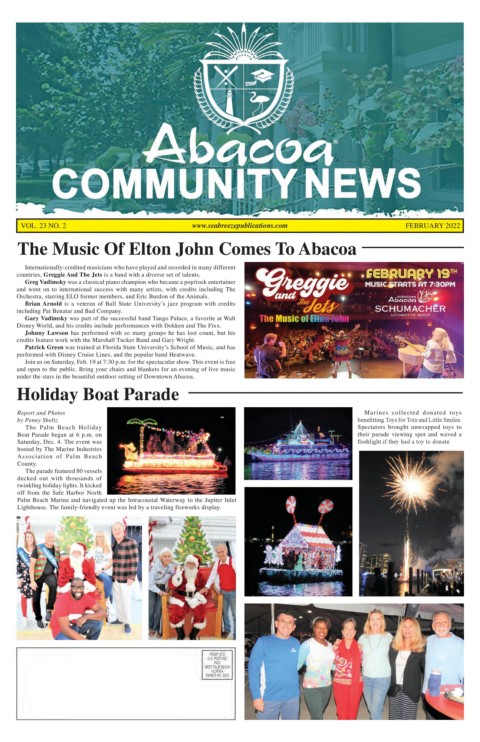 VOL. 23 NO. 2                                           www.seabreezepublications.com                                          FEBRUARY 2022

       The Music Of Elton John Comes To Abacoa



         Internationally-credited musicians who have played and recorded in many different
      countries, Greggie And The Jets is a band with a diverse set of talents.
         Greg Vadimsky was a classical piano champion who became a pop/rock entertainer
      and went on to international success with many artists, with credits including The
      Orchestra, starring ELO former members, and Eric Burdon of the Animals.
         Brian Arnold is a veteran of Ball State University's jazz program with credits
      including Pat Benatar and Bad Company.
         Gary Vadimsky was part of the successful band Tango Palace, a favorite at Walt
      Disney World, and his credits include performances with Dokken and The Fixx.
         Johnny Lawson has performed with so many groups he has lost count, but his
      credits feature work with the Marshall Tucker Band and Gary Wright.
         Patrick Green was trained at Florida State University's School of Music, and has
      performed with Disney Cruise Lines, and the popular band Heatwave.
         Join us on Saturday, Feb. 19 at 7:30 p.m. for the spectacular show. This event is free
      and open to the public. Bring your chairs and blankets for an evening of live music
      under the stars in the beautiful outdoor setting of Downtown Abacoa.
      Holiday Boat Parade



       Report and Photos                                                                                                 Marines collected donated toys
       by Penny Sheltz                                                                                                 benefitting Toys for Tots and Little Smiles.
          The Palm Beach Holiday                                                                                       Spectators brought unwrapped toys to
       Boat Parade began at 6 p.m. on                                                                                  their parade viewing spot and waved a
       Saturday, Dec. 4. The event was                                                                                 flashlight if they had a toy to donate.
       hosted by The Marine Industries
       Association of Palm Beach
       County.
          The parade featured 80 vessels
       decked out with thousands of
       twinkling holiday lights. It kicked
       off from the Safe Harbor North
       Palm Beach Marina and navigated up the Intracoastal Waterway to the Jupiter Inlet
       Lighthouse. The family-friendly event was led by a traveling fireworks display.