Page 1 - The Shores of Jupiter - June '22
P. 1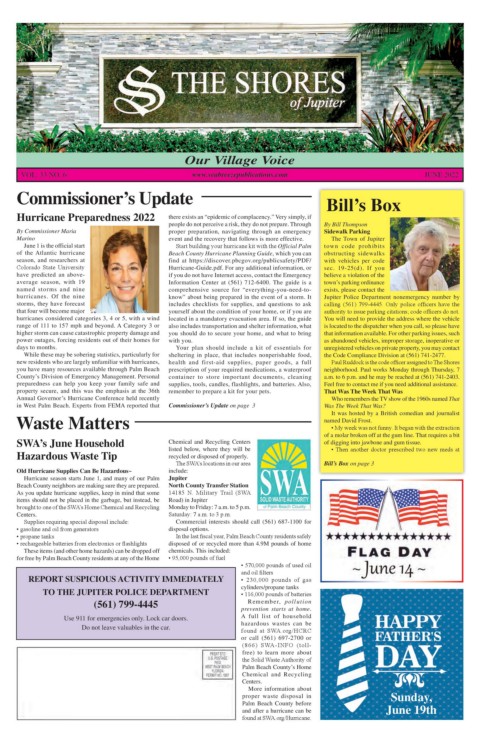 Our Village Voice


        VOL. 33 NO. 6                                           www.seabreezepublications.com                                                JUNE 2022

      Commissioner's Update                                                                                  Bill's Box



      Hurricane Preparedness 2022                        there exists an "epidemic of complacency." Very simply, if
                                                         people do not perceive a risk, they do not prepare. Through   By Bill Thompson
      By Commissioner Maria                              proper preparation, navigating through an emergency   Sidewalk Parking
      Marino                                             event and the recovery that follows is more effective.    The Town of Jupiter
        June 1 is the official start                       Start building your hurricane kit with the Official Palm   town code prohibits
      of the Atlantic hurricane                          Beach County Hurricane Planning Guide, which you can   obstructing sidewalks
      season, and researchers at                         find  at  https://discover.pbcgov.org/publicsafety/PDF/  with  vehicles  per  code
      Colorado State University                          Hurricane-Guide.pdf. For any additional information, or   sec. 19-25(d). If you
      have predicted an above-                           if you do not have Internet access, contact the Emergency   believe a violation of the
      average season, with 19                            Information Center at (561) 712-6400. The guide is a   town's parking ordinance
      named storms and nine                              comprehensive source for "everything-you-need-to-  exists, please contact the
      hurricanes. Of the nine                            know" about being prepared in the event of a storm. It   Jupiter Police Department nonemergency number by
      storms, they have forecast                         includes checklists for  supplies, and questions to ask   calling (561) 799-4445. Only police officers have the
      that four will become major                        yourself about the condition of your home, or if you are   authority to issue parking citations; code officers do not.
      hurricanes considered categories 3, 4 or 5, with a wind   located in a mandatory evacuation area. If so, the guide   You will need to provide the address where the vehicle
      range of 111 to 157 mph and beyond. A Category 3 or   also includes transportation and shelter information, what   is located to the dispatcher when you call, so please have
      higher storm can cause catastrophic property damage and   you should do to secure your home, and what to bring   that information available. For other parking issues, such
      power outages, forcing residents out of their homes for   with you.                                   as abandoned vehicles, improper storage, inoperative or
      days to months.                                      Your plan should include a kit of essentials for   unregistered vehicles on private property, you may contact
        While these may be sobering statistics, particularly for   sheltering in place, that includes nonperishable food,   the Code Compliance Division at (561) 741-2477.
      new residents who are largely unfamiliar with hurricanes,   health and  first-aid  supplies, paper  goods,  a full     Paul Ruddock is the code officer assigned to The Shores
      you have many resources available through Palm Beach   prescription of your required medications, a waterproof   neighborhood. Paul works Monday through Thursday, 7
      County's Division of Emergency Management. Personal   container to store important documents, cleaning   a.m. to 6 p.m. and he may be reached at (561) 741-2403.
      preparedness can help you keep your family safe and   supplies, tools, candles, flashlights, and batteries. Also,   Feel free to contact me if you need additional assistance.
      property secure, and this was the emphasis at the 36th   remember to prepare a kit for your pets.     That Was The Week That Was
      Annual Governor's Hurricane Conference held recently                                                    Who remembers the TV show of the 1960s named That
      in West Palm Beach. Experts from FEMA reported that   Commissioner's Update on page  3                Was The Week That Was?
      Waste Matters                                                                                           It was hosted by a British comedian and journalist
                                                                                                            named David Frost.
                                                                                                              • My week was not funny. It began with the extraction
                                                                                                            of a molar broken off at the gum line. That requires a bit
      SWA's June Household                               Chemical and Recycling Centers                     of digging into jawbone and gum tissue.
      Hazardous Waste Tip                                listed below, where they will be                     • Then another doctor prescribed two new meds at
                                                         recycled or disposed of properly.
                                                           The SWA's locations in our area                  Bill's Box on page 3
      Old Hurricane Supplies Can Be Hazardous~           include:
        Hurricane season starts June 1, and many of our Palm   Jupiter
      Beach County neighbors are making sure they are prepared.   North County Transfer Station
      As you update hurricane supplies, keep in mind that some   14185  N.  Military Trail  (SWA
      items should not be placed in the garbage, but instead, be   Road) in Jupiter
      brought to one of the SWA's Home Chemical and Recycling   Monday to Friday: 7 a.m. to 5 p.m.
      Centers.                                           Saturday: 7 a.m. to 3 p.m.
        Supplies requiring special disposal include:       Commercial interests should call (561) 687-1100 for
      • gasoline and oil from generators                 disposal options.
      • propane tanks                                      In the last fiscal year, Palm Beach County residents safely
      • rechargeable batteries from electronics or flashlights   disposed of or recycled more than 4.9M pounds of home
        These items (and other home hazards) can be dropped off   chemicals. This included:
      for free by Palm Beach County residents at any of the Home   • 95,000 pounds of fuel
                                                                                 • 570,000 pounds of used oil
                                                                                 and oil filters
          REPORT SUSPICIOUS ACTIVITY IMMEDIATELY                                 •  230,000  pounds  of  gas
                                                                                 cylinders/propane tanks
               TO THE JUPITER POLICE DEPARTMENT                                  • 116,000 pounds of batteries
                                (561) 799-4445                                     Remember,  pollution
                                                                                 prevention starts at home.
                      Use 911 for emergencies only. Lock car doors.              A full list of household
                            Do not leave valuables in the car.                   hazardous wastes can be
                                                                                 found  at  SWA.org/HCRC
                                                                                 or call (561) 697-2700 or
                                                                                 (866)  SWA-INFO  (toll-
                                                                                 free) to learn more about
                                                                                 the Solid Waste Authority of
                                                                                 Palm Beach County's Home
                                                                                 Chemical and Recycling
                                                                                 Centers.
                                                                                   More information about
                                                                                 proper waste disposal in                         Sunday,
                                                                                 Palm Beach County before
                                                                                 and after a hurricane can be                   June 19th
                                                                                 found at SWA.org/Hurricane.