Page 9 - Abacoa Community News - June '21
P. 9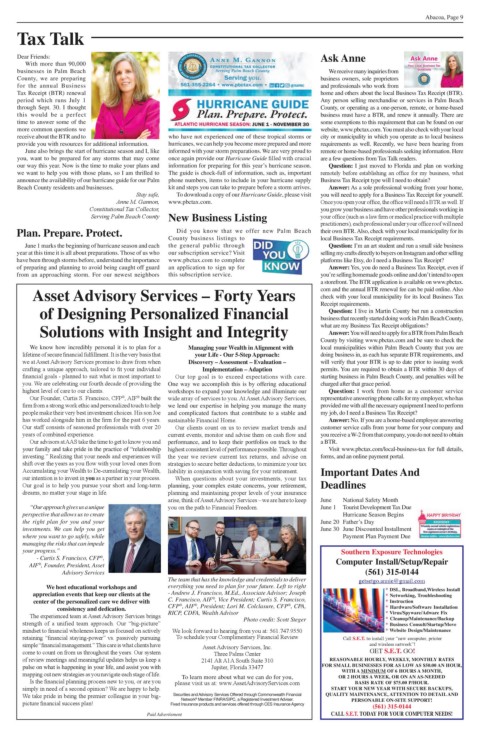 Abacoa, Page 9
      Tax Talk




       Dear Friends:                                                                                       Ask Anne
          With more than 90,000
       businesses in Palm Beach                                                                               We receive many inquiries from
       County, we are preparing                                                                            business owners, sole proprietors
       for the annual Business                                                                             and professionals who work from
       Tax Receipt (BTR) renewal                                                                           home and others about the local Business Tax Receipt (BTR).
       period which runs July 1                                                                            Any person selling merchandise or services in Palm Beach
       through Sept. 30. I thought                                                                         County, or operating as a one-person, remote, or home-based
       this would be a perfect                                                                             business must have a BTR, and renew it annually. There are
       time to answer some of the                                                                          some exemptions to this requirement that can be found on our
       more common questions we                                                                            website, www.pbctax.com. You must also check with your local
       receive about the BTR and to                      who have not experienced one of these tropical storms or   city or municipality in which you operate as to local business
       provide you with resources for additional information.  hurricanes, we can help you become more prepared and more   requirements as well. Recently, we have been hearing from
          June also brings the start of hurricane season and I, like   informed with your storm preparations. We are very proud to   remote or home-based professionals seeking information. Here
       you, want to be prepared for any storms that may come   once again provide our Hurricane Guide filled with crucial   are a few questions from Tax Talk readers.
       our way this year. Now is the time to make your plans and   information for preparing for this year's hurricane season.      Question: I just moved to Florida and plan on working
       we want to help you with those plans, so I am thrilled to   The guide is chock-full of information, such as, important   remotely before establishing an office for my business, what
       announce the availability of our hurricane guide for our Palm   phone numbers, items to include in your hurricane supply   Business Tax Receipt type will I need to obtain?
       Beach County residents and businesses.            kit and steps you can take to prepare before a storm arrives.     Answer: As a sole professional working from your home,
                                              Stay safe,     To download a copy of our Hurricane Guide, please visit   you will need to apply for a Business Tax Receipt for yourself.
                                       Anne M. Gannon,   www.pbctax.com.                                   Once you open your office, the office will need a BTR as well. If
                              Constitutional Tax Collector,                                                you grow your business and have other professionals working in
                               Serving Palm Beach County  New Business Listing                             your office (such as a law firm or medical practice with multiple
                                                                                                           practitioners), each professional under your office roof will need
      Plan. Prepare. Protect.                               Did you know that we offer new Palm Beach      their own BTR. Also, check with your local municipality for its
                                                         County business listings to                       local Business Tax Receipt requirements.
         June 1 marks the beginning of hurricane season and each   the  general public through                Question: I'm an art student and run a small side business
      year at this time it is all about preparations. Those of us who   our subscription service? Visit    selling my crafts directly to buyers on Instagram and other selling
      have been through storms before, understand the importance   www.pbctax.com to complete              platforms like Etsy, do I need a Business Tax Receipt?
      of preparing and planning to avoid being caught off guard   an  application  to  sign  up  for          Answer: Yes, you do need a Business Tax Receipt, even if
      from an approaching storm. For our newest neighbors   this subscription service.                     you're selling homemade goods online and don't intend to open
                                                                                                           a storefront. The BTR application is available on www.pbctax.
            Asset Advisory Services – Forty Years                                                          com and the annual BTR renewal fee can be paid online. Also
                                                                                                           check with your local municipality for its local Business Tax
              of Designing Personalized Financial                                                          Receipt requirements.

                                                                                                             Question: I live in Martin County but run a construction
                                                                                                           business that recently started doing work in Palm Beach County,
              Solutions with Insight and Integrity                                                         what are my Business Tax Receipt obligations?
                                                                                                             Answer: You will need to apply for a BTR from Palm Beach

                                                                                                           County by visiting www.pbctax.com and be sure to check the
          We know how incredibly personal it is to plan for a     Managing your Wealth in Alignment with   local municipalities within Palm Beach County that you are
        lifetime of secure financial fulfillment. It is the very basis that   your Life - Our 5-Step Approach:   doing business in, as each has separate BTR requirements, and
        we at Asset Advisory Services promise to draw from when   Discovery – Assessment – Evaluation –    will verify that your BTR is up to date prior to issuing work
        crafting a unique approach, tailored to fit your individual   Implementation – Adaption            permits. You are required to obtain a BTR within 30 days of
        financial goals - planned to suit what is most important to    Our  top  goal  is  to  exceed  expectations  with  care.   starting business in Palm Beach County, and penalties will be
        you. We are celebrating our fourth decade of providing the  One way we accomplish this is by offering educational   charged after that grace period.
        highest level of care to our clients.           workshops to expand your knowledge and illuminate our      Question: I work from home as a customer service
          Our Founder, Curtis S. Francisco, CFP , AIF  built the  wide array of services to you. At Asset Advisory Services,   representative answering phone calls for my employer, who has
                                              ®
                                         ®
        firm from a strong work ethic and personalized touch to help  we lend our expertise in helping you manage the many   provided me with all the necessary equipment I need to perform
        people make their very best investment choices. His son Joe  and complicated factors that contribute to a stable and   my job, do I need a Business Tax Receipt?
        has worked alongside him in the firm for the past 6 years.  sustainable Financial Home.               Answer: No. If you are a home-based employee answering
        Our staff consists of seasoned professionals with over 20    Our clients count on us to review market trends and   customer service calls from your home for your company and
        years of combined experience.                   current events, monitor and advise them on cash flow and   you receive a W-2 from that company, you do not need to obtain
          Our advisors at AAS take the time to get to know you and  performance, and to keep their portfolios on track to the   a BTR.
        your family and take pride in the practice of "relationship  highest consistent level of performance possible. Throughout      Visit www.pbctax.com/local-business-tax for full details,
        investing." Realizing that your needs and experiences will  the year we review current tax returns, and advise on   forms, and an online payment portal.
        shift over the years as you flow with your loved ones from  strategies to secure better deductions, to minimize your tax
        Accumulating your Wealth to De-cumulating your Wealth,  liability in conjunction with saving for your retirement.   Important Dates And
        our intention is to invest in you as a partner in your process.    When  questions  about  your  investments,  your  tax
        Our goal is to help you pursue your short and long-term  planning, your complex estate concerns, your retirement,   Deadlines
        dreams, no matter your stage in life.           planning and maintaining proper levels of your insurance
                                                        arise, think of Asset Advisory Services – we are here to keep   June    National Safety Month
          "Our approach gives us a unique               you on the path to Financial Freedom.              June 1  Tourist Development Tax Due
        perspective that allows us to create                                                                      Hurricane Season Begins
        the right plan for you and your                                                                    June 20  Father's Day
        investments. We can help you get                                                                   June 30  June Discounted Installment
        where you want to go safely, while                                                                        Payment Plan Payment Due
        managing the risks that can impede
        your progress."                                                                                           Southern Exposure Technologies
             - Curtis S. Francisco, CFP ,
                                  ®
           AIF , Founder, President, Asset                                                                      Computer Install/Setup/Repair
              ®
                     Advisory Services                                                                                    (561) 315-0144
                                                        The team that has the knowledge and credentials to deliver     getsetgo.annie@gmail.com
                We host educational workshops and       everything you need to plan for your future. Left to right              * DSL, Broadband,Wireless Install
            appreciation events that keep our clients at the   - Andrew J. Francisco, M.Ed., Associate Advisor; Joseph          * Networking, Troubleshooting
                                                                       ®
            center of the personalized care we deliver with   C. Francisco, AIF , Vice President; Curtis S. Francisco,          * Instruction
                                                            ®
                                                                                                ®
                                                                 ®
                    consistency and dedication.         CFP , AIF , President; Lori M. Colclasure, CFP , CPA,                   * Hardware/Software Installation
          The experienced team at Asset Advisory Services brings   RICP, CDFA, Wealth Advisor  Photo credit: Scott Steger       * Virus/Spyware/Adware Fix
                                                                                                                                * Cleanup/Maintenance/Backup
        strength of a unified team approach. Our "big-picture"                                                                  * Business Consult/Startup/Move
        mindset to financial wholeness keeps us focused on actively   We look forward to hearing from you at: 561.747.9550      * Website Design/Maintenance
        retaining "financial staying-power" vs. passively pursuing   To schedule your Complimentary Financial Review  Call S.E.T. to install your "new computer, printer
        simple "financial management." This care is what clients have   Asset Advisory Services, Inc.                      and wireless network"!
        come to count on from us throughout the years. Our system       Three Palms Center                                 GET S.E.T. GO!
        of review meetings and meaningful updates helps us keep a   2141 Alt A1A South Suite 310              REASONABLE HOURLY, WEEKLY, MONTHLY RATES
        pulse on what is happening in your life, and assist you with   Jupiter, Florida 33477              FOR SMALL BUSINESSES FOR AS LOW AS $50.00 AN HOUR,
                                                                                                                  WITH A MINIMUM OF 6 HOURS A MONTH,
        mapping out new strategies as you navigate each stage of life.  To learn more about what we can do for you,   OR 2 HOURS A WEEK, OR ON AN AS-NEEDED
          Is the financial planning process new to you, or are you   please visit us at: www.AssetAdvisoryServices.com  BASIS RATE OF $75.00 P/HOUR.
        simply in need of a second opinion? We are happy to help.                                             START YOUR NEW YEAR WITH SECURE BACKUPS,
        We take pride in being the premier colleague in your big-  Securities and Advisory Services Offered through Commonwealth Financial   QUALITY MAINTENANCE, ATTENTION TO DETAIL AND
                                                             Network  Member FINRA/SIPC, a Registered Investment Adviser.
                                                                 ®
        picture financial success plan!                  Fixed Insurance products and services offered through CES Insurance Agency  PERSONABLE ON-SITE SUPPORT!
                                                                                                                            (561) 315-0144
                                                 Paid Advertisment                                            CALL S.E.T. TODAY FOR YOUR COMPUTER NEEDS!