Page 7 - Stuart Exposure - September '22
P. 7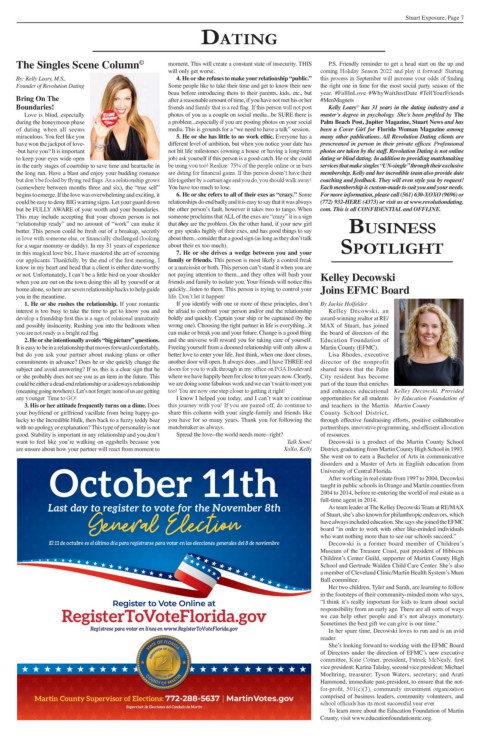 Stuart Exposure, Page 7

                                                                   datinG




      The Singles Scene Column                 ©        moment. This will create a constant state of insecurity. THIS      P.S. Friendly reminder to get a head start on the up and
                                                        will only get worse.                               coming Holiday Season 2022 and play it forward! Starting
      By: Kelly Leary, M.S.,                               4. He or she refuses to make your relationship "public."   this process in September will increase your odds of finding
      Founder of Revolution Dating                      Some people like to take their time and get to know their new   the right one in time for the most social party season of the
                                                        beau before introducing them to their parents, kids, etc., but   year. #FallInLove #WhyWaitJustDate #TellYourFriends
      Bring On The                                      after a reasonable amount of time, if you have not met his or her   #MenMagnets
      Boundaries!                                       friends and family that is a red flag. If this person will not post      Kelly Leary  has 31 years in the dating industry and a
                                                                                                                       ©
         Love is blind, especially                      photos of you as a couple on social media...be SURE there is   master's degree in psychology. She's been profiled by The
      during the honeymoon phase                        a problem...especially if you are posting photos on your social   Palm Beach Post, Jupiter Magazine, Stuart News and has
      of dating when all seems                          media. This is grounds for a "we need to have a talk" session.   been a Cover Girl for Florida Woman Magazine among
      miraculous. You feel like you                        5. He or she has little to no work ethic. Everyone has a   many other publications. All Revolution Dating clients are
      have won the jackpot of love-                     different level of ambition, but when you notice your date has   prescreened in person in their private offices. Professional
      -but have you? It is important                    not hit life milestones (owning a house or having a long-term   photos are taken by the staff. Revolution Dating is not online
      to keep your eyes wide open                       job) ask yourself if this person is a good catch. He or she could   dating or blind dating. In addition to providing matchmaking
      in the early stages of courtship to save time and heartache in   be using you too! Realize: 75% of the people online or in bars   services that make singles "UN-single" through their exclusive
      the long run. Have a blast and enjoy your budding romance   are dating for financial gains. If this person doesn't have their   membership, Kelly and her incredible team also provide date
      but don't be fooled by flying red flags. As a relationship grows   life together by a certain age and you do, you should walk away!   coaching and feedback. They will even style you by request!
      (somewhere between months three and six), the "true self"   You have too much to lose.               Each membership is custom-made to suit you and your needs.
      begins to emerge. If the love was overwhelming and exciting, it      6. He or she refers to all of their exes as "crazy." Some   For more information, please call (561) 630-XOXO (9696) or
      could be easy to deny BIG warning signs. Let your guard down   relationships do end badly and it is easy to say that it was always   (772) 932-HERE (4373) or visit us at www.revolutiondating.
      but be FULLY AWARE of your worth and your boundaries.   the other person's fault, however it takes two to tango. When   com. This is all CONFIDENTIAL and OFFLINE.
      This may include accepting that your chosen person is not   someone proclaims that ALL of the exes are "crazy" it is a sign
      "relationship ready" and no amount of "work" can make it   that they are the problem. On the other hand, if your new girl   Business
      better. This person could be fresh out of a breakup, secretly   or guy speaks highly of their exes, and has good things to say
      in love with someone else, or financially challenged (looking   about them...consider that a good sign (as long as they don't talk
      for a sugar mommy or daddy). In my 31 years of experience   about their ex too much).                      spotliGht
      in this magical love biz, I have mastered the art of screening      7. He or she drives a wedge between you and your
      our applicants. Thankfully, by the end of the first meeting, I   family or friends. This person is most likely a control freak
      know in my heart and head that a client is either date-worthy   or a narcissist or both. This person can't stand it when you are
      or not. Unfortunately, I can't be a little bird on your shoulder   not paying attention to them...and they often will bash your   Kelley Decowski
      when you are out on the town doing this all by yourself or at   friends and family to isolate you. Your friends will notice this
      home alone, so here are seven relationship hacks to help guide   quickly...listen to them. This person is trying to control your   Joins EFMC Board
      you in the meantime.                              life. Don't let it happen!
         1. He or she rushes the relationship. If your romantic      If you identify with one or more of these principles, don't   By Jackie Holfelder
      interest is too busy to take the time to get to know you and   be afraid to confront your person and/or end the relationship      Kelley Decowski, an
      develop a friendship first this is a sign of relational immaturity   boldly and quickly. Captain your ship or be captained (by the   award-winning realtor at RE/
      and possibly insincerity. Rushing you into the bedroom when   wrong one). Choosing the right partner in life is everything...it   MAX of Stuart, has joined
      you are not ready is a bright red flag.           can make or break you and your future. Change is a good thing   the board of directors of the
         2. He or she intentionally avoids "big picture" questions.   and the universe will reward you for taking care of yourself.   Education Foundation of
      It is easy to be in a relationship that moves forward comfortably,   Freeing yourself from a doomed relationship will only allow a   Martin County (EFMC).
      but do you ask your partner about making plans or other   better love to enter your life. Just think, when one door closes,      Lisa Rhodes, executive
      commitments in advance? Does he or she quickly change the   another door will open. It always does...and I have THREE red   director of the nonprofit
      subject and avoid answering? If so, this is a clear sign that he   doors for you to walk through in my office on PGA Boulevard   shared news that the Palm
      or she probably does not see you as an item in the future. This   where we have happily been for close to ten years now. Clearly,   City resident has become
      could be either a dead-end relationship or a sideways relationship   we are doing some fabulous work and we can't wait to meet you   part of the team that enriches
      (meaning going nowhere). Let's not forget: none of us are getting   too! You are now one step closer to getting it right!  and enhances educational  Kelley Decowski. Provided
      any younger. Time to GO!                             I know I helped you today, and I can't wait to continue   opportunities for all students  by Education Foundation of
         3. His or her attitude frequently turns on a dime. Does   this journey with you! If you are paired off, do continue to   and teachers in the Martin  Martin County
      your boyfriend or girlfriend vacillate from being happy-go-  share this column with your single-family and friends like   County School District,
      lucky to the Incredible Hulk, then back to a fuzzy teddy bear   you have for so many years. Thank you for following the   through effective fundraising efforts, positive collaborative
      with no apology or explanation? This type of personality is not   matchmaker as always.              partnerships, innovative programming, and efficient allocation
      good. Stability is important in any relationship and you don't      Spread the love--the world needs more--right?  of resources.
      want to feel like you're walking on eggshells because you                                 Talk Soon!     Decowski is a product of the Martin County School
      are unsure about how your partner will react from moment to                              XoXo, Kelly  District, graduating from Martin County High School in 1993.
                                                                                                           She went on to earn a Bachelor of Arts in communicative
                                                                                                           disorders and a Master of Arts in English education from
                 October 11th                                                                              University of Central Florida.

                                                                                                             After working in real estate from 1997 to 2004, Decowksi
                                                                                                           taught in public schools in Orange and Martin counties from
                                                                                                           2004 to 2014, before re-entering the world of real estate as a
                                                                                                           full-time agent in 2014.
                 Last day to register to vote for the November 8th                                           of Stuart, she's also known for philanthropic endeavors, which
                                                                                                             As team leader at The Kelley Decowski Team at RE/MAX
                              General Election                                                             have always included education. She says she joined the EFMC
                                                                                                           board "in order to work with other like-minded individuals
                                                                                                           who want nothing more than to see our schools succeed."
                 El 11 de octubre es el último día para registrarse para votar en las elecciones generales del 8 de noviembre     Decowski  is  a  former  board  member  of  Children's
                                                                                                           Museum of the Treasure Coast, past president of Hibiscus
                                                                                                           Children's Center Guild, supporter of Martin County High
                                                                                                           School and Gertrude Walden Child Care Center. She's also
 Register to Vote                                                                                          a member of Cleveland Clinic/Martin Health System's Mum
                                                                                                           Ball committee.
 Online at                                                                                                    Her two children, Tyler and Sarah, are learning to follow
                                                                                                           in the footsteps of their community-minded mom who says,
                                      Register to Vote Online at                                           "I think it's really important for kids to learn about social
                                                                                                           responsibility from an early age. There are all sorts of ways
                     RegisterToVoteFlorida.gov                                                             we can help other people and it's not always monetary.

                               Regístrese para votar en línea en www.RegisterToVoteFlorida.gov             Sometimes the best gift we can give is our time."

                                                                                                             In her spare time, Decowski loves to run and is an avid
                                                                                                           reader.
                                                                                                              She's looking forward to working with the EFMC Board
                                                                                                           of Directors under the direction of EFMC's new executive
                                                                                                           committee, Kate Cotner, president; Patrick McNealy, first
                                                                                                           vice president; Karina Talalay, second vice president; Michael
                                                                                                           Moehring, treasurer; Tyson Waters, secretary; and Arati
                                                                                                           Hammond, immediate past-president, to ensure that the not-
                                                                                                           for-profit, 501(c)(3), community investment organization
            Martin County Supervisor of Elections: 772-288-5637 | MartinVotes.gov                          comprised of business leaders, community volunteers, and
                                           Supervisor de Elecciones del Condado de Martin                  school officials has its most successful year ever.
                                                                                                              To learn more about the Education Foundation of Martin
                                                                                                           County, visit www.educationfoundationmc.org.