Page 6 - Jupiter West - March '23
P. 6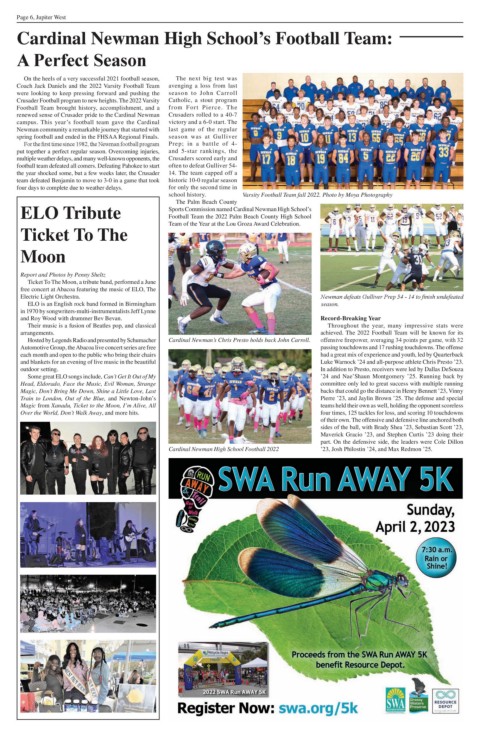 Page 6, Jupiter West
      Cardinal Newman High School's Football Team:



      A Perfect Season



        On the heels of a very successful 2021 football season,     The  next  big test  was
      Coach Jack Daniels and the 2022 Varsity Football Team   avenging a loss from last
      were looking to keep pressing forward and pushing the   season to John Carroll
      Crusader Football program to new heights. The 2022 Varsity   Catholic, a stout program
      Football Team brought history, accomplishment, and a   from Fort Pierce.  The
      renewed sense of Crusader pride to the Cardinal Newman   Crusaders rolled to a 40-7
      campus. This  year's football team gave the Cardinal   victory and a 6-0 start. The
      Newman community a remarkable journey that started with   last game of the regular
      spring football and ended in the FHSAA Regional Finals.  season was at Gulliver
        For the first time since 1982, the Newman football program   Prep;  in  a  battle  of  4-
      put together a perfect regular season. Overcoming injuries,   and 5-star rankings, the
      multiple weather delays, and many well-known opponents, the   Crusaders scored early and
      football team defeated all comers. Defeating Pahokee to start   often to defeat Gulliver 54-
      the year shocked some, but a few weeks later, the Crusader   14. The team capped off a
      team defeated Benjamin to move to 3-0 in a game that took   historic 10-0 regular season
      four days to complete due to weather delays.       for only the second time in
                                                         school history.         Varsity Football Team fall 2022. Photo by Moya Photography
                                                           The Palm Beach County
        ELO Tribute                                      Sports Commission named Cardinal Newman High School's
                                                         Football Team the 2022 Palm Beach County High School
        Ticket To The                                    Team of the Year at the Lou Groza Award Celebration.


        Moon




        Report and Photos by Penny Sheltz
          Ticket To The Moon, a tribute band, performed a June
        free concert at Abacoa featuring the music of ELO, The
        Electric Light Orchestra.                                                                          Newman defeats Gulliver Prep 54 - 14 to finish undefeated
          ELO is an English rock band formed in Birmingham                                                 season.
        in 1970 by songwriters-multi-instrumentalists Jeff Lynne
        and Roy Wood with drummer Bev Bevan.                                                               Record-Breaking Year
          Their music is a fusion of Beatles pop, and classical                                              Throughout  the  year,  many  impressive stats  were
        arrangements.                                                                                      achieved. The 2022 Football Team will be known for its
          Hosted by Legends Radio and presented by Schumacher   Cardinal Newman's Chris Presto holds back John Carroll.  offensive firepower, averaging 34 points per game, with 32
        Automotive Group, the Abacoa live concert series are free                                          passing touchdowns and 17 rushing touchdowns. The offense
        each month and open to the public who bring their chairs                                           had a great mix of experience and youth, led by Quarterback
        and blankets for an evening of live music in the beautiful                                         Luke Warnock '24 and all-purpose athlete Chris Presto '23.
        outdoor setting.                                                                                   In addition to Presto, receivers were led by Dallas DeSouza
          Some great ELO songs include, Can't Get It Out of My                                             '24 and Nae'Shaun Montgomery '25. Running back by
        Head, Eldorado, Face the Music, Evil Woman, Strange                                                committee only led to great success with multiple running
        Magic, Don't Bring Me Down, Shine a Little Love, Last                                              backs that could go the distance in Henry Bennett '23, Vinny
        Train to London, Out of the Blue, and Newton-John's                                                Pierre '23, and Jaylin Brown '25. The defense and special
        Magic from Xanadu, Ticket to the Moon, I'm Alive, All                                              teams held their own as well, holding the opponent scoreless
        Over the World, Don't Walk Away, and more hits.                                                    four times, 125 tackles for loss, and scoring 10 touchdowns
                                                                                                           of their own. The offensive and defensive line anchored both
                                                                                                           sides of the ball, with Brady Shea '23, Sebastian Scott '23,
                                                                                                           Maverick Gracio '23, and Stephen Curtis '23 doing their
                                                                                                           part. On the defensive side, the leaders were Cole Dillon
                                                         Cardinal Newman High School Football 2022         '23, Josh Philostin '24, and Max Redmon '25.