Page 9 - Jupiter West - March '23
P. 9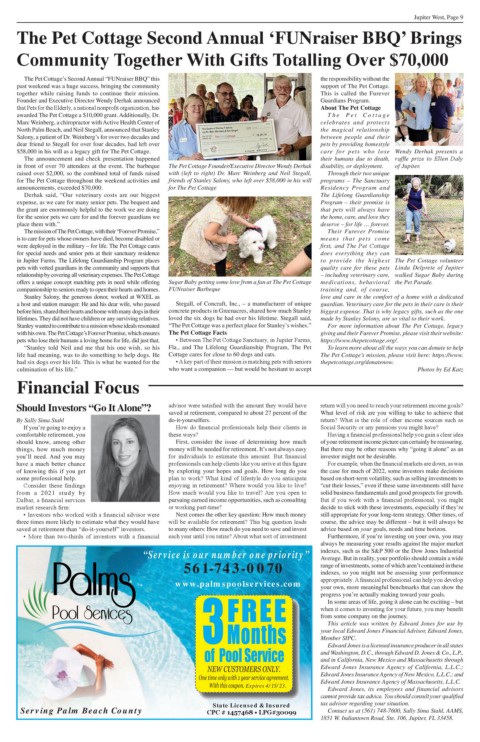 Jupiter West, Page 9
      The Pet Cottage Second Annual 'FUNraiser BBQ' Brings



      Community Together With Gifts Totalling Over $70,000



        The Pet Cottage's Second Annual "FUNraiser BBQ" this                                               the responsibility without the
      past weekend was a huge success, bringing the community                                              support of The Pet Cottage.
      together while raising funds to continue their mission.                                              This  is  called  the  Furever
      Founder and Executive Director Wendy Derhak announced                                                Guardians Program.
      that Pets for the Elderly, a national nonprofit organization, has                                    About The Pet Cottage
      awarded The Pet Cottage a $10,000 grant. Additionally, Dr.                                             The Pet Cottage
      Marc Weinberg, a chiropractor with Active Health Center of                                           celebrates  and  protects
      North Palm Beach, and Neil Stegall, announced that Stanley                                           the magical relationship
      Salony, a patient of Dr. Weinberg's for over two decades and                                         between people and their
      dear friend to Stegall for over four decades, had left over                                          pets by providing homestyle
      $58,000 in his will as a legacy gift for The Pet Cottage.                                            care for pets who lose   Wendy Derhak presents a
        The announcement and check presentation happened                                                   their humans due to death,   raffle  prize  to  Ellen  Daly
      in front of over 70 attendees at the event. The barbeque   The Pet Cottage Founder/Executive Director Wendy Derhak   disability, or deployment.   of Jupiter.
      raised over $2,000, so the combined total of funds raised   with (left to right) Dr. Marc Weinberg and Neil Stegall,     Through their two unique
      for The Pet Cottage throughout the weekend activities and   friends of Stanley Salony, who left over $58,000 in his will   programs – The Sanctuary
      announcements, exceeded $70,000.                   for The Pet Cottage                               Residency Program and
        Derhak said, "Our veterinary costs are our biggest                                                 The Lifelong Guardianship
      expense, as we care for many senior pets. The bequest and                                            Program – their promise is
      the grant are enormously helpful to the work we are doing                                            that pets will always have
      for the senior pets we care for and the forever guardians we                                         the home, care, and love they
      place them with."                                                                                    deserve – for life … forever.
        The mission of The Pet Cottage, with their "Forever Promise,"                                        Their Furever Promise
      is to care for pets whose owners have died, become disabled or                                       means that pets come
      were deployed in the military – for life. The Pet Cottage cares                                      first,  and  The  Pet  Cottage
      for special needs and senior pets at their sanctuary residence                                       does  everything  they  can
      in Jupiter Farms. The Lifelong Guardianship Program places                                           to provide the highest   The Pet Cottage volunteer
      pets with vetted guardians in the community and supports that                                        quality care for these pets   Linda Delprete of Jupiter
      relationship by covering all veterinary expenses. The Pet Cottage                                    – including veterinary care,   walked Sugar Baby during
      offers a unique concept matching pets in need while offering   Sugar Baby getting some love from a fan at The Pet Cottage   medications,  behavioral   the Pet Parade.
      companionship to seniors ready to open their hearts and homes.   FUNraiser Barbeque                  training and, of course,
        Stanley Salony, the generous donor, worked at WXEL as                                              love and care in the comfort of a home with a dedicated
      a host and station manager. He and his dear wife, who passed     Stegall, of Concraft, Inc., – a manufacturer of unique   guardian. Veterinary care for the pets in their care is their
      before him, shared their hearts and home with many dogs in their   concrete products in Greenacres, shared how much Stanley   biggest expense. That is why legacy gifts, such as the one
      lifetimes. They did not have children or any surviving relatives.   loved the six dogs he had over his lifetime. Stegall said,   made by Stanley Solony, are so vital to their work.
      Stanley wanted to contribute to a mission whose ideals resonated   "The Pet Cottage was a perfect place for Stanley's wishes."     For more information about The Pet Cottage, legacy
      with his own. The Pet Cottage's Forever Promise, which ensures   The Pet Cottage Facts               giving and their Furever Promise, please visit their website:
      pets who lose their humans a loving home for life, did just that.     • Between The Pet Cottage Sanctuary, in Jupiter Farms,   https://www.thepetcottage.org/.
        "Stanley told Neil and me that his one wish, so his   Fla., and The Lifelong Guardianship Program, The Pet     To learn more about all the ways you can donate to help
      life had meaning, was to do something to help dogs. He   Cottage cares for close to 60 dogs and cats.   The Pet Cottage's mission, please visit here: https://www.
      had six dogs over his life. This is what he wanted for the     • A key part of their mission is matching pets with seniors   thepetcottage.org/donatenow.
      culmination of his life."                          who want a companion — but would be hesitant to accept                            Photos by Ed Katz
      Financial Focus



      Should Investors "Go It Alone"?                    advisor were satisfied with the amount they would have   return will you need to reach your retirement income goals?
                                                         saved at retirement, compared to about 27 percent of the   What level of risk are you willing to take to achieve that
      By Sally Sima Stahl                                do-it-yourselfers.                                return? What is the role of other income sources such as
        If you're going to enjoy a                         How do financial professionals help their clients in   Social Security or any pensions you might have?
      comfortable retirement, you                        these ways?                                         Having a financial professional help you gain a clear idea
      should know, among other                             First, consider the issue of determining how much   of your retirement income picture can certainly be reassuring.
      things, how much money                             money will be needed for retirement. It's not always easy   But there may be other reasons why "going it alone" as an
      you'll need. And you may                           for individuals to estimate this amount. But financial   investor might not be desirable.
      have a much better chance                          professionals can help clients like you arrive at this figure     For example, when the financial markets are down, as was
      of knowing this if you get                         by exploring your hopes and goals. How long do you   the case for much of 2022, some investors make decisions
      some professional help.                            plan to work? What kind of lifestyle do you anticipate   based on short-term volatility, such as selling investments to
        Consider  these  findings                        enjoying in retirement? Where would you like to live?   "cut their losses," even if these same investments still have
      from a 2021 study by                               How much would you like to travel? Are you open to   solid business fundamentals and good prospects for growth.
      Dalbar, a financial services                       pursuing earned income opportunities, such as consulting   But if you work with a financial professional, you might
      market research firm:                              or working part-time?                             decide to stick with these investments, especially if they're
        • Investors who worked with a financial advisor were     Next comes the other key question: How much money   still appropriate for your long-term strategy. Other times, of
      three times more likely to estimate what they would have   will be available for retirement? This big question leads   course, the advice may be different – but it will always be
      saved at retirement than "do-it-yourself" investors.   to many others: How much do you need to save and invest   advice based on your goals, needs and time horizon.
        • More than two-thirds of investors with a financial   each year until you retire? About what sort of investment     Furthermore, if you're investing on your own, you may
                                                                                                           always be measuring your results against the major market
                                                "Service is our number one priority"                       indexes, such as the S&P 500 or the Dow Jones Industrial
                                                                                                           Average. But in reality, your portfolio should contain a wide
                                                              561-743-0070                                 range of investments, some of which aren't contained in these
                                                                                                           indexes, so you might not be assessing your performance
                                                           www.palmspoolservices.com                       appropriately. A financial professional can help you develop
                                                                                                           your own, more meaningful benchmarks that can show the
                                                                                                           progress you're actually making toward your goals.
                                                                                                             In some areas of life, going it alone can be exciting – but
                                                                                                           when it comes to investing for your future, you may benefit
                                                                                                           from some company on the journey.
                                                                                                             This article was written by Edward Jones for use by
                                                                                                           your local Edward Jones Financial Advisor, Edward Jones,
                                                                                                           Member SIPC.
                                                                                                             Edward Jones is a licensed insurance producer in all states
                                                                                                           and Washington, D.C., through Edward D. Jones & Co., L.P.,
                                                                                                           and in California, New Mexico and Massachusetts through
                                                                                                           Edward Jones Insurance Agency of California, L.L.C.;
                                                                                                           Edward Jones Insurance Agency of New Mexico, L.L.C.; and
                                                                                                           Edward Jones Insurance Agency of Massachusetts, L.L.C.
                                                                                  Expires 4/15/23.           Edward Jones, its employees and financial advisors
                                                                                                           cannot provide tax advice. You should consult your qualified
                                                                       State Licensed & Insured            tax advisor regarding your situation.
        Serving Palm Beach County                                    CPC # 1457468 • LPG#30099               Contact us at (561) 748-7600, Sally Sima Stahl, AAMS,
                                                                                                           1851 W. Indiantown Road, Ste. 106, Jupiter, FL 33458.