Page 6 - Abacoa Community News - July '20
P. 6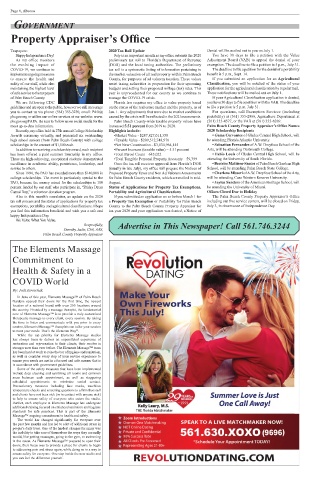 Page 6, Abacoa

       gOvernment


       Property Appraiser's Office



      Taxpayers:                                         2020 Tax Roll Update                              Denial will be mailed out to you on July 1.
         Happy Independence Day!                            July is an important month as my office submits the 2020      You  have  30  days  to  file  a  petition  with  the Value
         As my office monitors                           preliminary tax roll to Florida's Department of Revenue   Adjustment Board (VAB) to appeal the denial of your
      the  evolving  impact  of                          (DOR) and the local taxing authorities. The preliminary   exemption. The deadline to file a petition is 5 p.m., July 31.
      COVID-19, we continue to                           tax roll is a systematic listing of information pertaining to      The deadline to file a petition for the denial of a portability
      implement ongoing measures                         the market valuation of all real property within Palm Beach   benefit is 5 p.m., Sept. 14.
      to  ensure  the  health  and                       County, for purposes of ad valorem taxation. These values      If you submitted an application for an Agricultural
      safety of our staff, while also                    assist taxing authorities in preparation for their upcoming   Classification, you will be notified of the status of your
      maintaining the highest level                      budgets and setting their proposed millage (tax) rates. This   application for the agricultural classification by regular mail.
      of safe service to the taxpayers                   year is unprecedented for our county as we continue to   These notifications will be mailed out on July 1.
      of Palm Beach County.                              manage the COVID-19 crisis.                          If your Agricultural Classification application is denied,
         We are following CDC                               Florida law requires my office to value property based   you have 30 days to file a petition with the VAB. The deadline
      guidelines and are open to the public, however we still encourage   on the status of the real estate market and the property, as of   to file a petition is 5 p.m. July 31.
      you to contact us via phone: (561) 355-3230, email: PAO@  Jan. 1. Any adjustments that were due to market conditions      For  questions,  call  Exemption  Services  (including
      pbcgov.org or utilize our online services at our website: www.  caused by the crisis will be reflected in the 2021assessments.  portability) at (561) 355-2866, Agriculture Department at
      pbcgov.org/PAPA. Be sure to follow us on social media for the      Palm Beach County-wide taxable property values have   (561) 355-4577, or the VAB at (561) 355-6289.
      most up-to-date information.                       increased 5.51 percent from 2019 to 2020.         Palm Beach County Property Appraiser's Office Names
         Recently, my office held its 27th annual College Scholarship   Highlights include:                2020 Scholarship Recipients
      Awards ceremony virtually, and presented six outstanding      •Market Value - $287,827,011,358          • Gema Cervantes of Glades Central High School, will
      high school seniors (from Palm Beach County) with college      •Taxable Value - $209,512,748,976     be attending Florida Atlantic University.
      scholarships in the amount of $1,500 each.            •Net New Construction - $3,034,964,145            • Sebastian Fernandez of A.W. Dreyfoos School of the
         In addition to receiving a scholarship award, each recipient      •Percent Increase (taxable value) – 5.51 percent  Arts, will be attending Dartmouth College.
      has been offered a paid summer internship in my office.      •Total Parcel Count – 645,022              • Fabio Louis of Glades Central High School, will be
      These six high-achieving, exceptional students demonstrated      •Total Tangible Personal Property Accounts – 59,399  attending the University of South Florida.
      excellence in academic ability, persistence, leadership, and      Once the tax roll receives approval from Florida's DOR      • Beatrice Mattison-Santos of Palm Beach Gardens High
      service to others.                                 (usually in late July), my office will prepare the Notices of   School, will be attending Palm Beach State College.
         Since 1994, the PAO has awarded more than $140,000 in   Proposed Property Taxes and Non Ad Valorem Assessments      • Charlene Mbaeri of A.W. Dreyfoos School of the Arts,
      college scholarships. The event is particularly special to the   for Palm Beach County residents, which are mailed in mid-  will be attending Case Western Reserve University.
      PAO, because the money raised for the scholarships is 100   August.                                     • Jaylen Sanders of the American Heritage School, will
      percent funded by our staff who participate in, "Friday Dress   Status of Applications for Property Tax Exemptions,   be attending the University of Miami.
      Casual Day," a volunteer donation program.         Portability and Agricultural Classifications      Offices Closed Due to Holiday
         Also in this month's newsletter, an update on the 2020      If you submitted an application on or before March 1 for      The Palm Beach County Property Appraiser's Office
      tax roll process and the status of applications for property tax   a Property Tax Exemption or Portability for Palm Beach   including our five service centers, will be closed on Friday,
      exemptions, portability and agricultural classifications. I hope   County to the Palm Beach County Property Appraiser for   July 3, in observance of Independence Day.
      you find this information beneficial and wish you a safe and   tax year 2020 and your application was denied, a Notice of
      happy Independence Day.
         We Value What You Value.
                                            Respectfully,    Advertise in This Newspaper! Call 561.746.3244
                                  Dorothy Jacks, CFA, AAS,
                       Palm Beach County Property Appraiser

       The Elements Massage


       Commitment to

       Health & Safety in a


       COVID World


       By: Jodi Jaroschak
          In June of this year, Elements Massage™ of Palm Beach
       Gardens  opened  their  doors  for  the  first  time,  the  newest
       location of a national brand with over 250 locations around
       the country. Founded by a massage therapist, the fundamental
       core of Elements Massage™ is to provide a truly customized
       therapeutic massage to every client, every session. By taking
       the time to  listen and communicate with you  prior to every
       session, Elements Massage™ therapists can tailor your session
                                        ®
       to meet your needs. That's the Elements Way .
          While the top priority for Elements Massage studios
       has  always  been  to  deliver  an  unparalleled  experience  of
       restoration  and  rejuvenation  to  their  clients,  their  resolve  is
       stronger now than ever before. The Elements Massage™ team
       has been hard at work to raise the bar of hygiene and sanitation,
       as well as consider every step of your service experience to
       ensure your needs are met in a focused and safe manner that is
       in accordance with government guidelines.
          Some of the safety measures that have been implemented
       include deep cleaning and sanitizing all rooms and common
       areas  between  each  appointment,  as  well  as  staggering
       scheduled  appointments  to  minimize  social  contact.
       Precautionary  measures  including  face  masks,  touchless
       temperature checks and screening questions to affirm that staff
       and clients have not been sick (or in contact with anyone sick)
       to  help  to  ensure  safety  of  everyone  who  enters  the  studio.
       Further, each employee at Elements Massage has undergone
       additional training focused on enhanced sanitation and hygiene
       standards for safe practices.  This is part of the Elements
       Massage™ ongoing commitment to health and safety.
          The  world  has  changed  significantly  for  everyone  over
       the past few months and has led to a lot of additional stress in
       people's daily lives. One of the hardest changes for many was
       the inability to take care of themselves the ways they normally
       would, like getting massages, going to the gym, or swimming
       in the ocean. As Elements Massage™ prepared to open their
       doors, their focus was to provide a place for clients to begin
       to addressing pain and stress again, while doing so in a way to
       ensure safety for everyone. One step inside the new studio and
       you can feel the difference yourself.