Page 3 - PGA Community News - June '21
P. 3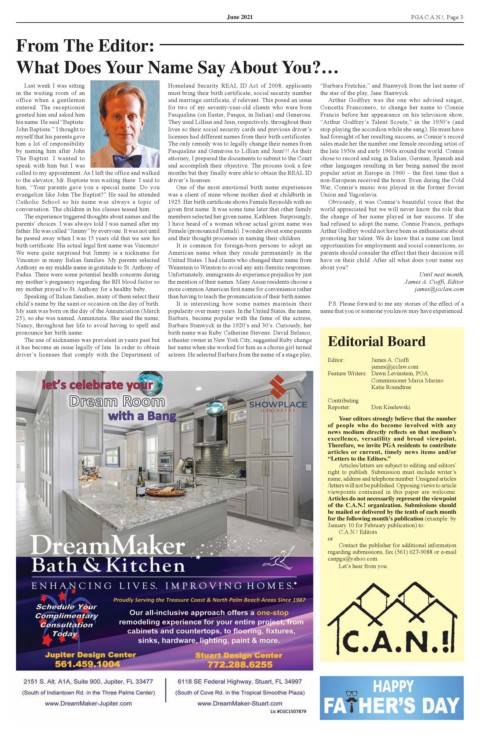 June 2021                                                                  June 2021                                                    PGA C.A.N.!, Page 3


      From The Editor:


      What Does Your Name Say About You?…




         Last week I was sitting                        Homeland  Security  REAL  ID Act  of  2008,  applicants   "Barbara Fretchie," and Stanwyck from the last name of
      in  the  waiting  room  of  an                    must bring their birth certificate, social security number   the star of the play, Jane Stanwyck.
      office  when  a  gentleman                        and marriage certificate, if relevant. This posed an issue      Arthur  Godfrey  was  the  one  who  advised  singer,
      entered.  The  receptionist                       for two of my seventy-year-old clients who were born   Concetta  Franconero,  to  change  her  name  to  Connie
      greeted him and asked him                         Pasqualina (on Easter, Pasqua, in Italian) and Generosa.   Francis  before  her  appearance  on  his  television  show,
      his name. He said "Baptiste.                      They used Lillian and Jean, respectively, throughout their   "Arthur  Godfrey's Talent  Scouts,"  in  the  1950's  (and
      John Baptiste." I thought to                      lives so their social security cards and previous driver's   stop playing the accordion while she sang). He must have
      myself that his parents gave                      licenses had different names from their birth certificates.   had foresight of her resulting success, as Connie's record
      him a lot of responsibility                       The only remedy was to legally change their names from   sales made her the number one female recording artist of
      by  naming  him  after  John                      Pasqualina and Generosa to Lillian and Jean!!! As their   the late 1950s and early 1960s around the world. Connie
      The  Baptist.  I  wanted  to                      attorney, I prepared the documents to submit to the Court   chose to record and sing in Italian, German, Spanish and
      speak  with  him  but  I  was                     and accomplish their objective. The process took a few   other languages resulting in her being named the most
      called to my appointment. As I left the office and walked   months but they finally were able to obtain the REAL ID   popular artist in Europe in 1960 – the first time that a
      to the elevator, Mr. Baptiste was waiting there. I said to   driver's licenses.                      non-European received the honor. Even during the Cold
      him,  "Your  parents  gave  you  a  special  name.  Do  you      One  of  the  most  emotional  birth  name  experiences   War,  Connie's  music  was  played  in  the  former  Soviet
      evangelize like John The Baptist?" He said he attended   was a client of mine whose mother died at childbirth in   Union and Yugoslavia.
      Catholic  School  so  his  name  was  always  a  topic  of   1925. Her birth certificate shows Female Reynolds with no      Obviously,  it  was  Connie's  beautiful  voice  that  the
      conversation. The children in his classes teased him.  given first name. It was some time later that other family   world appreciated but we will never know the role that
         The experience triggered thoughts about names and the   members selected her given name, Kathleen. Surprisingly,   the  change  of  her  name  played  in  her  success.  If  she
      parents' choices. I was always told I was named after my   I have heard of a woman whose actual given name was   had refused to adopt the name, Connie Francis, perhaps
      father. He was called "Jimmy" by everyone. It was not until   Female (pronounced Famali). I wonder about some parents   Arthur Godfrey would not have been as enthusiastic about
      he passed away when I was 15 years old that we saw his   and their thought processes in naming their children.  promoting her talent. We do know that a name can limit
      birth certificate. His actual legal first name was Vincenzo!      It  is  common  for  foreign-born  persons  to  adopt  an   opportunities for employment and social connections, so
      We  were  quite  surprised  but  Jimmy  is  a  nickname  for   American  name  when  they  reside  permanently  in  the   parents should consider the effect that their decision will
      Vincenzo in many Italian families. My parents selected   United States. I had clients who changed their name from   have on their child. After all what does your name say
      Anthony as my middle name in gratitude to St. Anthony of   Weinstein to Winston to avoid any anti-Semitic responses.   about you?
      Padua. There were some potential health concerns during   Unfortunately, immigrants do experience prejudice by just                  Until next month,
      my mother's pregnancy regarding the RH blood factor so   the mention of their names. Many Asian residents choose a               James A. Cioffi, Editor
      my mother prayed to St. Anthony for a healthy baby.  more common American first name for convenience rather                         james@jcclaw.com
         Speaking of Italian families, many of them select their   than having to teach the pronunciation of their birth names.
      child's name by the saint or occasion on the day of birth.      It  is  interesting  how  some  names  maintain  their      P.S. Please forward to me any stories of the effect of a
      My aunt was born on the day of the Annunciation (March   popularity over many years. In the United States, the name,   name that you or someone you know may have experienced.
      25), so she was named, Annunziata. She used the name,   Barbara, became popular with the fame of the actress,
      Nancy, throughout her life to avoid having to spell and   Barbara Stanwyck in the 1920's and 30's. Curiously, her
      pronounce her birth name.                         birth name was Ruby Catherine Stevens. David Belasco,
         The use of nicknames was prevalent in years past but   a theater owner in New York City, suggested Ruby change   Editorial Board
      it has become an issue legally of late. In order to obtain   her name when she worked for him as a chorus girl turned
      driver's  licenses  that  comply  with  the  Department  of   actress. He selected Barbara from the name of a stage play,
                                                                                                             Editor:        James A. Cioffi
                                                                                                                            james@jcclaw.com
                                                                                                             Feature Writers:  Dawn Levinstein, POA
                                                                                                                            Commissioner Maria Marino
                                                                                                                            Katie Roundtree

                                                                                                             Contributing
                                                                                                             Reporter:      Don Kiselewski

                                                                                                                 Your editors strongly believe that the number
                                                                                                             of people who do become involved with any
                                                                                                             news medium directly reflects on that medium's
                                                                                                             excellence, versatility and broad viewpoint.
                                                                                                             Therefore, we invite PGA residents to contribute
                                                                                                             articles or current, timely news items and/or
                                                                                                             "Letters to the Editors."
                                                                                                                 Articles/letters are subject to editing and editors'
                                                                                                             right to publish. Submission must include writer's
                                                                                                             name, address and telephone number. Unsigned articles
                                                                                                             /letters will not be published. Opposing views to article
                                                                                                             viewpoints  contained  in  this  paper  are  welcome.
                                                                                                             Articles do not necessarily represent the viewpoint
                                                                                                             of the C.A.N.! organization. Submissions should
                                                                                                             be mailed or delivered by the tenth of each month
                                                                                                             for the following month's publication (example: by
                                                                                                             January 10 for February publication) to:
                                                                                                                 C.A.N.! Editors
                                                                                                             or
                                                                                                                 Contact the publisher for additional information
                                                                                                             regarding submissions, fax (561) 627-9088 or e-mail
                                                                                                             canpga@yahoo.com.
                                                                                                                 Let's hear from you.